Who Broke the VA?
There's plenty of blame to go around.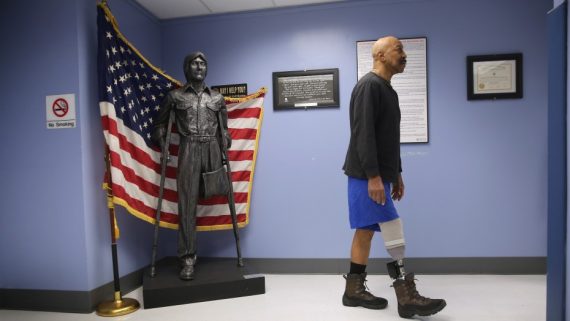 In an outstanding series for National Journal, Jordain Carney and Stacy Kaper investigate "Who Really Broke Veterans Affairs?" It turns out to have been broken for a long time and that lots of people and institutions are to blame.
Part I, "Obama Has Every Reason to Fix the VA. Why Hasn't He?" asks the wrong question.
In short, because fixing the VA backlog isn't just a question of putting the proper resources into an overwhelmed agency. Solving it would require not only untangling a Gordian knot of dysfunctional bureaucracy surrounding the VA claims system and decades of neglect, it would also mean overcoming a perfect storm of factors in the past few years that has made the problem much, much worse.

Surge in Claims

The VA received 1 million new claims during Obama's first year in office—the most it had ever received at one time—and the count climbed from there. Annual claims peaked in 2011 at 1.3 million, falling to 1.04 million claims received in 2013.

What's driving the surging number of claims? In short, a pair of wars that have created more veterans and new Obama administration rules that have made veterans from all wars eligible for more disability compensation.

The VA is dealing with a sudden influx of Afghanistan and Iraq veterans as the U.S. draws down its troop levels. Nearly 970,000 Iraq and Afghanistan war veterans deployed overseas since 9/11 have filed a disability claim, according to a Freedom of Information Act request released to Veterans for Common Sense this month by the Veterans Benefits Administration.

And due to medical advances, many service members who would have died from their injuries in past wars are now being saved, but they are returning home with more numerous and more complicated injuries. Vietnam veterans typically claimed three or four injuries. Now a single veteran from Iraq or Afghanistan routinely submits a claim with the number of injuries in the double digits.

Meanwhile, the Obama administration has also changed the rules to give more benefits to veterans. In 2010, the administration expanded coverage related to exposure to Agent Orange, a Vietnam War-era defoliant that has created a vast list of health problems. Veterans have long tied an assortment of illnesses to Agent Orange, and now more of those illnesses are covered.

Additionally, the administration made it easier for veterans to get coverage for posttraumatic-stress disorder, a disease less easily diagnosed and adjudicated than physical injuries. Since 2010, service members no longer have to provide documentation that supports their PTSD claims. Instead, a doctor performs an exam to determine that the veteran's symptoms are related to PTSD and that the cause of the PTSD, such as being under attack, is consistent with the veteran's military duties.
The road to Hell is paved with good intentions. But it's rather odd to cast blame on President Obama for making it easier for men who have been suffering from the effects of Agent Orange for four or five decades to finally get their due.  Similarly, easing the rules for treatment for PTSD claims is the right thing to do. The Bush 43 administration rightly deserves more blame. It launched two major wars in Afghanistan and Iraq and did too little to expand the infrastructure to support the needs of the wounded veterans that were being created.
Still, while presidents are ultimately responsible for decision-making, they inherit bureaucracies with longstanding organizational cultures. And the VA's* is broken.
Not all of the VA's problems, however, come from external factors. The agency is haunted by its painfully slow embrace of technology: It did not have a digital way to process claims nationwide until 2013, and it long handled claims with a paper filing system. Victoria Dillon, a spokesperson for the VA, acknowledged that "these offices used to be stacks of papers everywhere," with claim files "18 inches thick on average."

By comparison, the IRS rolled out its electronic filing system across the country—albeit with some problems—in 1990.

The VA also uses a complex regulatory code for dealing with claims that slows down the process. "The regulation dealing with [traumatic brain injury] is so complicated that some people call it the 'Da Vinci Code,' " Ronald Abrams, joint executive director for the National Veterans Legal Services Program, told lawmakers late last year.

The VA attempted to solve the problem by hiring more claims workers to handle the influx, but it takes approximately two years to fully train a claims worker to handle the complex process.

"Thousands of new PTSD and Agent Orange claims starting in 2010 overwhelmed an agency with a history of  poor planning, chronic understaffing, and a lack of training," said Glenn R. Bergmann, a partner at Bergmann & Moore, a former VA litigator who represents veterans with VA disability-claim appeals.

In his first years in office, Obama's VA was a disaster, as a flood of new claims overwhelmed an antiquated process for handling them. In 2009, there were about 423,000 claims at the VA, and the official backlog of claims that had been pending for more than four months sat near 150,470. By 2012, claims had exploded to more than 883,000—and 586,540 of those sat on the agency's backlog list.

But in recent years, the administration has made progress in getting veterans more timely answers. The backlog list was cut to more than 300,000 as of May 10. If the VA maintains the current average monthly rate, the backlog could vanish by mid-2015. That would meet Veterans Affairs Secretary Eric Shinseki's 2010 pledge to eliminate the backlog by the end of next year.

Critics, however, say the shrinking backlog is something of a farce, the result of an administrative maneuver that has not delivered results for the veterans in the backlog, but has instead moved them into a different waiting line. When taking into consideration all VA claims, including those where the veterans died waiting for a decision, those stuck in appeals, and award adjustments—often adding a spouse or child—the VA's inventory of claims is much higher, still hovering just under a whopping 1.3 million. (By comparison when Obama took office in January 2009, the inventory of claims was about half that amount: 631,000.)

As of May 10, the VA's number of appealed claims stood at 274,660, almost 100,000 more than the 174,891 appeals in late 2009. Between 2012 and 2013, the number of claims that ended up in appeal grew 5 percent, and between the end of 2013 and March 31, the number of appeals kept rising 2.7 percent. Once in the appeals process, veterans can wait in limbo for an average of two and a half years.

Critics contend that list is growing because, as the agency endeavored to quickly work through the claims, it has made more errors.
Part II, "Who Really Broke Veterans Affairs?" oddly rehashes much of the above but then notes, "the sheen of shame over the VA's failures spreads across time and party affiliation. It stains the legacies of presidents as far back as John F. Kennedy and condemns past Congresses whose poor oversight allowed the problem to fester."
The VA could be overhauled to better address the needs of modern veterans, including reforms to the way it processes claims, assesses the performance of its employees, and measures its overall performance. But putting many of those reforms in place would require an act of Congress—and thus far those haven't happened.

Instead, Congress has taken a more reactive approach. When incidents—such as the recent hospital deaths—capture public attention, lawmakers hold hearings where they berate VA officials with juicy sound bites they can later play back for their constituents. It's good political theater, but it's unclear that the payoff is anything other than political.

"Congress has been totally exasperated by the VA's inability to get on top of the problem for a long time," said Linda Bilmes, a senior lecturer in public policy at Harvard University's Kennedy School. "But they haven't been willing to really contemplate anything other than throwing more money at the problem."

Congress is taking some legislative steps now: The House is slated to vote this week on a VA accountability bill to make it easier to fire senior executives, and the latest VA funding bill banned bonuses to department executives. But neither measure contains changes on the structural level.
The last meaningful change, interestingly, took place nearly three decades after we left Vietnam and just before the recent wars kicked off. And it made matters worse, not better.
In 2000, lawmakers passed the Veterans Claims Assistance Act. The law was signed by President Clinton and was, by all accounts, a well-meaning attempt to make it easier for veterans to get VA claims approved.

The law required that the VA tell a veteran what to do to prove a claim, help the veteran obtain necessary records, and inform the veteran when the VA could not obtain the information it needed. The law required the VA to retrieve the veteran's service medical records and provide exams when the VA did not have sufficient evidence to substantiate a claim.

But the law was ambiguous and left much open to interpretation, which had to be fought out in the courts. It wound up adding several additional layers of bureaucracy to an already clunky VA claims process without appropriating additional funds or human resources to manage the increased workload.

"So the situation wasn't getting better; it just added another forum that made it harder to get things done," said Sherman Gillums, an associate executive director with Paralyzed Veterans of America. "We attribute a lot of the early trouble—not the current backlog, but early trouble—to this, because it created an institutional laziness or institutional inefficiency and made that a part of the culture at the VA. People just accepted claims sitting around a long time because they had to do all of this other stuff.
Both the Clinton and Obama era reforms, then, were well-intentioned but exacerbated the problem.
"It's not surprising, really, that the VA ended up being poorly prepared for what happened, given the way that they were planning," said Harvard Kennedy School's Bilmes. "There was absolutely a lack of planning, a lack of capacity for planning. … They didn't know what hit them. They were completely overwhelmed."

Additionally, the VA's claims-processing time skyrocketed early in the Bush years. In 2002, it took the VA an average of 224 days to complete claims, as compared with 166 days in 1999.
Note that this was before the Iraq War and at a time when our footprint and casualty rate in Afghanistan was tiny.And, while the Bush 43 administration deserves blame, it was getting really bad advice from the experts at VA on whom it reasonably relied.
Even by the mid-2000s, several years after 9/11, the VA was using out-of-date claims projections it had based on injury estimates that used assumptions from older wars. Due to medical advances, many service members who would have died from their injuries in past wars are now being saved. That means fewer deaths, but it also means more wounded veterans, a development the department failed to anticipate and was slow to adapt to.
The report goes on to note the decades-long struggle to compensate veterans exposed to Agent Orange, first authorized for use in Vietnam by President Kennedy, and concludes,
The government's long-standing failure to address the damage done to veterans by Agent Orange mirrors the larger failure of the VA. It spans generations and party affiliations, and every effort to fix it comes with unintended consequences.

"This goes across party lines," said Ronald Abrams, the joint executive director with the National Veterans Legal Services Program, and a former VA official who has worked on veterans claims cases for 40 years. "Democrats and Republicans have allowed this festering sore to continue."
Part III of the series is "coming soon" and will ask, "What Would It Take to Really Fix the VA?" I'll be interested to read their answer but their own reporting makes it clear that we should be skeptical of easy fixes.
Mostly, I think, the VA's mission is simply inimical to the nature of government bureaucracies. That is, the goal is to provide speedy, high quality assistance to those injured during service to the country in the armed forces. Yet, rightly so, bureaucracies are also charged with jealously safeguarding taxpayer money. The upshot, then, is that the system by default forces the veterans seeking treatment and/or compensation to prove that they're actually injured and that those injuries were the result of their military service. That's at direct odds with the mission.
Nor is that fixable. First, because the mere fact of prior military service doesn't preclude fraudulent intent. A not insignificant number of veterans file disability claims who either aren't disabled or whose injuries were not related to their military service. Second, it's often very difficult to know whether injuries were related to military service.  It took decades to sort out the myriad effects of Agent Orange and we're still trying to figure out Gulf War Syndrome. And, despite experience going back more than a century, our understanding of post-traumatic stress is still in its infancy.
That doesn't mean we can't insist that VA get properly staffed, be equipped with modern technology, and be adequately led. We can and must do those things. But the natural tension in their mission won't and can't go away.
______________
*Some object vigorously to referring to the Department of Veterans Affairs as "the VA," which is a holdover from the pre-1986 Veteran's Administration. But DVA has ostentatiously maintained the VA brandingand even its longtime Secretary, retired Army four-star Eric Shinseki, refers to it as "the VA."