Who Cares Who Edits The New York Times?
The editors of our great newspapers are interchangeable.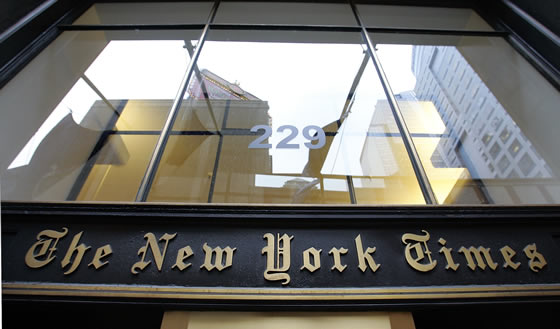 Not Ira Glass, that's for sure.
After the Peabody Awards on Monday, New York Magazine's Daily Intelligencer blog asked Glass, the host and producer of the radio show "This American Life," about Abramson's dismissal from the Times, which was the first he had heard of the news.
"I have no idea what you're talking about," Glass said when reporter Katie Van Syckle told him Abramson was fired.

"Okay. And she was who?" Glass asked when Syckle told him again.

Glass then explained that he doesn't pay attention to media news or who edits newspapers, despite the fact that he loves the New York Times.

"I read the newspaper, but I live in my own little bubble," he said. "I hate reading media news so I actively sort of — I'm not interested in someone getting fired. No disrespect to people that are, but I literally had no idea who she was, or that she got fired until this moment."

When Syckle expressed surprise, Glass told her that he'd been busy working on multiple shows.

"Am I, like, the only person in New York who hasn't heard this?" he asked.

And finally, he said he just doesn't care.

"Honestly, like, I'm a superfan of the New York Times, but I know nothing about how they put it together and I really don't care," Glass said.
Among those who do care is TPM's Josh Marshall, who goes into some detail speculating why owner-publisher Arthur Sulzberger allowed this to turn into such a big spectacle, not to mention risking a major gender discrimination lawsuit. As best he can figure, Abramsom had tried to lure a Janine Gibson from The Guardian as a co-managing editor to Dean Baquet, the latter learned of it during lunch with the former and was embarrassed, and presented an ultimatum to Sulzberger. Marshall reckons,
We know Sulzberger has a rocky relationship with Abramson, maybe because she was a bad manager, maybe because of a gendered perception that she was "pushy." We also know that Baquet was viewed universally as Abramson's successor, by Abramson just as much as by Sulzberger and everyone else. It seems clear that Sulzberger was at least annoyed by Abramson's suggestion that her compensation was lower than it should have been because of her gender and especially because she'd retained a lawyer about it. We also know, I think critically, that Baquet recently been courted by Bloomberg.

Let's assume that Sulzberger wasn't happy with Abramson's leadership and was miffed by the pay dispute. Baquet is her successor and thus, in a way, Sulzberger's safety cord in his troubled relationship with Abramson, a talented, seemingly universally-liked successor positioned and ready to take the reins. Baquet approaches Sulzberger and essentially gives him an ultimatum. He can't work with Abramson anymore. Sulzberger isn't just faced with losing one of the Times top employees and a future leader of the paper. He's also suddenly faced with being stuck with Abramson.

This last point strikes me as key. Whatever the nature of the deception or misunderstanding, whether or not Sulzberger thought he'd been misled, this would have constituted a real crisis for Sulzberger. He doesn't just lose Baquet but he's stuck with Abramson. Yes, of course, she can be fired at any time but not nearly as easily. The Times hires its executive editors from the inside after long service. And he's the one groomed for the position. Already unhappy with Abramson, faced with losing a future leader and suddenly having no clear replacement for her, he panics and fires her.
That's interesting if true but I'm nonetheless with Glass on this one: So what?
I'm mildly interested in the gender discrimination angle. But whether Abramson or someone else runs the paper is irrelevant to me. I'd never heard to Abramson before she succeeded Bill Keller in the role a few years back. And I'd never heard of Gibson or Baquet  until reading Marshall's post. But I'm reasonably confident that either of them could competently run the New York Times editorial operation. Indeed, absent reporting on the handover, I would be completely unaware that the job changed hands in 2011.  I don't recall offhand who had the job before Keller; regardless, aside from the technological changes, it strikes me as essentially the paper it was when I was reading it out of the metal racks at the university many moons and goodness knows how many executive editors ago.
Running a daily paper must be tremendously challenging and, presumably, it's only gotten harder in the Internet age. Not only is the deadline always "five minutes ago" but there's more competition for readers' attention, less reader loyalty, and fewer resources to go around. Still, the great papers have the luxury of being aspirational posts for the best and brightest reporters. They're going to do great work for any but the most incompetent or unlikable boss. And, since the Times tends to hire someone who has already had a successful run as managing editor, it's not like they're handing the keys to some kid with no clue.
As for Abramson, I don't have a strong opinion on her tenure. As already noted, I didn't notice any real change in the paper; given that she took over one of the very best papers on the planet, that's not necessarily a bad thing. But, surely, among the key qualities of the top editor is maintaining a good working relationship with the publisher—especially if he's also owns the damned paper. Keller managed to do it for eight years, stepping down on his own terms. Abramson failed.