Who Owns a Tattoo?
Those who tattoo celebrities want to be be paid when their tattoos appear in the media.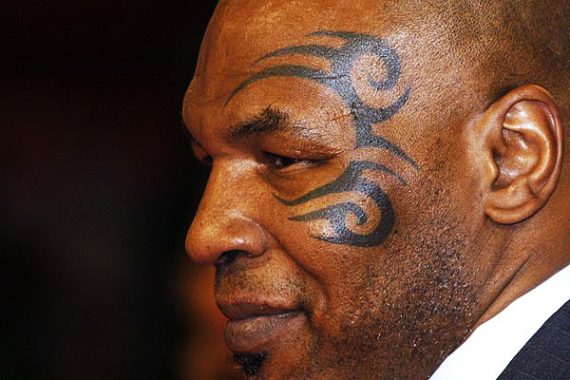 Those who tattoo celebrities want to be be paid when their tattoos appear in the media.
WSJ ("Athletes' Tattoo Artists File Copyright Suits, Leaving Indelible Mark"):
Phoenix-based tattoo  artist Chris Escobedo took an intellectual property rights training course and in 2012 sued now-bankrupt videogame developer THQ Inc. over a mixed-martial arts game in which one of his tattoos—a large, scowling lion on the right rib cage of Ultimate Fighting Championship star Carlos Condit—makes a cameo appearance.

[…]

Such lawsuits have left a mark. When videogame giant EA Sports, a brand of Electronic Arts Inc.,  developed its own fighting game featuring Mr. Condit, which will be released this week, it left out the lion, causing gamers to growl. Electronic Arts declined to comment.

"That tattoo artist must feel he now owns a portion of carlos condits rib cage too huh?" wrote one fan on an EA online forum after seeing early screenshots.

[…]

The question of who owns the copyright to a tattoo has never been settled in court, but lawyers and scholars say there is no obvious reason why tattoo artists shouldn't be covered by the same rights granted to photographers or other visual artists.

To be copyrightable, artwork needs to have some originality. It also has to be "fixed in a tangible medium of expression." That can be a canvas, film or audio. Skin counts, too, in the case of a custom tattoo designed by an artist, said Case Western Reserve University law professor Aaron Perzanowski, who teaches intellectual property law.

A turning point in the debate was a lawsuit over the 2011 summer blockbuster "The Hangover Part II," in which a character awakens after a night of debauchery to find a replica of Mike Tyson's widely recognized Maori-inspired facial tattoo etched on his own forehead.

The Missouri tattooist who designed the image, S. Victor Whitmill, sued Warner Bros. Entertainment Inc. for copyright infringement, claiming he was owed for contributing to a key punch line.

While allowing the film's release, U.S. District Judge Catherine D. Perry, who presided over the case, was sympathetic to his argument. "Of course tattoos can be copyrighted," she said. "I don't think there is any reasonable dispute about that."

[…]

The NFL Players Association, which licenses images of the players to EA, has started encouraging athletes to obtain licenses for their body art. "We advise players to do that so they don't have to go through any of the potential litigation," said George Atallah, a spokesman for the union.

EA played it safe it when it incorporated San Francisco 49ers quarterback Colin Kaepernick's tapestry of tattoos into the latest installment of its popular Madden NFL videogame series.

EA Sports recently tweeted out teaser screenshots of "Madden NFL 15"—coming out in late August—that showed a digitized rendering of the 26-year-old star bearing the same snippets of psalms on his arms that he flaunts on the field. EA says it scanned images of his tattoos only after getting legal authorization from the artists who drew them.

"Regarding artists and forms, we can't comment on the specifics, but we're comfortable with the process," a spokesman for EA said.
I'm by no means an expert in intellectual property law but this strikes me as defying common sense.
If an artist creates an original work, he should reasonably own the rights to it as a work.  Whether it's a painting, photograph, sketching, or tattoo, they should be able to profit from reproductions of that work in other media where the work itself is the object. So, for example, a poster print, t-shirt, or other for-profit rendering of that work of art should have to be licensed from the artist.
In the cases in question, however, the art is an incidental decoration. Buyers of sports videogames are interested in authentic representations of the famous athletes, who happen to be tattooed, rather than in the tattoos themselves. The rights to depict Condit or Kaepernick should rest solely with them, unless they've surrendered those rights to their sporting associations as part of their contract.
Their tattoo artists deserve nothing additional for their work for hire, the increased value of which comes from the fact of the celebrity of the wearer, not the work of the artist. But, unless the celebrity also paid for them, the artist should still own the rights to sell that tattoo to fans of the celebrity, make t-shirts and posters of the art itself (i.e, not including the celebrity likeness) and otherwise continue to profit from the art as a work.
The Tyson/"Hangover 2″ case strikes me as more complicated, although I side with the movie studio over the tattoo artist. The gag is based on the celebrity of Tyson, who was already being compensated as an actor in the film, and not the art as art. That is, the image only made for an effective joke because it appeared on Tyson's face. But, if the studio wanted to sell images of the tattoo artwork as part of its merchandising, the artist might well deserve compensation.