Who Still Needs A Fax Machine?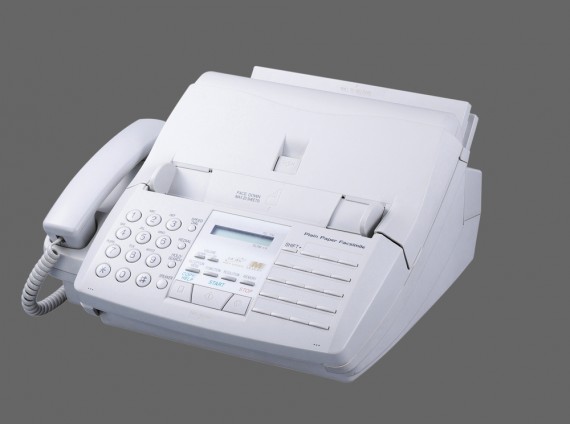 Working off a Washington Post report that Japan seems to be the only major country in the world where fax machines continue to be popular, Kevin Drum comments:
Really? I have a fax machine in my home. Two of them, in fact. That's because, like millions of other people, Marian and I both have multifunction devices connected to our computers, and those multifunction devices include a fax machine. Perhaps the difference is that I actually have mine connected to a phone line, while most people don't bother.

But I'm curious about that. I have mine connected because (a) a phone cord came with the device, so it costs me nothing, and (b) I actually use it once in a while. But most people are sort of agog about that. Use a fax machine? Good God, man, that's just embarrassing. Why not carve out your message on a piece of granite and have a team of oxen haul it to its destination?

But every once in a while, it's still necessary to send a copy of something to someone. Just yesterday we faxed over a counteroffer on a piece of property we're trying to sell. The alternative is to scan the document and email it, but that's actually more work than just faxing. So why is the humble fax machine held in such contempt? So why is the humble fax machine held in such contempt? Isn't it still occasionally a useful device to have around?
I suppose the answer is that there are so many alternatives to a fax machine at this point, most specifically the Scan-To-PDF-And-Email option that Drum mentions. When I need to send someone a document from home, that's usually what I end up doing. It helps, of course, that the desktop scanner I use has a document feeder so that I'm not having to stand there and place documents on a glass screen like we used to have to do in the past. Additionally, scanner technology is much improved from what it used to be so it's not nearly the kind of headache inducer that it used to be. I suppose I would save a few minutes if I used the fax machine function on my desktop device, but then I'd either have to tie up the phone line for several minutes at least or incur the expense of getting a dedicated fax line for the home, which seems like a waste rather than the luxury it used to be.
Another advantage of the email strategy is that it allows you to get documents to people even when they're not in the office or near the fax machine. Applications capable of reading PDF files are available for the iPhone, the iPad, and Android devices and the Android version was one of the first apps I downloaded when I got my phone. Since anyone with a smartphone can access their email from anywhere, that means that they can get the documents where ever they are. Or, at least that's the way I see it.
So what's the verdict? Are fax machines still useful to any of you?
Fax Machine image via Shutterstock