Who's Tennis' GOAT?
Arguably, the three dominant players of today are 1-2-3.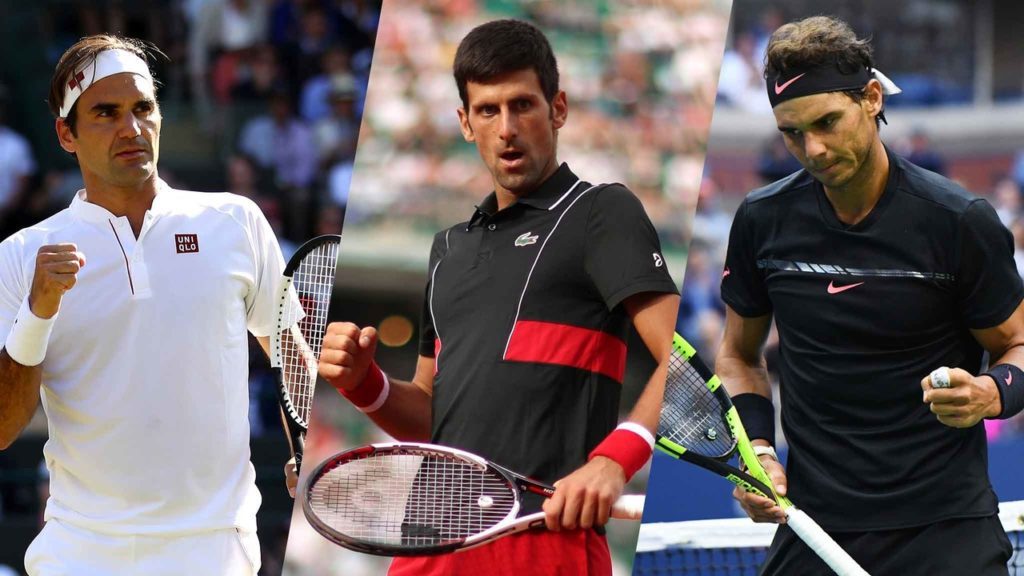 While I grew up on John McEnroe's epic battles with Bjorn Borg and Jimmy Connors, I've become, for whatever reason, only a casual fan of the game in recent years. I did, however, watch the final set of yesterday's Wimbledon Finals showdown between Roger Federer and Novak Djokovic, which McEnroe, now a television commenter, repeatedly and correctly observed we were privileged to be watching.
The win by the 32-year-old Djokovic in the longest match in the storied tournament's history, by virtue of a tiebreaker introduced only this season, over the almost-38-year-old Federer renewed the debate as to the greatest player in the game's history.
The headline of Peter Bodo's ESPN piece, "Why we should no longer doubt Novak Djokovic's place among tennis' GOATs," is rather silly. I know of no serious analyst who doubts that Djokovic is among the game's greats; the only dispute is where he ranks.
Chasing. It seems that Novak Djokovic has been doing it since he was an inexperienced teenager, forever fighting for the elusive rewards in the golden age of men's tennis: the respect of his peers and the affection of a public that seemed to have eyes for only Roger Federer and Rafael Nadal.

He has pursued those two men through the Grand Slam thickets and valleys, a member of the Big Three but always a precious step or two behind.

After Sunday at Wimbledon, Djokovic chases no more.

He locked down a career-defining win that accords him equal status with the twin titans of the era, Federer and Nadal. Djokovic accomplished it by earning his 16th Grand Slam title, staring down two match points and besting Federer in a historic five-set final: 7-6 (5), 1-6, 7-6 (4), 4-6, 13-12 (3).

[…]

But now, Djokovic has actually caught up to and even surpassed those two players in almost every way that counts. Djokovic leads Nadal in the most prolific head-to-head matchup of the entire Open era 28-26. He leads Federer in the third-most contested rivalry 26-22. The only area in which Djokovic still trails them is the most widely publicized of them all: the total Grand Slam title count, still led by Federer's 20. Djokovic, like Fed and Rafa, has won on every Slam surface.

Before the match began, ESPN analyst Patrick McEnroe said that if Federer won Sunday's contest, he would probably think his Grand Slam title record is safe, but if Djokovic came through, it would make him think Federer's record is within reach.

Djokovic, 32, is a year younger than Nadal. He is just two major titles behind Nadal and four short of Federer's mark. Given Federer's age (37), Nadal's history of injury and Djokovic's extreme dedication to fitness and holistic health, it's easy to imagine the world No. 1 eventually surpassing Federer's mark.

"It seems like I'm getting closer, but they are also winning Slams," Djokovic said of the hunt for the record. "We're kind of complementing each other. Whether I'm going to be able to do it or not, I don't know. [But] I'm not really looking at age as a restriction of any kind, for me at least."

Djokovic made a point of telling the Centre Court crowd during Sunday's trophy presentation that he was inspired by Federer's performance to seek greater longevity, which was either a great compliment to his rival, a shot fired across the bow or a combination of the two. "What I said on the court, I really meant it," Djokovic said later. "It just depends how long I'm going to play, whether I'm going to have a chance to make a historic No. 1 or Slams."
It's debatable whether the number of Slams won is the sole measure of greatness but it's the most obvious. Unlike team sports, where one needs support to win titles, the outcome is almost solely in the athlete's own hands. By that metric, Djokovic is still third: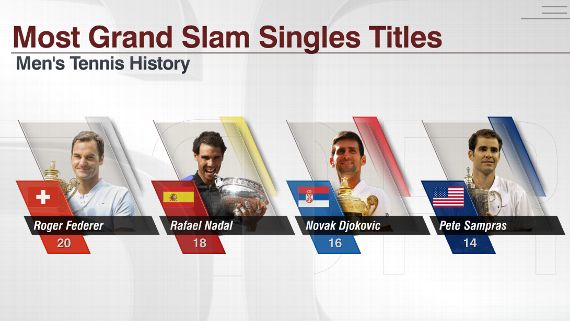 But I'd argue that the debate is between Federer and Djokovic (and maybe Rod Laver, whose dominance preceded the Open era).
All four achieved the career grand slam—having won Wimbledon, the US Open, the Australian Open, and the French Open at least once. As great as he was, Sampras never won the French. That tournament, the only one of the Slams played on clay, has been the bane of Americans. McEnroe never won it. Neither did Connors. Neither won the Australian, either, for that matter. That pretty much eliminates them from the discussion.
Conversely, while he's been an absolutely dominant player, I discount Nadal's Slam somewhat because 12 of the 18 came on the clay courts of Roland-Garros. Indeed, he's failed to win it just three times since first taking it in 2005. He's rounded out his resume with three US Opens, two Wimbledons, and an Australian.
By contrast, Federer and Djokovic have each won the French only once (in 2009 and 2016, respectively). But Federer has won Wimbledon eight times, the US Open five times, and the Australian six times. And Djokovic has seven Australians, five Wimbledons, and three US Opens. Their sustained success across surfaces is just more impressive.
I'd give Federer the edge over Djokovic just because 20 is a larger number than 16 and he's sustained his success longer. But, certainly, Djokovic is catching up and is four years younger.
But Kevin Craft makes a perfectly reasonable case as to why "Novak Djokovic Is the Greatest Player of the 'Big Three'." The crux of his argument:
While he still trails Federer and Nadal in terms of the most Grand Slam singles titles won, he has beaten Federer in all three finals the two men have played at Wimbledon, which is Federer's best tournament. Djokovic is also one of two men to have beaten Nadal at the French Open, the major that the Spaniard has won a record 12 times. Djokovic's ability to defeat his top rivals on their favorite surfaces speaks to the prodigious talent he possesses, and should be a factor when future pundits try to determine who from this marvelous generation of men's tennis players should come out on top.
That's a fair point, indeed. My counter is simply that Djokovic is simply younger, so some of those wins came against Federer and Nadal after their prime.
So, for example, if you look at the Connors-McEnroe rivalry it looks like McEnroe easily got the best of it:
All matches: McEnroe 20-14
All finals: Tied 7-7
Grand Slam finals: Tied 1-1
Grand Slam matches: McEnroe 6-3
Masters matches: McEnroe 2-0
WCT Finals matches: McEnroe 2-1
Clay court matches: Connors 3-1
Grass court matches: Connors 4-3
Hard court matches: McEnroe 6-3
Indoor matches: McEnroe 10-4
But here's the thing: Connors dominated it for years before Father Time intervened.

So, Connors got off to a 4-0 start before McEnroe even got on the board and was leading two to one three years in—at which point Connors was 28 and McEnroe only 21.
But look what happens after that: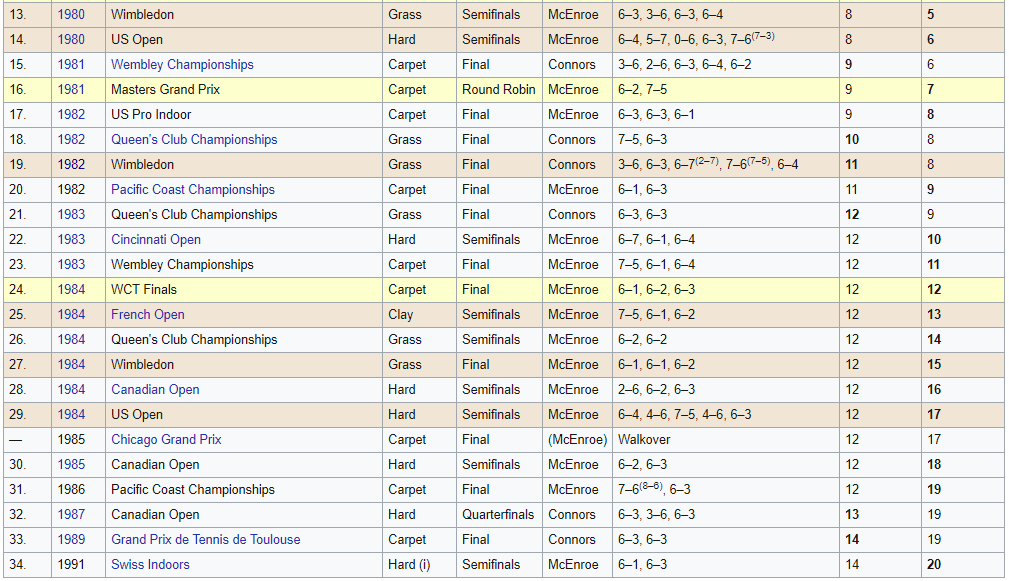 It's essentially a rout, with McEnroe running off eleven wins in a row at one stretch.
I vividly remember that 1982 Wimbledon final, which was notable for two things at the time. First, it was an All-American championship on July 4. Second, everyone was amazed that Connors was able to pull it off just weeks before his 30th birthday—an incredibly advanced age for a tennis professional—four years removed from his last Slam win.
Djokovic, by far better now than Connors was then, is the youngster of the three current GOAT candidates. He's 32.
Nadal and Federer are 33 and 37, respectively. Indeed, both have been written off as done many times going back years.
I don't know how many more Slams Federer has in him. It's absurd that he's still competing at this level at 37. But I wouldn't put it past him to add one or two more to his total.
Nadal may well win enough French opens to pass him.
If I had to bet, Djokovic will wind up with the most Slams and be considered the GOAT.