Why American Kids Don't Know History
A lot of Americans don't know that the US gained its independence from Great Britain. How can this be? Is it a liberal conspiracy?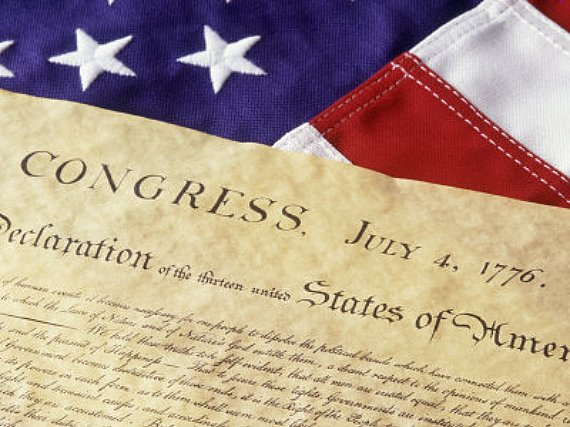 Doug Mataconis wrote about a depressing poll earlier today which noted that  26% of Americans don't know that the US declared independence from Great Britain on July 4, 1776.  Worse, it showed that "40% of the people polled between the ages of 18 and 29 could not identify Great Britain as the nation that the United States won it's independence from."
The comment section contains a number of theories as to why this may be case including a number which assert an ideological explanation, i.e., that liberal public education has downplayed our national history and that this is all proof of the failures of public education especially of the federally-funded variety.
Let me offer some alternative thoughts on the subject.  And I will say as a bit of stipulation that I can agree with the general notion American education is far from perfect. However, the degree to which we can see a massive manifestation of ideologically-driven outcomes as the culprit here is problematic (to put it mildly).
First, let me offer a basic (and likely the best) explanation for the numbers in question:  it represents a mix of people who don't care, weren't good students, aren't very smart and/or had a poor education.
Really, on this topic, the more I think about it, the more it occurs to me that if one is a citizen of the United States who doesn't know from whom the US declared independence on July 4th, then that means that said citizen must be a fundamentally uncurious person/the type of person utterly apathetic to history (and a lot people fall into either or both camps).  Seriously:  this is information that one could acquire if one didn't have it, even if one had the worst caricature of public education that one could muster.   Indeed, shouldn't an appropriately conservative critique here be placed on the individuals who have failed to personally acquire such basic knowledge?
Second, there are any number of structural problems with American education, and they are not ideological.   I, personally, believe that a lot of them spring from the nature of teacher training.  To wit:  teachers tend to take a lot of classes about teaching and a lot less about the subject matter that they are going to teach.  This is problematic and is especially true in subjects like civics/social science/history/etc.  We do tend to do a better job in the hard sciences.
On that last count, I can provide direct evidence from Alabama.  In my state of residence it is the norm that a coach teaches high school government and/or history.  There are a number of reasons for this, but I won't get into them (and, I think, this is not uncommon across the country).  As such, most kids who want to be coaches are really more focused on the athletic side than the polisci/history side.  I have had a number of football players, for example, who want to be coaches and who see their only route to a job to be social science education degrees.  Under that path they end of taking, almost certainly, only 3 hours of introductory American Government and maybe 3 more hours of upper level comparative politics—that's it for political science as preparation for a career of teaching.  They do take a larger load of history courses.  From there they go on to teach American Government.  This is woefully inadequate preparation to teach the subject.  As such, it is hardly a surprise that the high school graduates that I get in my American Government classes are undereducated on even the basics.  This is not to say that some coaches aren't also fabulous teachers (some are), but rather that, on balance, they are a) inadequately prepared, and b) probably far more focused on athletics than they are on in-class teaching.
I would further note that education degrees are notoriously known to be amongst the easiest degree programs on a given campus, which affects rather seriously the persons who go into education as a field.  This point, by the way, would readily be agreed upon by my wife, mother and sister, all of whom are teachers and who obtained their education credentials over a lengthy span of time  at different institutions.  I can add my own anecdotal two cents insofar as my experience teaching education majors in general studies American Government and World Politics classes has underscored that education majors tend not to be the most academically gifted students at the university.  This is, of course, an observation in the aggregate, with individuals certainly deviating from the tend.  In fact, one of the students that sticks in my mind as one of my best in my twelve years at my current job was an education major (she was, however, the proverbial exception that proves the rule).
Clarification/update:  This is not to say that there aren't a lot of really good teachers out there, there are.
Third, if there was a liberal conspiracy to underplayed US history, one would expect that this would show up regionally in the poll, i.e., that the more liberal parts of the country would have the highest levels of problems.  However, if we look at the poll we find that the part of the country with the most difficult time answering correctly is the South (68% right and 32% wrong—the lowest and highest, respectively).  The South is the most patriotic and most conservative part of the country where one is far more likely to still find prayer in schools and more frequent displays of patriotism than say, in the Northeast (84% right and 25% wrong) or the West, which would include California and the Pacific Northwest (75% right and 25% wrong).
Indeed, the numbers would indicate, as one might suspect, that the wealthier one is (and, therefore, the likelihood being that one attended a well-funded public school) the better educated one is likely to be.  Not only are the regional breakdowns indicative of this (school spending in the West and Northeast tend to be higher than in the low-tax South), but the household income indicators highlight the wealth gap.  Households making more than $50k  the rate is 86% right, 14% wrong, while under $50k it is 63% right, 37% wrong.
In terms, by the way, of fitting a stereotypically conservative narrative (as displayed by some in the comment section of Doug's post linked above), these are problematic observations.  Not only do the regional numbers argue against the notion of a liberal conspiracy, but those numbers coupled with the household income numbers would indicate that students who attended better funded schools did better on the question.
And yes, I do understand that higher household income could also mean a higher number of kids in private school.  However, the vast majority of US residents go to public schools, and therefore the overwhelming majority of responds will have come from such a background.
Update/clarification: I know that spending per student is not directly correlated to outcome. And, further, the poorest school in the land teaches the fact the US declared independence from GB.  Further, it is worth underscoring that children from higher income families do better for a variety of reasons.
Fourth, as an educator from a family of educators who has a lot of friends who are educators, I can provide ample anecdotal evidence (as I have not done systematic research on the issue, obviously) that helps confirms the first point above.  Let me conclude what has become a rather lengthy post with only two.
Anecdote one:  the year was 2001 and I was teaching American National Government, a general studies level course.  We had just gone through the inauguration of President Bush and I needed a bonus question for my exam.  I had been watching the coverage of the inaugural balls and my four-year-old son (only barely four, in fact) was walking through the living room, stopped, pointed to the TV and said :"hey, Daddy, that's Dick Cheney!" and then walked out.  He had been correct.
Ok, I thought, I'll put Dick Cheney's picture on the exam and ask the students to identify him.  I figured, a) if my 4-year-old knows who he is, there is no reason why a bunch of 18-22 year-olds won't, and b)  we could all have a little laugh if a few students couldn't match the knowledge of a 4 year-old.  Well, it ended up that only somewhere around 30% of the student who correctly identified the newly elected Vice President of the United States (a result that was not especially funny).  Now, that was not the result of a liberal conspiracy; it was the result of a bunch of US citizens being profoundly apathetic about their government.  Mind you this is after the typical endless presidential campaign and after the Florida recount debacle that should have really clued people into presidential politics.
Anecdote two (also from American National Government):  As one would expect, I hammer in the concept of separation of powers and am big on especially underscoring the pivotal role of legislative power in the process.  I say, over and over again, "legislative power is the power to make the laws."  Ok, so I am handing out the exam, the first question of which is about legislative power.  It was supposed to be a gimme—a question as easy as it comes.  It read something like this:
1.  Legislative power is:

a.  The power to make the laws.

b.  The power to enforce the laws.

c.  The power to interpret the laws.

d.  All of the above.

e.  None of the above.
Again, not only should all of this be common knowledge, I had emphasized the concept over and over and discussed what it meant and why and talked about legislation, budgets, the creation via legislation of bureaucracies, Article 1, section 8 and all that jazz.  And, of course, separation of powers was handled in the text and there was a whole chapter on legislative power.
So, when I passed the test out, I joked, "well, if you can't answer the first one correctly, you might as well leave now."  Well, ends up that something like 40% of them should have left the room and my joke lost all humor to me.
There was literally nothing else that I could have done, apart from telling them to mark "A" as I was handing out the exam, and even then I expect someone would have not paid attention.
This experience, along with several others, have underscored to me over the years that the most important variable in educational outcomes is the student, not the teacher (or the curriculum, or whatever else one wished to choose).  Although, I would hasten to add, that I do value quality of instructor and instruction.
I have long hypothesized that I could hand out the exam ahead of time and still have students who would fail the exam and am sorely tempted to test that hypothesis every time I teach a general studies class just to see what would happen.
Understand:  I know that I have failings as an instructor and that sometimes my students fail to understand concepts because I fail to properly instruct them.  However, there is ultimately only so much that I can do.
All of this is to say that a) I am not surprised that there are a lot of people out there who don't know the US declared independence from Great Britain and, b) the reason they don't know likely has almost nothing to do with ideological infiltration of education.
Update: As my wife points out to me:  of the subjects to get pushed out of the curriculum on a given day, its history/social science that is most likely to get the short end of the stick, as most time is focused on teaching kids to read, write, and do math (and that that is where the standardized are focused, further enhancing the incentive to focus on those subjects as funding, which further incentivizes focus away from social sciences).