Why Are Sales Of Desktop PC's Slowing?
Desktop PC sales fell by nearly 14% in the first quarter, continuing an ongoing trend. There are many reasons this is happening.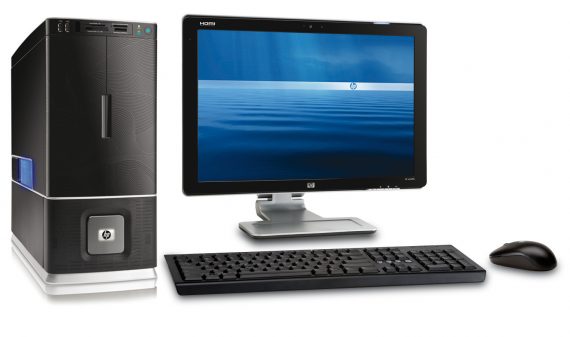 A big topic of conversation last week as the news that sales of desktop PC's are slowing, and that even the release of a new version of Windows isn't doing much to help what was once the dominant sector of personal computing:
SAN FRANCISCO, April 10 (UPI) – Global personal computer shipments plummeted 13.9 percent in the latest quarter, further evidence of a quickly decaying market, a U.S. research firm reported.

The decline — the single largest drop ever tracked by market research firm IDC in a single quarter — comes as consumers increasingly show a preference for tablets and smartphones.

The decline corresponds to the first full quarter in which Microsoft's latest version of its Windows operating system — Windows 8 — was available, suggesting it was getting a cold shoulder from consumers, experts said
Indeed, one industry research firm is blaming the drop in sales squarely on Windows 8, which has received less than stellar reviews from reviewers:
All signs so far point to Windows 8 being a flop.

"Unfortunately, it seems clear that the Windows 8 launch not only didn't provide a positive boost to the PC market, but appears to have slowed the market," IDC Vice President Bob O'Donnell said.

The newest version of Windows is designed to work well with touch-sensitive screens, but the displays add to the cost of a PC. Together, the changes and higher prices "have made PCs a less attractive alternative to dedicated tablets and other competitive devices," O'Donnell said.

Representatives of Microsoft Corp. were not immediately available for comment.

In its tally, IDC excludes tablets, even if they run PC-style software. It also excludes any device that has a detachable keyboard. With the release of Windows 8, PC makers have been reviving their experiments with tablet-laptop hybrids, some of which have detachable keyboards. Consumers are likely to have shifted some of their buying away from traditional laptops and toward these new devices, which means that the total sales decline of Windows-based devices may not be quite as drastic as IDC's numbers suggest.

Microsoft shares fell 63 cents, or 2 percent, to $29.65 in extended trading, after the release of the report. They had gained 67 cents in regular trading.
There's no question that the market for PCs has changed from where it was 20, or even 10, years ago, and Windows is part of the reason. When Windows 3.1 was replaced by Windows 95, it became necessary for most computer users to upgrade both their hardware and their software if they wanted to take advantage of the real advantages of the upgraded operating system. As many people learned, trying to run Windows 95 on a system that was designed for Windows 3.1 was often an exercising in keyboard pounding futility.This was also an era in which the PC game industry was just beginning to take off and, if you wanted to play the latest and greatest games, you needed to have hardware that could handle the graphics and the computational speed necessary to do so. In some sense, then, you could say that the advances in software, along with the growth of the World Wide Web, drove the sales in hardware. In recent years, major upgrades have become less frequent. Windows XP was released in 2001, Windows Vista didn't come out until six years later  in 2007,  Windows 7 was leased in 2009 (in many ways in response to complaints about Windows Vista), and Windows 8 came out in late 2012. Less frequent OS updates means less of a need to worry about equipment becoming obsolete. Additionally, the problem of older machines not being workable on the new OS became less frequent (I upgraded a Windows Vista machine to Windows 7 when it came out and the upgrade was seamless). All of this means that consumers have less of an incentive to buy a new machine. Indeed, just from personal experience, it seems as though people are tending to hold onto machines until the inevitable failure that is too costly to repair occurs.
In other words, even if people want to upgrade to Windows 8 they don't necessarily need to buy a new machine to do so.
As Dave Schuler notes, there was also a time when businesses would upgrade their computer equipment every two or three years, both because they could and because they took needed to be able to have machines that were keeping up with the advances in software packages with Microsoft Office. That 2-3 year replacement cycle hasn't been the rule for some time now, both because there's less of a need to upgrade and because the state of the economy means that businesses have an incentive to hold on to equipment longer in order to preserve cash flow.
Another argument that's being made to account for the decline in sales is that we've entered into the world of  "good enough" computing:
It's certainly true that people are increasingly spending money on new tablets and smartphones rather than new computers. But reports of the PC's demise are grossly exaggerated. If the PC is dead, what am I typing this on? If the PC is dead, what are office-workers all over the world sitting in front of all day while they work? The reason people aren't buying new PCs isn't that they don't need a PC. It's that, for the most part, they're getting along just fine with the one they already have.

In the past, you had to replace your computer every few years or else it would become hopelessly bogged down trying to deal with the latest desktop applications, operating systems, and Internet technologies. But thanks to Moore's Law, your average PC's processing power now exceeds most people's daily needs by a healthy margin. Meanwhile, the rise of the cloud has reduced the need for extra memory.
ZDNet's Simon Bisson essentially makes the same argument I did above:
The truth is quite simple: PCs are lasting longer, they're not getting measurably faster, and software is getting better. Why do you need to buy a new PC when you can get better performance with a software upgrade on your old hardware?

If I was to put a finger on the point where everything changed, where Windows stopped being the driver for PC sales, I'd have to point at Windows Vista.

That was the point where Microsoft and the PC OEMs stopped trusting each other. Microsoft made a bet on PC hardware and capabilities, and the PC industry pulled the rug out from under it, forcing the mess that was Vista Basic on users as they tried to sell cheap PCs with old graphics hardware.

That meant Microsoft had to change. It couldn't make that same bet on hardware anymore. It didn't trust OEMs to deliver on the promises the silicon vendors were making (and if we look at the initial Windows 8 hardware, it's pretty clear it was right to make that decision). So it made the software better instead.

New releases of Windows would need fewer resources, offer better performance, and (particularly important to mobile users) use less power.

So we shouldn't have been surprised when Windows 7 came along, bringing all that better performance on the same hardware. There wasn't a reason to buy a new PC for a new Windows any more.
These arguments remind me of the discussions you would read in computing magazines in the 90s talking about an era where the computer would essentially become ore an appliance in the house rather than the, essentially,novelties they still were in the 90s. One characteristic of a household appliance — be it a refrigerator or a television — is that they tend to have a long usability life. You don't see people going out and upgrading their refrigerator or microwave oven every couple years. Indeed, these items haven't changed much in many years. The television industry continues to evolve, but even there most people don't change out their TV's every couple years. In some sense, that may be what's happened with computers, especially since they have now clearly spread far beyond the "techie" community where upgrading to the latest and greatest was, and still is,often seen as some kind of competition with ones peers. If the family computer continues to work just fine, most people aren't going to replace it with something new just for the sake of doing so. The most they'd do, I'd guess, is get a second machine if the need arises and, in that case, it's becoming common that the second machine is a laptop, notebook, or tablet.
Dave Schuler, meanwhile, pushes back against the  argument that there's anything unusual about what's happening in the desktop market:
PC sales aren't in free fall. They're just seeking their natural level without the planned obsolescence that affected the market for so long. The PC market is a mature one. There will continue to be millions even billions of people huddled behind display devices at the keyboards of their desktops and notebook computers and that will be the case for the foreseeable future. For reading their email or surfing the web more and more people will use tablets or their phones.
This, I think, is the most important point. There was no rational reason to believe that desktop PC sales were going to stay at the levels they were 10-20 years ago, there are simply too many things about the market that have changed since then. Apple, whose hardware business nearly collapsed in the 90s came roaring back with the return of Steve Jobs and the introduction of desktop and laptop computers that were fast, easy to use, and far more sleek looking than the boxy desktop towers that most PC users bought from HP, Dell, and Gateway. The rise of the smartphone meant a diversion of consumer electronic dollars into an entirely new area. This was followed by the introduction of the iPad and the still development world of the tablet. Add into that the existence of laptops and notebooks that take up less space and, increasingly, have as much power as some desktops (unless you want to play games), and there are a lot of items out there competing for the world's technology dollars. In this context, it's really not any surprise that desktop sales have declined.
I doubt that we're looking at the beginning of the end of the desktop PC era. There are still tasks for which it is far better suited than other devices, and there is still a business market that, at some point, will be replacing all those units they purchased before the economy crashed. At some point, perhaps, software advances will be made that will give people a greater incentive to look at upgrading their machines. Finally, at some point, we may end up seeing a merging of sorts of the technology behind tables and desktops. Remember, they weren't exactly using physical keyboards for their "desktop" units on the Enterprise-D.