Why I Live In The Suburbs
Wealthy Manhattanites are clamoring for a new status symbol: their own washer and dryer!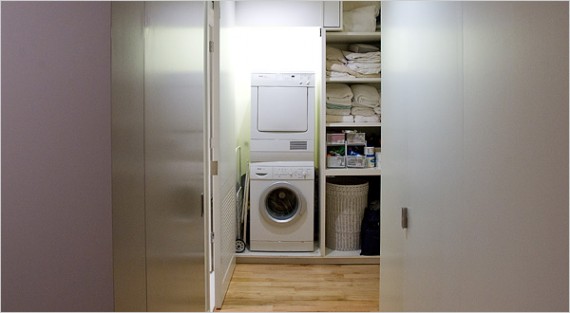 Wealthy Manhattanites are clamoring for a new status symbol:  their own washer and dryer!
For most people in the city, getting the laundry done will mean lugging it to a wash-and-fold service or taking it to the machines in the basement with a stack of quarters in hand.

But a growing number of New Yorkers can give the holiday linens a hot bath at home in their own washers and dryers. This staple of the suburbs remains uncommon in the city — apartments that have washers and dryers make up only about 20 percent of the sales and rental listings in Manhattan, according to StreetEasy, the real estate Web site. But demand is increasing, Condominium developers are making these appliances part of the standard package, and older buildings — even prewars — are relaxing longtime bans to keep residents happy and to avoid scaring off buyers.

[…]

"It is the ultimate convenience," said Doug Steinberg, whose one-bedroom condo, at 315 Seventh Avenue in Chelsea, is now on the market for $739,000. The apartment, No. 7B, has its own laundry tucked behind a louvered door, with shelves for detergent and towels.
Growing up in a lower middle class family, we had our own washer and dryer from the earliest days I can remember — going back over four decades.  The only exceptions were two stints in Germany (once as a kid from 1977-79 and again as a young Army officer from 1989-92) and my graduate student apartment (directly across the street from the Section 8 housing).   It's just inconceivable that I'd live in a place costing nearly three quarters of a million dollars and take my clothes to the laundromat.
There are, of course, enormous benefits to living in the great cities.  But they come with incredibly steep tradeoffs, simply because space is at such a premium.