Why I Love The First Amendment
An lesson from the United Kingdom in the importance of protecting freedom of speech.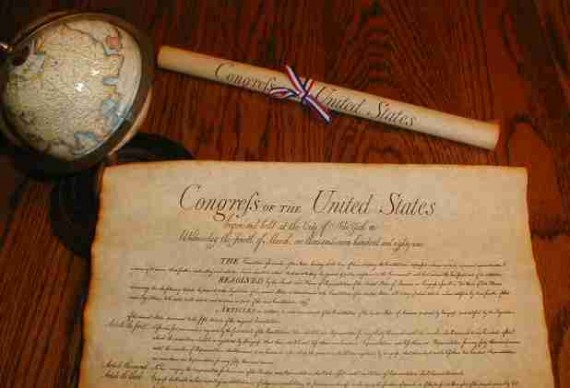 Because in a nation that doesn't zealously protect Freedom of Speech, something like this can happen:
In Britain, the trend toward the curbing of free expression picked up speed on Monday, when British student Liam Stacey was sentenced to 56 days in prison for posting racist comments on Twitter. When Premier League footballer Fabrice Muamba had a heart attack during a soccer game and was rushed to hospital, a drunk Stacey took to the microblogging site and spewed a series of racially abhorrent tweets into the ether. Other Twitter users — including sports pundit and former top-flight footballer Stan Collymore — quickly noticed his words and reported Stacey to the police, who arrested him and charged him with incitement to racial hatred a few days later.

When Muamba collapsed, said the judge at Stacey's trial, "not just the footballer's family, not just the footballing world but the whole world were literally praying for his life. Your comments aggravated this situation." In fact, it is hard to see how Stacey's words aggravated anything much at all. What he wrote, utterly appalling and unprintable as it was, had bearing neither on the efficacy of Muamba's life-saving treatment nor on the likelihood of his survival. It prevented nobody from praying for his life or exercising any of their own rights. And it encouraged nobody to do anything illegal. Sure, what Stacey wrote may have — should have — upset many people. But in a free country, that cannot be a crime.

Explaining his decision to imprison Stacey, the judge noted that he had "no choice but to impose an immediate custodial sentence to reflect the public outrage at what [Stacey had] done." "To reflect the public outrage"? Translation: British speech law is determined by the sentiments of the mob.
What Stacey said was bigoted and offensive, but the solution for that isn't to overturn centuries of principles on the value of liberty just to satisfy the mob, the answer is to give the idiots the social approbation opprobrium they deserve and deny them the satisfaction of engaging them. The idea that a few insulting things that one says on Twitter could subject someone to nearly two months in prison is absurd, and it's unfortunate that the land that gave of John Stuart Mill and John Locke has turned into something like this.
A case like this brings to mind many of the controversial First Amendment cases that the Supreme Court has dealt with over the years. Whether it's Nazis marching through the streets of a predominantly Jewish community outside Chicago, an anti-war protester wearing a jacket with a profanity laced political message, a political protester burning an American flag, or an extremist religious group protesting on public land near the funerals of fallen soldiers, there is much debate each time one of these cases comes up and the Court rules against the efforts to restrict speech.
Usually,though,  the reaction to the decision isn't really a comment on the logic of the court's legal reasoning so much as it is an emotional reaction to the content of the speech. In many cases, that reaction is understandable. A group of Nazis in Jewish neighborhood is offensive for reasons that hardly need to be stated. The Vietnam-era draft protests were in many ways an emotional clash of generations. Flag-burning has so deeply offensive that some people have tried to amend the Constitution to ban it. The Westboro Baptist Church seems to exist for the purpose of putting out an offensive message. And,  the things that Stacey said when a beloved soccer player collapsed on the pitch during a nationally televised match were understandably offensive to many Britons. However, the fact that people have a revulsion at the content of someone's speech is not a reason to ban it, or punish the speaker. Nobody was harmed by the speech that was protected in the Supreme Court cases I cited, and nobody was harmed in any real way by Stacey's tweets. There's simply no good reason to punish people because they offend us or act like jerks.
Besides, if we started putting people in jail just for acting like a jerk, we'd have a serious overcrowding crisis in a short period of time.