Why Nationalized Health Care Is Coming
The US spends more government money on healthcare per capita than the likes of Germany, France, Canada, Sweden, and Holland!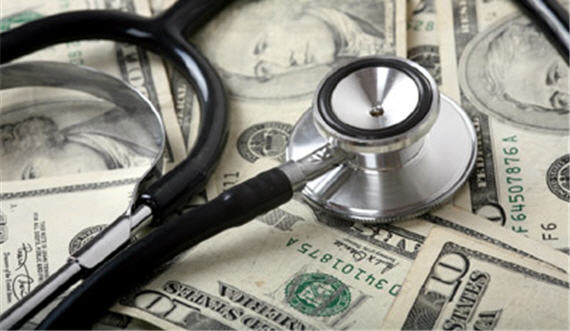 I've argued for years that the combination of unsustainability high growth in health care costs and the enormous competitive disadvantage that puts on American business means that our current system of quasi-private, insurance-based medicine will collapse of its own weight. Like it or not–and I mostly don't–Americans will wind up with some sort of government-centric model, likely one that provides basic coverage at a fixed price with some option for private supplemental coverage for those who can afford it.
Ezra Klein points to another harbinger: a soon-to-be-available test that will let individuals map their DNA and know their predisposition to any number of diseases.
As we sequence more genomes, mine more data, and conduct more studies, we'll find a lot more of these connections. Eventually, genomic testing will be a powerful predictor of future illness. And it raises the potential that young people will get themselves tested and then purchase insurance based off the result. So those with a clean genomic result might go for a cheap catastrophic plan, while those with a high risk of developing pricey illnesses will opt for more comprehensive insurance.

The result would be, in insurance terms, an "adverse-selection death spiral," as the healthy opt out of expensive insurance, the sick opt into it, and premiums spin out of control.
Now, this is too glib. Our health is based on more than genetic factors. And, unless the Supreme Court strikes it down, ObamaCare essentially requires people to carry health insurance. But the combination of federal laws mandating coverage regardless of pre-existing conditions and forbidding insurers to discriminate on the basis of genetic testing does further skew whatever "market" exists in healthcare.
And, as Avik Roy points out, there's really not much of a market left, anyway. Indeed, "per-capita state-sponsored health expenditures in the United States are the third-highest in the world, only below Norway and Luxembourg. And this is before our new health law kicks in. "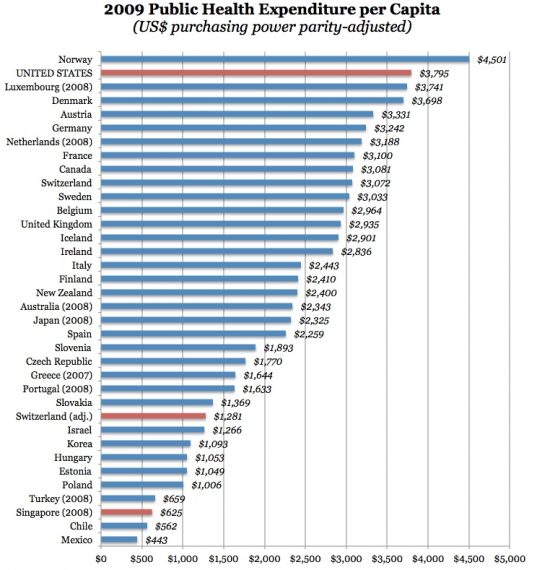 That's right: Even though we have a substantial private investment in healthcare, we spend more  government money on healthcare per capita than the likes of Germany, France, Canada, Sweden, and Holland!
Further, Roy notes, "If anything, the U.S. figures understate government health spending, because they exclude the $300 billion a year we 'spend' through the tax code by making the purchase of employer-sponsored health insurance tax-exempt."
How can this be? Most of us, after all, have expensive private insurance. Well, "The thing to remember in America is that we have single-payer health care for the elderly and for the poor: the two costliest groups."
Additionally, contrary to myth, the vast majority of these other systems are not along the model of the British National Health Service, where the government runs the hospitals, pays the doctors, and decides who gets what treatment. For example:
I've described Switzerland as having the world's best health-care system. In Switzerland, there are no government-run insurance plans, no "public options." Instead, the Swiss get subsidies, much like "premium support" proposals for Medicare reform or the PPACA exchanges, from which Swiss citizens buy health care from private insurers. The subsidies are scaled up or down based on income: poorer people get large subsidies; middle-income earners get small subsidies; upper-income earners get nothing.
My guess is that the big driver in forcing change in the US will be from the right, not the left. That is, big business is going to start lobbying hard to get out from under the crushing burden of having to finance health coverage for their employees. Since no other major country operates their healthcare system that way, it's a major competitive disadvantage.