Why Paved Roads Are Being Converted to Gravel
Is the left to blame for unpaved roads?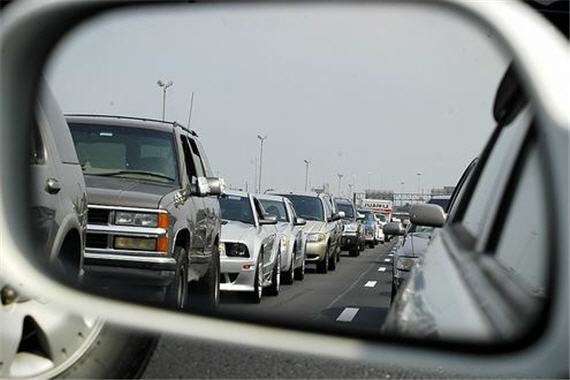 Both Stephen Green and Ed Driscoll both link to this article, which describes a trend of replacing paved roads with gravel roads in Michigan and other states.
Paved roads, historical emblems of American achievement, are being torn up across rural America and replaced with gravel or other rough surfaces as counties struggle with tight budgets and dwindling state and federal revenue. State money for local roads was cut in many places amid budget shortfalls.

In Michigan, at least 38 of the 83 counties have converted some asphalt roads to gravel in recent years. Last year, South Dakota turned at least 100 miles of asphalt road surfaces to gravel. Counties in Alabama and Pennsylvania have begun downgrading asphalt roads to cheaper chip-and-seal road, also known as "poor man's pavement." Some counties in Ohio are simply letting roads erode to gravel.
Both Driscoll and Green obliquely blame liberals for this development, with Green referencing Rand's The New Left: The Anti-Industrial Revolution and Driscoll basically blaming Obama for not spending stimulus money on road projects. Of course, actually reading the article points to another culprit entirely:
But higher taxes for road maintenance are equally unpopular. In June, Stutsman County residents rejected a measure that would have generated more money for roads by increasing property and sales taxes.

"I'd rather my kids drive on a gravel road than stick them with a big tax bill," said Bob Baumann, as he sipped a bottle of Coors Light at the Sportsman's Bar Café and Gas in Spiritwood.

[…]

Judy Graves of Ypsilanti, N.D., voted against the measure to raise taxes for roads. But she says she and others nonetheless wrote to Gov. John Hoeven and asked him to stop Old 10 from being ground up because it still carries traffic to a Cargill Inc. malting plant.
Roads aren't being ground up into gravel because of some insidious liberal agenda. They're being ground up because local residents aren't willing to pay the taxes needed to maintain paved roads–and then complaining that the roads aren't being maintained. But there ain't no such thing as a free lunch. If you aren't willing to raise taxes, then some government services are going to be cut. That means that less-traveled roads aren't going to be maintained.