Why Republican Leaders Won't Condemn Trump
Some agree with him. Many others are cowards. But there's more to it.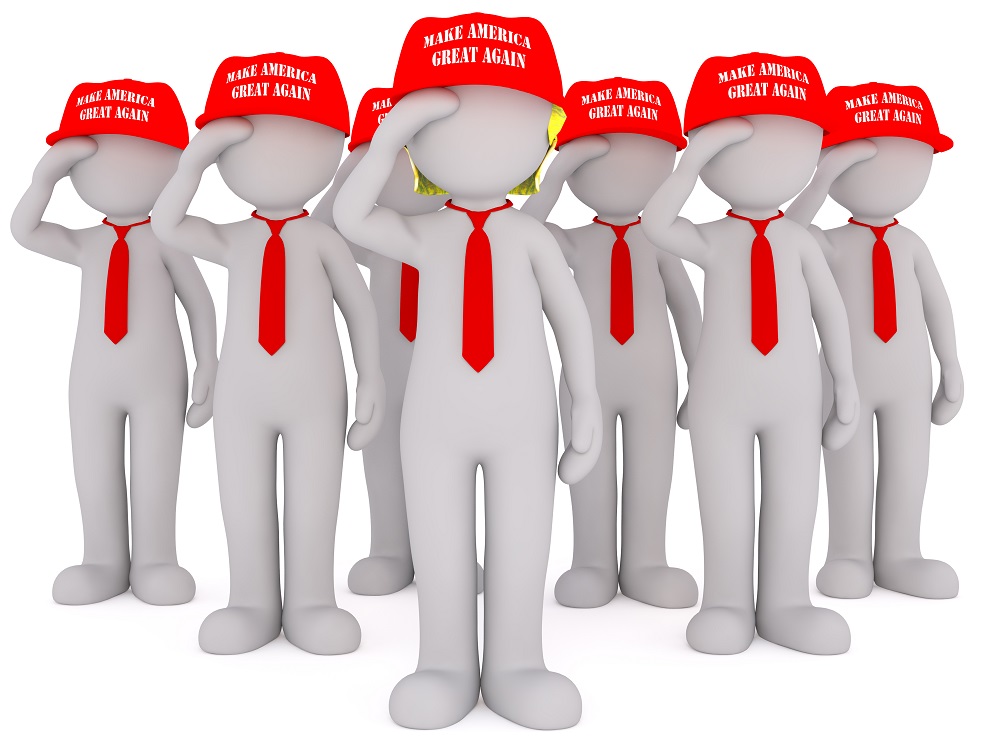 It's frustrating to those of us who long supported the Republican Party that essentially none of its delegation in Congress have been willing to condemn President Trump's bigotry. Obviously, some outright agree with him and many, like the spineless Lindsey Graham, are simply afraid to risk the outrage of primary voters. But there's more to it than that.
CNN's Harry Enten argues "Most moderate GOP voices on immigration were wiped out in the 2018 Democratic wave."
It would be easy to say the minimal response from Republican lawmakers is because they don't go after Trump in general. But that ignores Republicans who vocally disagree with him on trade, for example.

We can peg Republican silence (for the most part) on the fact that many Republicans who might be willing to go after Trump on issues related to immigration are no longer in Congress. They either retired, died or were beaten in the 2018 midterm elections.

Last year, I looked at a group of 23 of the most pro-immigration House Republicans. These were lawmakers "who signed onto a discharge position to force a vote on a bill that would have created a [Deferred Action for Childhood Arrivals program] fix," after Trump terminated DACAthrough an executive order and asked Congress to act.

Of this group of 23, 14 (61%) are no longer in the House, including Carlos Curbelo and Ileana Ros-Lehtinen. Of those nine remaining, a number have come out against the President. Rep. Will Hurd of Texas called Trump's tweet "racist." Rep. John Katko of New York said, "The President's tweets were wrong." Another, Rep. Fred Upton of Michigan, said he was "appalled by the President's tweets."

Outside of this group, a low percentage of Republicans commented on the President's tweets. One of the few was Rep. Mike Turner of Ohio, who said they were "racist." Rogers, like many of that group of 23, has a history of taking more moderate positions on immigration.

[…]

Turner's record is closer to those Republicans in 2018 whose seats are now held by Democrats. Among that group, their average score was a C+. Additionally, eight of the 16 who had a D or worse are no longer serving.
In other words, the House lost a lot of moderate Republican voices on immigration.

We see basically the same pattern when we expand our analysis to the Senate. The elected Republican senators who stepped down, died or were defeated in 2018 tended to be more moderate on immigration. Sens. Thad Cochran of Mississippi (C+), Bob Corker of Tennessee (C+), Jeff Flake of Arizona (C-), Orrin Hatch of Utah (C), Dean Heller of Nevada (C) and John McCain of Arizona (D) were all below the average Republican senator's score of a B.

Now, you can obviously critique Trump's tweets, even if you are hawkish on immigration. Rep. Pete Olson of Texas did so.

For most Republican lawmakers, however, there isn't much electoral incentive to call out the President. Just three Republican House members in Congress are from districts Trump lost in 2016. That means most of the electoral pressure comes from intraparty (i.e. a primary). Only 11% of Republican voters nationally called Trump racist in a 2018 Quinnipiac University poll. Just 15% of Republicans disapproved of Trump's job performance on immigration in a June 2019 CNN poll.
Arguably, that's just cowardice by another name. But it's also circular: the party leadership is more supportive of Trump because moderates either lost to Trumpists in the 2018 primaries or to Democrats in the 2018 general.
Enten's colleague Ron Brownstein points to an additional, related factor: "Republicans represent almost none of the places most immigrants live."
President Donald Trump's openly racist and xenophobic attacks on four Democratic House women of color, like his threatened immigration enforcement raids in major cities and the sweeping proposed new restrictions on asylum seekers that he announced Monday, underscores his transformation of the Republican Party into a coalition centered on the voters and places in America most hostile to immigration in particular and demographic change in general.

This latest flurry of activity continues the drive by Trump and other Republicans elected mostly from the parts of America least touched by immigration to impose a restrictionist agenda on migration over the nearly undivided opposition of Democrats elected by the areas where most immigrants, both undocumented and legal, actually live. Though greeted without complaint by Republicans in Congress, Trump's promised raids provoked astoundingly open resistance from the mayors of virtually every large American city, from New York and Los Angeles to Chicago and Houston.

[…]

This week's stark divide on both fronts, coming immediately after battles that also polarized the parties over Trump's border detention policies and his failed effort to add a citizenship question to the 2020 census, crystallize how Trump is accelerating a long gestating shift in the axis of American politics from class interests to cultural attitudes.

As I've written before, attitudes toward demographic, cultural and economic change have become the central fault line between the parties. Republicans mobilize what I've called a "coalition of restoration" centered on older, blue-collar, evangelical and non-urban whites who polls show are uneasy or frightened about the fundamental demographic, cultural and even economic trends reshaping America in the 21st century.

Democrats counter with a competing "coalition of transformation" revolving around the groups — young adults, minorities, singles, secular voters, and college-educated whites, mostly concentrated in large metropolitan areas — who are most comfortable with the change.

"Clearly we're headed down a path where there is one party for older white Americans and then there's another party for people of color and immigrants," says Carlos Curbelo, a former Republican US representative who was defeated last fall in a heavily diverse Miami-area district. "And this is very dangerous. It divides our society in a dangerous way. It paralyzes our political system."
Both parties have doubled down on appealing to their base, seeing that as more fruitful than courting the mythical moderate voter. While both focus too much for my tastes on identity politics, at least the Democratic version has the virtue of trying to expand the American ideal rather than hew to an outdated vision of it. While both are too intolerant of diverging viewpoints, I prefer an over-eagerness to charge bigotry against those insufficiently woke to, well, bigotry.
The silver lining, perhaps, is that at least some Republican leaders seem to understand that this is all bad for the party.
Over at POLITICO, Burgess Everett and John Bresnahan note that "After a day of silence, many GOP lawmakers harshly criticized the president." They argue that Trump's scurrilous attacks on minority Democratic lawmakers came as a shock.
The ambush plunged Trump back into a political crisis with his own party, with no coherent GOP response and little apparent coordination between the White House and Republicans on Capitol Hill over how to grapple with Trump's comments that the liberal lawmakers, all women of color, "go back" to where they came from.

Senate GOP leaders briefly discussed the matter on Monday afternoon in a private meeting as they compared their responses to the tweets, according to two attendees. Senate Majority Leader Mitch McConnell gave no indication of how he plans to respond at his weekly news conference on Tuesday.

That largely left it up to GOP senators and House members to devise their own responses to Trump's latest firestorm. And so after a day of silence, congressional Republicans began to harshly criticize the president — with some GOP lawmakers decrying his comments as "racist" and calling on him to apologize and delete his tweets.

Monday's pushback marked some of the strongest condemnations Trump's received from his party, which began with a trickle and then widened as Trump escalated his attacks in remarks to reporters.

"Yeah, I do," Sen. Joni Ernst of Iowa, a member of GOP leadership, said when asked whether Trump's tweets attacking the House Democrats were racist. "They are American citizens."

Several additional GOP lawmakers, such as Rep. Mike Turner of -Ohio, called Trump's comments "racist," a description rarely used against the president by members of the GOP.

Others wouldn't go that far, but Republicans were downcast Monday as they moved to respond to the president's remarks, which Trump refused to back away from. Sen. John Cornyn (R-Texas) called Trump's comments "a mistake, an unforced error" but said he does not "think the president's a racist," declining to elaborate.

And Sen. Mitt Romney (R-Utah) said he would vote to condemn Trump's tweets if such a measure came before the Senate, adding that straying from the unifying principles of the United States "for political purpose is, in my opinion, a very grave mistake."

"A lot of people have been using the word [racist]. My own view is, that what was said and what was tweeted was destructive, was demeaning, was disunifying and, frankly, was very wrong," Romney said. "It's clearly destructive and it has the potential to being dangerous as well."
Alas, even that tepid criticism was often tempered with bothsiderism.
Still, much of the congressional GOP is still navigating the episode gingerly — trying to break with Trump's rhetoric while avoiding blowback from the president. It's a familiar quandary made more difficult than most of the daily controversies of the Trump presidency given the inflammatory nature of his latest statements.

"It just really, really grates on him that they are beating on the people at the border trying to do the best they can," said Graham, who largely defended Trump on Monday. "The rhetoric is over the top. But the underlying problem is real."
As much as I hate it, Trump is the face of my old party. And Graham is its spine.
Hat tip to Taegan Goddard for all three links.