Why Sharron Angle Still Has A Chance
Despite her mis-steps, Sharron Angle still has a shot at beating Harry Reid in November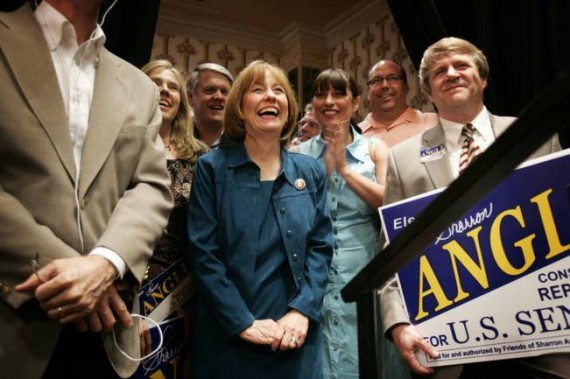 Despite her slipping poll numbers, the fact that she won't answer press questions, and her verbal gaffes, Sharron Angle is still well positioned to beat Harry Reid in November.
Why ?
Because the people inclined to vote for her are very inclined to vote:
(CNN) – Voter turnout could be crucial in the battle between Senate Majority Leader Harry Reid and his Republican challenger, Sharron Angle, and a new poll indicates that Republican voters in the state are more energized than their Democratic counterparts.

According to a Reuters/Ipsos survey of Nevada voters released Tuesday, 81 percent of Republicans say they are certain to vote on November 2, 17 points higher than the 64 percent of Democrats who say they'll vote in the midterm elections.

The poll indicates that Reid leads Angle 48 to 44 percent among likely voters. Among the larger poll of registered voters, Reid holds a 52 to 36 percent advantage.

"He (Reid) is well within her striking distance," says Ipsos pollster Julia Clark. "I think this one will go down to the wire and it will absolutely depend on turnout."
Which means that, over the next three months, we are going to see both sides appealing mostly to their bases, and that means that this is likely to turn in to a knock-down-drag-out fight.
Get the popcorn. It's gonna be fun.