Why Walker Will Win a Lot of Votes
Voting isn't just about candidates.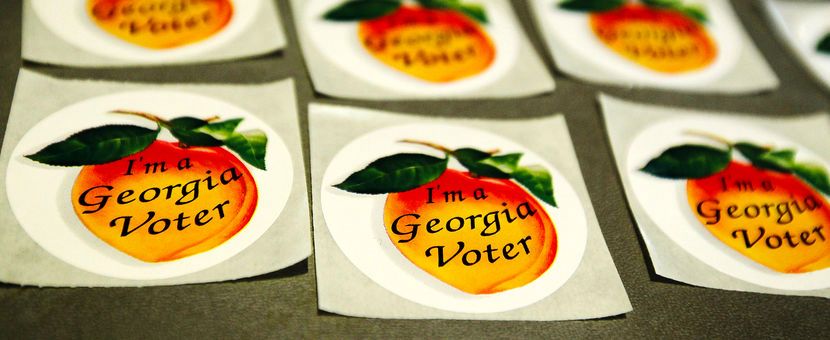 Let me start by noting that apart from anything to do with partisan politics I think that Herschel Walker has demonstrated himself to be qualified to be a US Senator only in the sense that he is a citizen of the United States and he is over thirty years of age. In that sense, he is constitituionally qualified to be a US Senator. In all other ways, he has demonstrated himself to be a poor candidate for the job. He has repeatedly demonstrated a lack of knowledge of basic policy issues, has poor communication skills, and has been proven to be untruthful about his past in a panoply of ways. On top of all of that he has lived outside of Georgia, the state he seeks to represent, for decades, and there is now a credible allegation that he paid for an abortion (not to mention veiled criticism from one of his sons on Twitter this week).*
If one were evaluating this applicant for most jobs, he wouldn't get an interview, let alone employment, but we stand on the precipice of the very real possibility he will become one of 100 US Senators for at least the next six years (likely longer).
Of course, all that above assumes that things like character and capacity matter. A very real counterpoint is that the main job of a member of a legislative body is to vote for the leadership of the party to which they belong and to reliably vote with their party.
On those counts, Walker can be be relied upon to function pretty well as a US Senator, which really gets to the heart of the matter.
Without getting further into Walker's myriad flaws, if one is a Republican or Republican-leaning voter in Georgia what are the real options here given current conditions?
Hold your nose and vote for Walker.
Don't vote in the Senate contest (leave it blank).
Vote third party as a protest.
Vote for the Democratic incumbent, Warnock.
As a voter on the Republican side of the ledger, the top priority is to flip the US Senate to Republican control, with the follow-on goal of either forwarding a Republican legislative agenda (especially as it pertains to judicial nominees)** or blocking Democratic goals.
Option 2 through 4 all reward the Democrats and could lead to them retaining power. The rational option for a Georgia Republican (at this stage of the process***) is to vote for Walker (by either ignoring the litany of problems or, more likely than not doing the human thing and rationalizing them away).
Put another way, the consequences of not voting for a bad co-partisan is not punishing the bad co-partisan. The consequences of not voting for the bad co-partisan is rewarding the other party.
Not voting for Walker helps Warnock.
Not voting helps Warnock.
Voting third party helps Warnock.
And, of course, voting for Warnock to punch Walker helps Warnock.
If you are worried about taxes, or abortion, or court appointees, or whatnot, it is perfectly rational for a Republican to vote for Walker even if they think he is unqualified and dishonest.
Really, the reality is despite my view that a person who doesn't understand policy at all, who cannot articulate a coherent string of sentences on the issues, and who has been demonstrably dishonest (on multiple locations) should not be in office, none of those things actually stop a candidate from performing basic representational functions of voting the way a constituency wants them to vote. This is an unpleasant truth but a truth nonetheless.
Now, I will note that in a close race, which we have here, revelations such as we have seen in recent days could be enough to depress Republican turnout or to make some less-strident partisan to make another choice, so it could matter. But I cannot see it making a major difference.
All of this links directly to various themes I write about frequently.
First, the importance of partisanship is clear and is baked into electoral behavior. Candidate quality matters, but not as much as people think it does because, ultimately, people are voting for reasons that actually aren't just about the candidate.
Second, nomination processes matter and ours does a lousy job of vetting candidates. Again, people can blame "The Republican Party" for Walker, but there was no centralized process that decided he was the best candidate for Georgia.**** No, he essentially self-selected and then rode his celebrity to a win in a low-information, low-turnout process.***** Since most people only have vague ideas about the candidates in primaries, it is hardly a shock that one of the most famous athletes from the state in the last 50 years won.
We simply do not have a nomination process that is designed to produce qualified candidates if "qualified" means meeting some set predetermined criteria. Instead, voters get what they get and are then faced with the partisan choice noted above. Worse, when voters are faced with that choice (or, more accurately, when voters behave as we know they will behave), the result is often the pushing of a given party is a negative direction due to poor candidate selection.
Third, we see here the consequences of only two viable choices in terms of parties. Voters faced with a bad choice within their own party have no other viable place to go with their vote, which simply means they are likely to vote for the bad candidate, which over time can reshape a party in a negative direction. It also means that partisans will likely stick with their own team even as it degenerates because switching teams is an unlikely behavior en masse.
(There is much that could be amplified, but the post has already gotten much longer than expected).
Update: I had a thought that occurred after I posted. What I am saying here, and elsewhere over time, is not that process/the system are solely responsible for this kind of outcome, nor that reforms would utterly prevent them. But I am saying that our system increases the odds of these kinds of outcomes and that reforms could decrease the odds of these kinds of outcomes.
I would note, too, that what we are seeing from a lot of GOP mouthpieces, i.e., rationalization of these revelations, is normal human behavior, for good or ill (ok, for ill–but it is normal).
---
*I could hyperlink all of those charges, but I simply don't have the time. But it would not be hard to Google all the things if one is so inclined.
**For example there is a non-zero chance that Biden will be able to name a SCOTUS Justice in the next two years. A rational Republican would be willing to tolerate a Walker win if it meant blocking a Biden SCOTUS nominee a la the way McConnell handled the Scalia seat. It is an utterly reasonable calculation.
***But that does not let anyone off the hook for voting for him in the primary, which is a different calculation.
****This statement is not, as many people seem to take it when I say things like this, some absolution of the GOP writ large. But it is to point out that there simply is no centralized actor making these decisions. There are various competing forces and factors, but there is no one you can say "it's all your fault" the same way you can blame a manager for hiring Dave despite the fact that Dave was clearly a terrible choice. These are all collective action problems, meaning central responsibility does not exist. And, to my broader point, the institutional mechanisms used to manage collective action (e.g., primary elections) become all the more important when we realize this.
*****I cannot find a definitive number but would guesstimate turnout for the May primaries was around 28ish%. That is high for a primary (and press coverage suggests that it was a high for a primary). But still, that means over 70% of Georgians did not participate. About 1.1 million Republicans voted in the GOP Senate primary, roughly 800,000 of whom voted for Walker–in a state with a population of ~10.7 million.