Why Would Petraeus Take CIA Job?
Why would David Petraeus take the thankless job of running the CIA?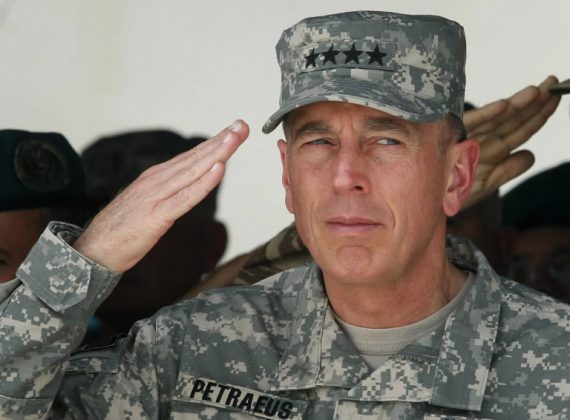 Jamie McIntyre tries to answer a question many of us have had: Why would David Petraeus take the thankless job of running the CIA? After all, it looks to be a step down from Super General.
Why would the most celebrated American general of the post-9/11 era, credited with saving Iraq and charged with salvaging Afghanistan, accept a post where he would be a second-tier adviser to the president on intelligence matters, after the director of national intelligence?

[…]

The one job for which Petraeus was preternaturally prepared was the one that was not offered: chairman of the Joint Chiefs of Staff, America's most senior military officer, who commands no troops but has the ear of the commander-in-chief and who can wield enormous influence as primary military adviser both to the president and the defense secretary.

[…]

The conventional wisdom is that President Obama didn't want to risk installing a general popular with Republicans as a potential rival at the Pentagon. The thinking: As chairman, Petraeus would need only raise an eyebrow to effectively damn with faint praise any policy to which he took exception. "All he has to do is say, 'You know I'll go public with this,'" said James Carafano of the Heritage Foundation.

Bill Clinton faced that dynamic with Colin Powell. While Powell made a point of saluting smartly in public, his private opposition helped sink some of Clinton's initiatives, notably the doomed 1993 effort to allow gays to serve openly in the military. Clinton had to be careful not to be seen as going against the advice of his superstar chairman.

Carafano sees a cold political calculus at work. If the Obama administration were simply to allow Petraeus to retire, rather than conveniently fade away, he might surface as a critic. And not just any critic, but one who Carafano said "knows all the secrets of the kingdom." On the other hand, as CIA chief Petraeus would stay on the reservation and not be nearly so powerful. Carafano argues it's a good fit for both: "Obama keeps a really highly qualified guy on his team, he keeps him in kind of a smaller box. Petraeus gets to be head of the CIA, which is a pretty cool job. He'll be able pick and choose, much the way he did as a combat commander, about what he says when, so in a sense they both stay in very comfortable roles."

Some Petraeus critics also see a cynical calculation at work. With Obama likely to win re-election, they say, the general is just saddling up with the winning side.
Ultimately, McIntyre doesn't answer the question. Petraeus isn't saying anything–except that he's got no desire to be president.
My best guess is the simplest: Petraeus is a loyal soldier and dutifully said "Yes, Mr. President" when his commander-in-chief asked him to take on a new challenge. Recall that he technically took a demotion when he took the Afghanistan job, giving up a prestige combatant command. The president asked him to take on new responsibilities, he figured he was up to them, and saluted smartly.