Will Republicans Cave On Taxes If Obama Wins?
Republicans will have some choices to make if President Obama is re-elected.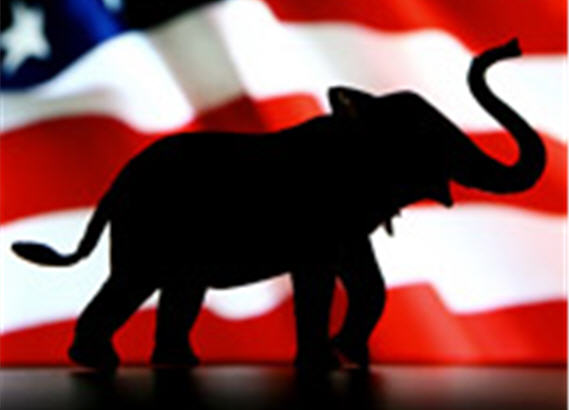 According to The Washington Post, some senior Republicans seem to be hinting that they will likely have to throw in the towel on resistance to any tax increases if the President wins re-election in November:
Senior Republicans say they will be forced to retreat on taxes if President Obama wins a second term in November, clearing the biggest obstacle to a deal with Democrats to defuse a year-end budget bombthat threatens to rock the U.S. economy.

Republicans have long resisted tax increases of any kind. But taxes are a major battleground in the campaign between Obama and Republican Mitt Romney, Capitol Hill veterans say, and the victor will be able to claim a mandate for his policies.

"This is a referendum on taxes," said Rep. Tom Cole (R-Okla.), a senior member of the House Budget Committee. "If the president wins reelection, taxes are going up" for the nation's wealthiest households, and "there's not a lot we can do about that."

With Election Day still more than six weeks away and the president holding a thin lead in national polls, Republicans say they are not conceding that an Obama victory is the likely outcome. But they are beginning to plan for that possibility.

Lawmakers expect to leave town Friday and will not return until mid-November, when they will have little time to head off $500 billion in automatic tax increases and spending cuts set to take effect Jan. 2.

If Romney wins the White House, Republicans say, their strategy is clear: They would push to maintain current tax rates through 2013, giving the new president time to draft a blueprint for overhauling the tax code and taming the $16 trillion national debt.

But if Obama wins, the GOP would have no leverage — political or procedural — to force him to abandon his pledge to raise taxes on family income over $250,000, according to senior Republicans in the House and the Senate.

So they are beginning to contemplate a compromise that would let taxes go up in exchange for Democratic concessions on GOP priorities.

At the very least, that would mean protecting the Pentagon from the budget ax, which is set to whack $55 billion out of national security accounts next year. But it could also mean major changes to Medicare, which many Republicans said could quickly become the new front in the partisan battle over the budget.

"I hope, obviously, the status quo doesn't prevail" on Nov. 6. "But if things stay as they are, and all the players are generally the same . . . finding a responsible reform for Medicare is the secret to unleashing very productive talks that would put in place a balanced solution to our fiscal problems," said Sen. Bob Corker (R-Tenn.). "If you deal with the Medicare issue, then Republicans are far more open to looking at revenues."

Difficult details would have to be hammered out. And any compromise would face head winds in the House, where a large bloc of GOP freshmen opposed new taxes during a messy fight to raise the federal debt limit last summer.

Many say they that are still not ready to agree to higher taxes and that they will press to maintain tax rates for families at all income levels no matter who wins the White House.

"As long as we have control of the House, I'm going to be really surprised if we capitulate on what's essentially a core fundamental of conservative orthodoxy," said Rep. Trey Gowdy (R-S.C.).

"We were sent here to fight, and I don't think that message changes," added Rep. H. Morgan Griffith (R-Va.).

There's more fertile ground in the Senate, where even some ardent conservatives say Republicans may have no choice but to throw in the towel on taxes if they want to persuade Democrats to spare the Pentagon budget.

"We're not going to save our defense unless we go along with the president's wishes to raise taxes on small business," said Sen. Jim DeMint (R-S.C.), a leader of the tea party movement. "It's not a good choice. I would never support it. . . . [But] there are enough Republicans, I think, who are so afraid of defense cuts that they would probably give in."
So, what's going on here? What happened to the "no tax" unity of the House GOP Caucus? And, why is Jim DeMint of all people basically admitting defeat if the election doesn't go the GOP's way?
One possibility is that House and Senate Republicans are simply trying to frame an issue for the elections and motivate the base by letting them know that, if the GOP loses in November, there will be no choice but to give in to the President on things like raising taxes for people earning $250,000 per year and above. I suppose this is possible, but if that's what they're up to, this is a really odd way to send the message. Rather than a warning this sounds for all the world like a concession, and the fact that it's coming even from people like Jim DeMint suggests that there's something else going on.
This leaves open the possibility that there really are Republicans on the Hill who are willing to talk tax increases if the President wins re-election and the status quo is maintained. Of course, that doesn't mean every Republican in Congress is going to toss out the Norquist pledge in order to achieve some kind of deal to avert the "Fiscal Cliff." The article already notes several House Freshmen who seem unwilling to back down, and I doubt you'll see people like Michele Bachmann joining people like Congressman Cole any time soon. However, the House GOP could afford to lose some of those Freshman and still get a bill passed with Democratic support, and given that the Senate is likely to be close regardless of which party wins the majority, a handful of Republican Senators switching sides would be all that was needed to get the bill passed. You can judge for yourself how realistic this scenario is, but it's certainly possible if the sentiments that Cole and others are shared by a sufficient number of Republicans.
Not surprisingly, there are many on the right who are already in something of an uproar about these rumors. One blogger on the right argues that there's no reason at all for the GOP to give even an inch if the President is re-elected:
If the status quo prevails on November 6th, we'll have basically the same makeup we had after the 2010 midterms: A Democrat President and Senate, and a Republican House. Did the Republicans capitulate then? The answer is no. They forced Obama to accept a 2-year extension of the current tax rates. Why, then, will they have less leverage to do so if Obama wins in November.

(…)

If Obama does succeed in enacting a massive tax increase on job creators in this awful economy, why would Republicans want to walk the plank with him? If Obama raises taxes as he wants to do, the economy will surely tank and, and all the blame will lie with Democrats. Any Democrat who voted for this crap will face the wrath of voters in the 2014 midterms (see 2010). Let Democrats own the tax increase. If, however, Republicans commit political hari-kari and willingly cut a deal to go along with this crap, they will not only have given Democrats immunity on what will likely be a key issue in 2014, but will have demoralized the conservative base as well.
If one wants to continue to political warfare of the past two years, then I suppose this is the strategy that one must follow. The problem is that the nation faces some serious issues long before the 2014 elections. At the end of this year, one of three things will happen, either all of the Bush tax cuts will expires, only some of them will expire, or none of them will expire. Similarly, at that same time, Congress has to decide whether to allow the sequestration cuts to start going into effect or to come up with some alternative acceptable to all sides. There is universal agreement that doing nothing, allowing all the tax cuts to expire and the sequestration cuts to go into effect at the same time, has the potential to throw the economy into a recession. Unless the GOP wins the Presidency and somehow magically manages get a majority in the Senate, which seems rather unlikely at this point, they are going to have to deal with a Democratic President and a Democratic Senate in trying to resolve these issues.  And, if the President wins re-election who do you think is going to have the better bargaining position at that point? Conservatives who think that this next showdown would be a repeat of 2010, are, I think fooling themselves.
Paul Mirengoff argues that Cole's position is without merit because taxes are not going to be an issue in the election:
[T]he election is not a referendum on taxes. There are many other issues in the election, and non-tax matters can easily explain the small lead Obama appears to hold. An Obama victory would be driven, the polls show, by his support among single women. Thus, the election could plausibly be viewed as a referendum on the alleged Republican "war on women."

Obama also holds a clear edge when it comes to "foreign policy." The fact that Osama bin Laden was killed on Obama's watch, and with his approval, could explain a narrow Obama victory in November. Indeed, the best distillation of the case for Obama comes from Joe Biden (of all people): bin Laden is dead and GM is alive. The election can easily be viewed, then, as referendum on killing bin Laden and bailing out GM.

When it comes to purely economic issues, polls generally show that Obama holds no edge over Romney; if anything disapproval of Obama's economic policies and positions are keeping Romney in the hunt. Thus, the election should not be viewed as a referendum on tax policy.
Given that the candidate's tax plans are likely to be a central point of discussion during October 3rd's domestic policy debate, and that the President has spent the better part of the campaign so far highlighting the differences between him and Governor Romney on tax policy, I can't see how you can argue that taxes will not be an issue in this election. Voters are being presented with a clear choice on the question of how to proceed on tax policy. If they end up re-electing President Obama, he is going to argue that it is in part an endorsement of his position, and he'd have merit in making that argument. Furthermore, the Romney advantage on the economy that Mirengoff speaks of has largely disappeared according to all recent polling and that is likely one of the main reasons that the President has risen in the polls over the past two weeks or so. Tax policy may not be the sole issue of the election, but it's certainly part of the respective candidate's economic messages and, if the voters choose one candidate over the other, doesn't that say something about where the voters stand on tax policy? I would argue that it does.
If this election plays out the way I think it will, we will likely end up with a situation in Washington rather similar to what we have now, a Democratic President, a narrowly Democratic Senate, and a Republican House. At that point, leaders in both parties are going to have to decide whether it's more important to continue playing political games or to sit down and deal with our nations fiscal problems. For Republicans, like it or not, that is going to have to mean giving up Grover Norquist enforce tax orthodoxy that has been motivating them the last several years. We don't have time anymore to play the "use this to our advantage in the next election" game. It's time to get serious and actually govern. Starting in December, we'll likely see how serious Republicans are about doing that.