Will Republicans Get Sane On The Debt Ceiling?
Wall Street says raise the debt ceiling. The Tea Party says no. What will the GOP do?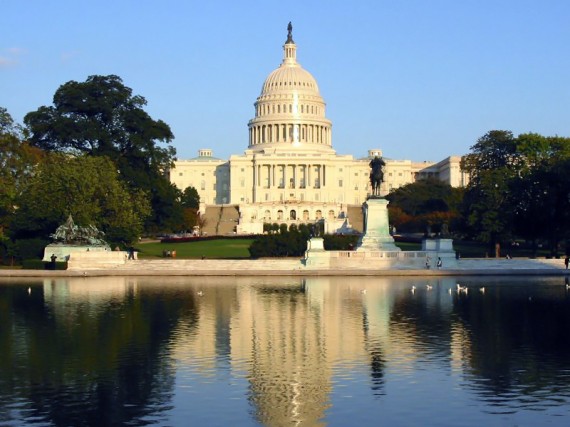 Today's Politico notes that Republicans in Congress aren't buying the arguments being put forward by the Administration about the dangers of not raising the limit on the National Debt:
House Republican leaders have spent a lot of time lately assuring Wall Street that they understand the calamitous consequences that would result from a default on the nation's debt.

But at an economic forum here in House Majority Leader Eric Cantor's hometown, "Main Street" business leaders didn't seem to have much interest in the issue that preoccupies Washington, New York and other cities concerned with high finance.

Rather than the nation's account ledger, they talked about issues that affect their own ledgers: gas prices, government regulation and tax policy. Even liberal activists who confronted Cantor after the event wanted to pick fights on abortion rights and public radio funding.

Cantor didn't bring up the debt limit, either.

It all speaks to a festering problem for the Obama administration: Its sense of urgency over the debt limit isn't catching on with Republicans — or with voters.

Republican lawmakers and aides tell POLITICO that the debt-limit increase is in danger, in part, because it's not a major issue of concern for most voters. On top of that, Republicans say, the White House has undermined its own credibility by moving the expected date of default repeatedly, giving them little confidence in pronouncements of impending disaster.

"No one is saying, 'Raise the debt limit.' No one. Zero. Unless you pay really close attention to politics, you're not talking about the debt ceiling," Rep. Devin Nunes (R-Calif.) said of his interactions with constituents. Of his colleagues, he said, "Everyone's getting the TARP feeling again."

It took two attempts to win a House majority for the bank bailout bill in 2008 after Republicans defected en masse from President George W. Bush. Lawmakers in both parties felt trapped as constituents urged them not to reward Wall Street for the financial meltdown and top government officials warned them that the nation's economy would collapse without swift action in support of foundering banks.

Likewise, many Americans aren't thrilled with the idea of giving more borrowing authority to a government incapable of balancing its books. So lawmakers are faced again with choosing between an administration sounding the alarm and constituents who are, at best, ambivalent about the debt ceiling.
Of course they aren't. As I noted the other day, the entire idea of a debt ceiling is designed in such as way as to allow politicians in Washington to demagogue the issue of Federal spending, which the Constitution gives them the full authority to control, without actually doing anything about it. However, this isn't just an academic fight over economic policy, it's the real world and, as Alan Blinder notes in the Wall Street Journal, failure to raise the debt limit would have disastrous real world consequences:
What happens if we crash into the debt ceiling? Nobody really knows, but it's not likely to be pretty. Inflows and outflows of cash to and from the Treasury jump around from day to day as bills are paid and revenues arrive. But at average fiscal 2011 rates, receipts cover only about 60% of expenditures. So if we hit the borrowing wall traveling at full speed, the U.S. government's total outlays—a complex amalgam that includes everything from Social Security benefits to soldiers' pay to interest on the national debt—will have to drop by about 40% immediately.

(…)

At some point, Mr. Geithner could wind up brooding over horrible questions like these: Do we stop issuing checks for Social Security benefits, or for soldiers' pay, or for interest payments to the Chinese government? Such agonizing choices are what make default imaginable.

Threatening to default should not be a partisan issue……. In view of all the hazards it entails, one wonders why any responsible person would even flirt with the idea.
So one side, we've got the Obama Administration, pretty much every economist on both sides of the aisle, abnd Wall Street and the business community arguing that Congress needs to swallow its pride, raise the debt ceiling, and then get to work on long term fiscal reform. On the other side, we've got the Tea Party movement, which is strongly opposed to raising the limit. Stuck in the middle, we find John Boehner and the GOP:
That leaves Boehner stuck between the Tea Party and a hard place. If he pushes too hard on cuts, that will rattle the Republican Party's powerful Wall Street wing, potentially roiling the markets and unsettling the broader electorate.

But backing down will also hurt him. "After accusations he didn't do enough in the budget battle, Boehner has to have something real to take back to conservatives or he's in trouble," said James McCormick, a professor of political science at Iowa State University. "He's boxed in between two components of the Republican Party. Obama knows that and is not under the same pressure."

If the Republicans falter, the search for establishment targets will kick into a higher gear — with freshmen, or those elected in 2010 seen as the easiest to unseat as they are new.

"The Tea Party will almost certainly primary those they want to get rid of," said Larry Sabato, a politics professor at the University of Virginia. "They are not out to rebuild the Republican Party. They are out to take over the Republican Party and make it more like the Tea Party."

"If it takes some Republican defeats along the way to make that happen, then that is what they'll do," he added.
Kevin Drum, though, sees the debate as more of a problem for the Tea Party movement than the GOP establishment:
Don't get me wrong: it's a huge pain in the ass for Boehner because, in the end, he'll have to defy the tea partiers and do what Wall Street wants — which, on the bright side, also happens to be the right thing to do. In the longer term, though, this is just another sign of the tea party wearing out its welcome. It was a handy force for rousing the voters in the 2010 election, but there's only so much idiocy that even Republicans can put up with. Talk radio is one thing. Fox News is one thing. For the most part, they talk big but don't actually demand that politicians commit suicide. Tea partiers, conversely, do want them to commit suicide, and if they get their way the only real result is going to be more Democrats in Congress and the reelection of Barack Obama. The adults in the party understand this perfectly well, and they're going to throw the tea partiers under the bus if it looks like they're seriously screwing things up for GOP hopes next year.

So, yeah, Boehner is going to take this down to the wire. He's going to try to extort some spending cuts out of the White House. He might as well do what he can to appease the tea partiers, after all. But in the end, he'll vote to raise the debt ceiling, he'll get enough Republican votes to make it stick, and the Republican establishment is going to finally decide it's tired of the tea party if they make too much trouble about it.
I think that Drum is probably right about how this is going to turn out. Back in November, Boehner, then Speaker-Designate, said that he was making it clear to the incoming caucus that they would have to deal with the debt ceiling issue like adults, implying that the Tea Party would just have to accept the fact that the debt ceiling is going to be increased because there is no other rational option. At the same time, of course, there were people like Grover Norquist telling incoming House freshman to "take no prisoners" and to hold the line on the "no tax increases" and anti-debt limit increase orthodoxy that his organization preaches. And, so, we are where we are.
What I said in November applies equally today:
Raising the debt ceiling is a crappy vote for any legislator to take. It demonstrates as plain as day the fiscal irresponsibility of the Federal Government, and the act of voting to push the debt limit even further into the fiscal stratosphere is one that looks bad on any representative's resume. However, it's also not a vote to be playing games with, as Boehner correctly points out. Unless Republicans intend to use the debt ceiling vote as a catalyst to force a national debate on making the kinds of spending cuts and tax changes that will be needed to seriously deal with the debt (and I would love it if they did), they need to just swallow their pride and cast the vote.
In the end, I think that's what will happen. Boehner will bring his caucus along, the Tea Party will be pissed, but the right thing will have been done. But I'm going to predict right now that it won't happen until the absolutely last possible minute. Because, you know, that's how we do things here.