Will We Have Michele Bachmann To Kick Around Again?
Michele Bachmann leaves office at the end of the current Congress, but we may not have heard the last from her.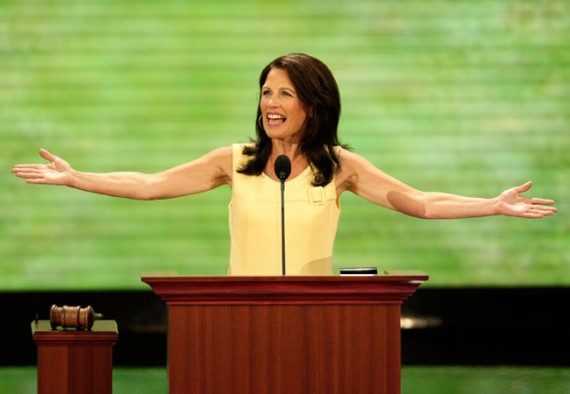 Minnesota Congresswoman Michele Bachmann will be leaving office when the 113th Congress wraps up its business over the next couple weeks or so, but she's already hinting we haven't seen the last of her:
An audacious conservative, Rep. Michele Bachmann stood out from the moment she was first elected to Congress in 2006. Democrats were ascendant and Bachmann was a stridently Republican new arrival with a homespun Minnesota twang.

Four terms later, Bachmann is leaving just as Republicans take control of Congress for the first time since she was first elected. After a turbulent career dotted by fights with the left and her own party, and a fast-rising and fast-fading presidential campaign, Bachmann said she is ready to leave, her work in Congress complete.

"I didn't get sucked into the system of Washington," she said in an interview with The Associated Press. "I didn't become a politician. I was a constitutional conservative."

That role Bachmann carved for herself often placed her in the spotlight during her eight years in office. She provided a consistently conservative voice on television on issues ranging from health care to immigration, and even delivered a "tea party response" to President Barack Obama's State of the Union address in 2011 that overlapped with her party's official rebuttal.

Speaking on MSNBC in 2008, she said that Obama "may have anti-American views." The comment led to a flood of donations to her opponent and a narrow, three-point victory in one of Minnesota's most conservative congressional districts. In recent years, she has said Obama's policies put America on a path to "Marxism."

Bachmann has rarely walked anything back. "I don't have a lot of regrets from my time here," she said.

(…)

As she wrapped up her congressional business this past week, Bachmann said she is determined to play a role in the next presidential election. The possibility of Democrats nominating Hillary Rodham Clinton will make the voices of Republican women more important than ever, she said.

"I occupy a very unique space," she said. "I am the only woman who has been in presidential debates on the Republican ticket."

Her own presidential bid began in June 2011 and peaked with a win in a key Iowa straw poll, but she never found traction with voters as real ballots were cast. While she has "no intention right now of running for president," she also won't rule it out.

"I think it will develop as we go what my level of involvement will be," she said.
Since she won't be in Congress, Bachmann is going to have a lot of free time on her hands so getting back into the rough and tumble of campaigning in places like Iowa really wouldn't be that hard for her, and it would keep her name in the news given that the political press won't have much else to cover in Iowa. Say what you will about Bachmann, after all, but she knows how to say the kinds of things that the political press will cover incessantly not matter how bizarre it might be, and no matter that she once again would have absolutely no chance of winning the nomination in 2016. Of course, as I've noted before, many people run for President without any real expectation or intention of winning their parties nomination. They do so to enhance their resumes, to increase their appeal to one segment of their party or the other, or to establish the basis for a future career as a media pundit or "influential" member of a certain segment of their party. In Bachmann's case, she may view a second Presidential run as the path to attempting to establish herself as some kind of conservative kingmaker in the mold of Sarah Palin, who has somehow managed to become someone whose endorsement some Republicans actively seek out notwithstanding the fact that she hasn't actually run for office in six years, hasn't won an election in eight years, hasn't won an election in eight years. Of course, Michelle Bachmann is no Sarah Palin. She has never held office outside of a Congressional District in Minnesota and, by all accounts, never could have won an office statewide, not to mention nationally. What value there actually is in the endorsements of such a person is really quite puzzling. If she runs for President a second time, though, Bachmann could potentially build up her influence on the right to such a degree that, at least inside the GOP, the idea of asking for her endorsement would make sense of some candidates. If nothing else, that would increase donations to her PAC, which, as Palin has discovered, can actually be quite profitable.
At the same time, though, Bachmann's eagerness to get back into the Presidential race may be tempered by the fact that her Iowa campaign remains the focus of a Federal Grand Jury investigation related to competing efforts between her supporters and those of Ron Paul to gain the support of a key Iowa State Senator, an investigation that made headlines during the 2014 campaign when it led to the resignation of Mitch McConnell's campaign manager Jesse Benton, who had previously run Ron Paul's 2012 national campaign. If that investigation doesn't wrap itself up quickly, Bachmann may be reluctant to put herself out there on the campaign trail where she could be asked about the matter on a regular basis. Whatever happens, though, I suspect we'll continue to hear from Bachmann in some manner. At the very least, he brand of crazy would fit in quite well on the Tea Party/Fox News circuit where, once she's out of Congress, it could turn into to quite a profitable scam for her.