William Barr Confirmed As 85th U.S. Attorney General
William Barr was easily confirmed as Attorney General in a 54-45 votes that included three Democrats crossing over to support him.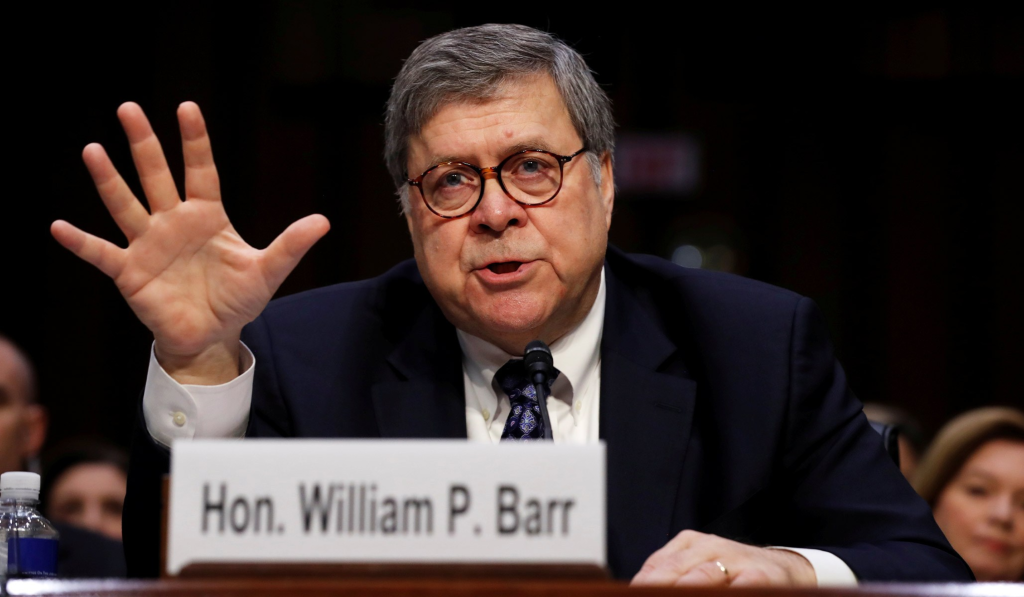 Not surprisingly, former Attorney General William Barr easily won confirmation today to become the 85th Attorney General of the United States, replacing former Attorney General Jeff Sessions who was fired late last year:
WASHINGTON — The Senate confirmed William P. Barr on Thursday for a second stint as attorney general, handing oversight of the Justice Department — and its ongoing investigation into links between Russia's interference in the 2016 election and the Trump campaign — to a seasoned Republican legal hand known for his expansive view of presidential power.

Senators expressed hope that the installation of a conventional figure like Mr. Barr could return some stability to the Justice Department's 115,000 employees, after two years of intense battering by President Trump and his allies in Congress. The president lost confidence in his first attorney general, Jeff Sessions, early on and, after months of publicly scorning him for recusing himself from overseeing the Russia investigation, Mr. Trump installed Mr. Sessions's chief of staff, Matthew G. Whitaker, as a temporary replacement in November.

"Steady leadership at a time we need steady leadership to give a morale boost to the Department of Justice," Senator Lindsey Graham, Republican of South Carolina and the Judiciary Committee chairman, said shortly before the vote. "Somebody who will be fair to the president, but also be fair to the rule of law and protect the integrity of the Department of Justice."

But with the special counsel, Robert S. Mueller III, believed to be finishing his work, Mr. Barr's tenure is likely to be shaped by the same cross currents, and his decisions could have far-reaching consequences for Mr. Trump, the presidency and the department for years to come.

In the latest example of the extraordinary strains the Trump presidency has put on the department, a former deputy F.B.I. director, Andrew G. McCabe, said in an interview with CBS broadcast on Thursday that top Justice Department officials had been so alarmed by Mr. Trump's decision to dismiss James B. Comey, the bureau's director, in May 2017 that they discussed whether to recruit cabinet members to invoke the 25th Amendment to remove the president from office.

Mr. Barr assured senators during the confirmation process that he would not allow political interference to sway the department's work, but under pressure from Democrats, he would make no specific assurances to make Mr. Mueller's findings public, foreshadowing a potentially caustic fight.

Divided over whether to accept his assurances, the Senate voted largely along party lines, 54 to 45, to confirm Mr. Barr. Mr. Trump is expected to swear him in at the Oval Office later Thursday.

(…)

Mr. Barr previously served as attorney general from 1991 to 1993, under President George Bush, before spending the last quarter-century as a corporate lawyer — much of it with the telecommunications company that became Verizon.

Even before the vote, Mr. Barr was planning steps to begin putting his imprint on the department. He intends to call on Jeffrey A. Rosen, the current deputy secretary of transportation, to serve as deputy attorney general, two people briefed on the choice said. His nomination would be subject to a Senate vote. Rod J. Rosenstein, the current deputy attorney general who appointed Mr. Mueller and oversaw his work until late last year, plans to remain at the department for a transition period expected to last only a few weeks.

Like Mr. Barr, Mr. Rosen was a longtime lawyer at the law firm Kirkland & Ellis, where he was a member of its global management team. He held senior positions at the Office of Management and Budget and the Department of Transportation during President George W. Bush's administration.
The final vote on the nomination, with 54 votes in favor of the nomination and 45 against, reflected some cross-party support for Barr and one Republican defection. Among Democrats, three members of the caucus, Joe Manchin of West Virginia, Doug Jones of Alabama, and Kirsten Sinema of Arizona, voted in favor of Barr while Rand Paul was the sole Republican vote against Barr. North Carolina Senator Richard Burr, a Republican, did not vote, most likely because he was out of state for the funeral of North Carolina Congressman Walter Jones, who died late last week.. Manchin and Jones's votes are easily to explain, of course. Manchin has frequetly crossed party lines to vote with Republicans on nominations, most notably on the nomination of Brett Kavanaugh to the Supreme Court last October. This is largely a reflection of both Manchin's own status as a Blue Dog Democrat and the political nature of his state, which went for President Trump by 42 points in 2016. In Jones's case the circumstances are largely the same, and one must remember that he faces an already difficult reelection bid in 2020 in a state that the President won by 28 points in 2016. Sinema's vote is interesting since its own of her first votes on a high-profile nomination, but it isn't the first time she's crossed the aisle on a nomination. Just recently, shewas criticized by abortion rights groups for suppporting a Trump nominee for the United States District Court in Arizona. Moves like this seem consistent with the reputation Sinema had when she was in the House of Representatives for being a moderate Democrat, albeit not necessarily a "Blue Dog" like Manchin. In any case, these two recent votes seem to indicate that Sinema could become a partner with Manchin in defying the caucus on nominations in the future.
Barr will be sworn into office at the White House later this afternoon. At that point, attention will shift to how Barr operates the Justice Department, specifically with respect to the investigation of the 2016 election by Special Counsel Robert Mueller. At his confirmation hearing, there were many questions in that regard, specifically due to a memo that Barr circulated last year in which he appeared to question the idea of whether or not a sitting President could be charged with obstruction of justice. In response to those questions, Barr said that his analysis was limited to a single provision of the United States Code dealing with obstruction of justice that some had suggested Mueller might be proceeding under and that he did not research or mean to express an opinion on other theories of obstruction that Mueller might be proceeding under. He also stated that he does not believe that Mueller is conducting a "witch hunt" as the President is accusing him of doing, pledged that he would not interfere in the investigation, and stated that it was his intention to make the Special Counsel's final report public, and made clear that he made no assurances to the President about how he would handle the investigation prior to his nomination. Whether he follows through on this remains to be seen.