Winnowing of the Minnows
Two gone: 14 to go.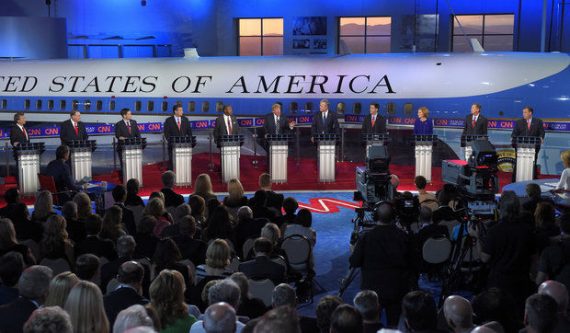 As I noted a while ago, winnowing is coming to the GOP field—it is inexorably the case that the number of candidate has to decrease given that there is only one nomination to win.  While this is about as obvious as one can get, I still maintain that practically every single story I read or hear about the GOP nomination race ignores what 17 (now 15) candidate does in terms of understanding what can, and cannot, happen.  100% is a fixed, finite amount and the more it is divided the more one has to be careful about any given set of claims.
Now, as I write this it is clear that there remains a distinct anti-politician tilt to the GOP race given that the top two candidates in the RCP polling average have never held public office (Trump and Carson) and Fiorina has surged a bit of late.  At the moment the anti-politicians can claim 53.6% of the RCP average which gives the standard politicians 46.4%.  It seems likely that those will be the two clusters going into Iowa, New Hampshire, and South Carolina, although I would expect that as we get closer to actual voting that some of the support for the non-politicians will wane.  Simply put:  it is easier to think of Trump, Carson, or Fiorina as president in September on 2015 than it likely will be in February of 2016.  As I noted not that long ago:  Herman Cain led the GOP field in December of 2011.  The outsider, the newbie, the rookie, etc. always look better until one has to actually vote.
I remain skeptical that Trump has a real shot of the nomination.  I would note that while he remains the frontrunner, his basic polling position still puts him with over 70% of opinion going to other candidates (again:  this is a very fragmented field and people have not coalesced around their final preference yet).  The fact the Ben Carson and Carly Fiorina have risen in the polls of late underscores that a lot of what is going on here is anti-politician and not necessarily pro-Trump.  If Trump's nomination was as obvious as some have argued, he should be dominating the anti-politician vote.  Indeed, the fact that over 70% of voters currently have Not Trump preferences indicates that despite his positioning he is far from a shoe-in to win,
The real question remains as to who the eventual mainstream candidate will be and that is going to require a lot more winnowing.  We have seen two candidates go:  Rick Perry and Scott Walker.  Perry, quite frankly, should never have run as his candidacy was doomed dating back to 2012.   Walker was supposed to be able to cash in on the Tea Party wing of the party, but that is now Trumptown.
At any rate:  two minnows have been winnowed—so no changes to the basic dynamic of the race.  Still, Walker is correct in the following advice:
"I encourage other Republican presidential candidates to consider doing the same," he said, "so that the voters can focus on a limited number of candidates who can offer a positive, conservative alternative to the current front-runner."
And, of course, I will note again:  we are in the preseason.  And if anyone wants an illustration of why one cannot predict the regular season based on the preseason I would recommend giving a look at the Philadelphia Eagles.
A concluding thought on Walker:  his early exit show that even with massive financial backing (i.e., the Kochs in this case) there are numbers that are so low that one has to exit.  This demonstrates that even having a SuperPac Sugar Daddy means that the basic laws of political gravity still apply.