Wisconsin Courts Overturn Governor's Closure Order
Pandemonium during a pandemic.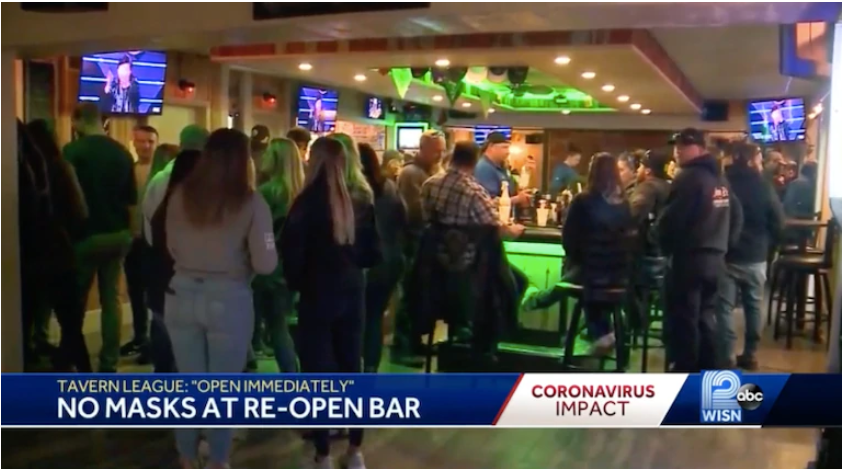 Milwaukee Journal-Sentinel ("Wisconsin Supreme Court strikes down Wisconsin's stay-at-home order that closed businesses to limit spread of coronavirus"):
The Wisconsin Supreme Court has struck down Gov. Tony Evers' order shutting down daily life to limit the spread of coronavirus — marking the first time a statewide order of its kind has been knocked down by a court of last resort. 

The state's highest court sided with Republican lawmakers Wednesday in a decision that curbed the power of Democratic Gov. Tony Evers' administration to act unilaterally during public health emergencies. 

The 4-3 decision was written by four of the court's conservatives — Chief Justice Patience Roggensack and Justices Rebecca Bradley, Daniel Kelly and Annette Ziegler. 

The court's fifth conservative, Brian Hagedorn, wrote a dissent joined by the court's two liberals, Ann Walsh Bradley and Rebecca Dallet. 

The ruling immediately lifts all restrictions on businesses and gatherings imposed by the administration's order but keeps in place the closure of schools until fall. It comes after Evers had already begun lifting some restrictions because the spread of the virus has slowed for now.
By "immediately" they mean immediately. As in, no time for businesses to prepare, much less guidelines to be issued.
WaPo ("After Wisconsin court ruling, crowds liberated and thirsty descend on bars. 'We're the Wild West,' Gov. Tony Evers says."):

On Wednesday night in the heart of downtown Platteville, Wis., just hours after the Wisconsin Supreme Court threw out the state's stay-at-home order, Nick's on 2nd was packed wall to wall, standing room only.

It was sometime after 10 p.m. when "Long Cool Woman in a Black Dress" by the Hollies came over the sound system and a bartender took out his camera. In a Twitter broadcast, he surveyed the room of maskless patrons crammed together, partying like it was 2019. A few were pounding on the bar to the beat. Some were clapping their hands in the air and some were fist-pumping, a scene so joyous they could have been celebrating the end of the worst pandemic in a century.

Instead, as Wisconsin Gov. Tony Evers (D) knew, they were just celebrating the apparent end of his power over them — at least for now.

"We're the Wild West," Evers told MSNBC's Ali Velshi on Wednesday night, reacting to the state Supreme Court's ruling and the scenes of people partying in bars all across Wisconsin. "There are no restrictions at all across the state of Wisconsin. … So at this point in time … there is nothing that's compelling people to do anything other than having chaos here."

Chaos it was.

Right after the Supreme Court's conservative majority issued a 4-to-3 ruling, invalidating the extension of the stay-at-home order issued by Evers's appointed state health chief, the Tavern League of Wisconsin instructed its members to feel free to "OPEN IMMEDIATELY!"

With Evers's statewide orders kaput, local health authorities scrambled to issue or extend citywide or countywide stay-at-home orders, creating a hodgepodge of rules and regulations all across the state that are bound to cause confusion, not to mention some traffic across county lines. It's a situation unlike any in the United States as the pandemic rages on. But most of all, Evers feared that the court's order would cause the one thing he was trying to prevent: more death.
That a governor is better equipped to make public policy on such matters than the court system would seem obvious.
The decision from the court is 161 pages and I haven't and almost certainly won't read it in full. But the Chief Justice's opinion looks to be one of process. The Intro lays that out quite succinctly:
This case is about the assertion of power by one unelected official, Andrea Palm, and her order to all people within Wisconsin to remain in their homes, not to travel and to close all businesses that she declares are not "essential" in Emergency Order 28. Palm says that failure to obey
Order 28 subjects the transgressor to imprisonment for 30 days, a
$250 fine or both. This case is not about Governor Tony Evers'
Emergency Order or the powers of the Governor. [emphasis mine -jj]

Accordingly, we review the Wisconsin Legislature's Emergency Petition for Original Action that asserts: (1) Palm as Secretary-designee of the Department of Health Services (DHS), broke the law when she issued Emergency Order 28 after failing to follow emergency rule procedures required under Wis. Stat. § 227.24 (2017-18),1 and (2) even if rulemaking were not required,

Palm exceeded her authority by ordering everyone to stay home,2
closing all "non-essential" businesses,3 prohibiting private
gatherings of any number of people who are not part of a single
household,4 and forbidding all "non-essential" travel.5 Palm
responded that Emergency Order 28 is not a rule. Rather, it is an
Order, fully authorized by the powers the Legislature assigned to
DHS under Wis. Stat. § 252.02.

We conclude that Emergency Order 28 is a rule under the
controlling precedent of this court, Citizens for Sensible Zoning,
Inc. v. DNR, 90 Wis. 2d 804, 280 N.W.2d 702 (1979), and therefore
is subject to statutory emergency rulemaking procedures
established by the Legislature.
The dissent, not shockingly, takes a different view. It's opening paragraph:
Today, a majority of this court does the Legislature's bidding by striking the entirety of Emergency Order 28, "Safer at Home Order," yet confusingly, in a footnote, upholding Section 4. a. The majority
reaches its conclusion by torturing the plain language of Wis.
Stat. § 252.02 (2017-18)1 and completely disregarding the longstanding, broad statutory powers the Legislature itself granted to the Department of Health Services (DHS) to control COVID-19, a
novel contagion.2 This decision will undoubtedly go down as one
of the most blatant examples of judicial activism in this court's
history. And it will be Wisconsinites who pay the price.
Now, I am not a lawyer nor a Wisconsinite and have no opinion on how one should interpret Wis. Stat. § 252.02.
Still, this ruling comes off as partisan hackery. Again, I have no view nor desire to develop on on the statutory power of the unelected Secretary-designee of the Department of Health Services of Wisconsin. But any prudent court, even one coming to the conclusion that it was lacking, would have granted at least a short time for the state and local authorities to develop an alternative response given the extraordinary stakes.
It's also not clear to me, if the Governor has the authority to issue a stay-at-home order and the unelected Secretary-designee of the Department of Health Services does not, then why doesn't the Governor simply re-issue the damn order in his name?
In the meantime, were I a Wisconsinite, I'd stay the hell out of bars for the time being.