Wisconsin Post-Mortem: Winners, Losers, And What Comes Next
What lessons can we draw from the Wisconsin Recall?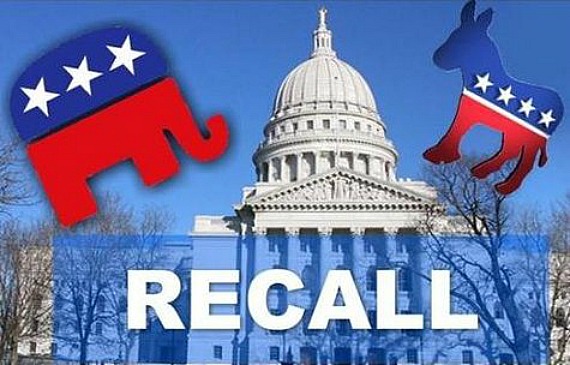 Inevitably, the punditocracy is already weighing in on last night's Wisconsin Recall Election, which saw Scott Walker become the first American Governor to survive a recall, and trying to figure out what it means for the future. The question that seems to be coming up most this morning is what, if anything, all of this means for November. Wisconsin, after all, has not gone for a Republican since Ronald Reagan in 1984 and, before that, had only gone Republican four times since 1960 (twice for Nixon and twice for Reagan). The rise of Republican control of state government and the election of Ron Johnson to the Senate, though, has led some to wonder if Mitt Romney might be able to do what no Republican has been able to do for 28 years. Now, with Walker not only surviving his recall but doing so quite decisively, the question is being asked again. Even before last night, President Obama's campaign manager said that the campaign now considered the Badger State a toss-up.
Jamelle Bouie isn't buying any of it:
At this point, there's little evidence to suggest an easier battle for Republicans in Wisconsin. According to exit polls, Walker won 17 percent of Obama supporters in the state, and overall, last night's electorate favored the president over Mitt Romney by a significant margin, 52 percent to 43 percent. It's a smaller margin than 2008, where he won the state by 14 points, but it's a solid performance, and a sign that — in reality — Wisconsin is less vulnerable than it looks. Indeed, as of last night, President Obama's Wisconsin effort is in great shape, and conservatives should temper their view of their chances in the state
Bouie goes on to note that the exit polls also showed that 60% of the voters said that they opposed recall elections except in cases of official misconduct, thus explaining how the same voters who say they support Obama in November ended up voting for Scott Walker in June. It's a valid point. Had this been a regular election between Walker and Barrett, it's quite possible that these pro-Obama voters would've been more likely to vote for the Democratic candidate. Instead, to a large degree, there was at least some contingent of them who were casting a vote against the recall. For that reason, it's quite probably invalid to draw lessons about November from what happened last night, notwithstanding the fact that both parties won't attempt to do so. We probably will see the Romney campaign put a bit more of an effort into the Badger State now, but it seems unlikely that it will come to anything unless Romney is headed for his own equivalent of a 2008 landslide victory over President Obama. Right now, there's absolutely no indication that's going to happen.
That's not to say that there aren't lessons that can be drawn from last night. Politico called the results a blow to Big Labor:
Big Labor went all in on the Wisconsin recall — putting millions of dollars, months of organizing and its reputation as a political superpower on the line to defeat GOP Gov. Scott Walker.

Then they got trounced on Election Day.

Walker's decisive victory over Milwaukee Mayor Tom Barrett on Tuesday has demonstrated the vulnerability of a long-formidable movement whose ranks are thinning across the country. The failed recall attempt has energized organized labor's foes and emboldened lawmakers to pick fights with unions in other states. And it has underscored the fact that unions — a potent source of political power and dollars for Democrats — aren't going to be the left's counter to conservative groups' outside cash in November.

Union officials tried to keep up a brave front after Walker's win. "In the end, money is pretty formidable," AFL-CIO Political Director Michael Podhorzer said Tuesday night after the race was called for Walker. "I think that after any election, people have to get a good night's sleep. But I think when they wake up they are going to see how close we came, and that's going to keep people going until November."

But Republicans will draw a different conclusion. "I don't think we can get pushed around anymore by Big Labor," said Republican National Committee Chairman Reince Priebus.

He and other top national Republicans are chalking up Walker's win as a clear indication of unions' dwindling power, and anticipate that it won't be long before other governors follow suit by targeting public employee benefits across the country.

Walker's triumph sends a message that "fiscal conservative reforms really work," said Gov. Bob McDonnell (R-Va.), chairman of the Republican Governors Association, even though "people might have had concerns about some of the specific policies and the tough budget cuts that he made." He added that Walker's survival "provides a lot of courage to governors across the country that putting your state finances first and politics second is what people are wanting in this country."
Ezra Klein seems to agree but also brings up the spectre of  Citizens United:
The Wisconsin recall does have implications beyond 2012. Public-sector unions are a key part of the Democratic Party's coalition. They provide money, manpower, and votes. Which is why Henry Olson, a vice president at the American Enterprise Institute, frames Walker's legislation as a "defunding of the Democratic-party shock troops."
Wisconsin's new law won't, on its own, radically change the power of public-sector unions. But Walker's ability to withstand the recall will likely spur other governors to follow suit, and likely drain the enthusiasm of the opposition in other states. And even if it doesn't, labor's inability to win the recall is more evidence of their inability to reverse their own structural decline. They're not winning on worksites, as the share of the labor force that's unionized has been dropping for decades, and they're not winning at the ballot box.

If you step back, then, two things are happening simultaneously among the key interest groups in American politics. Labor is getting weaker. And corporations, in part due to Citizens United, are getting much stronger. The electoral effect of that is obvious: It favors Republicans. But the legislative effect is, perhaps, more significant: It favors corporate interests in Congress, as Democrats will have to be that much more solicitous of business demands in order to keep from being spent into oblivion.
Greg Sargent joins in on the Citizens United bashing. What neither one of them seem to recognize, or at least want to acknowledge, is that the kinds of funding that Citizens United, along with things like SuperPACs are as available for the left to use as they are the right. If there is a lesson for them to draw here, it's that they have been, and continue to be, out organized in this area, and that their candidates are paying the price. It's worth noting, for example, that pro-Romney SuperPACs have been outraising pro-Obama SuperPACs for months now. Part of the reason, of course, is that the Romney groups have been organized for the better part of a year thanks to the Republican primary fight, but that's not necessarily an excuse for the extent to which the left has allowed itself to be outflanked on this one. More importantly, though, what seems to frustrate Sargent and Klein the most is that, thanks to things like SuperPACs, conservative activists are now on an equal footing when it comes to the fundraising advantages that Big Labor used to give to Democrats.
The other big loss for Big Labor, though, is that they tried to frame the Wisconsin race on a referendum on Walker's collective bargaining reforms and failed miserably. To some extent, the failure started when their preferred candidate did not win the Democratic primary, but as the race went forward it was clear that the messages of last year weren't working any more. And, the exit polls from last night make it clear that they didn't:
Gov. Scott Walker won Tuesday's recall election by topping his Democratic challenger, Milwaukee Mayor Tom Barrett, among independents, according to exit poll results in the state. Voters were passionately divided on the Republican-backed law that ended collective bargaining for most public employees and teachers.

Just over half, 52 percent, said they supported the changes to the collective bargaining law, and the same share approved of Walker's handling of the issue. Views on collective bargaining were a dividing line in the electorate, with 9 in 10 who approved of the new laws backing Walker and a similar share who disapproved behind Barrett.
Having lost the battle for public opinion on their signature issue, it's no surprise that Democrats were unable to convince voters that Walker should be removed from office two years before the next scheduled election.
There may be yet another implication for Big Labor, especially in Wisconsin. Earlier this year, an acquaintance with long experience in Wisconsin politics suggested that the unions in the state were making a mistake by getting behind the Walker recall and that, in doing so, they would end up blowing money and prestige that would be unavailable for November. Arguably that's exactly what has happened. Now that Walker has survived their vendetta, one wonders what kind of energy and resources they will have for the fights in November for the Presidency, an open Senate seat where former Governor Tommy Thompson appears likely to be the Republican nominee, and state legislative mid-term elections. Perhaps this fight will have implications for November after all.