Wisconsin Recall Election Will Be A Replay Of 2010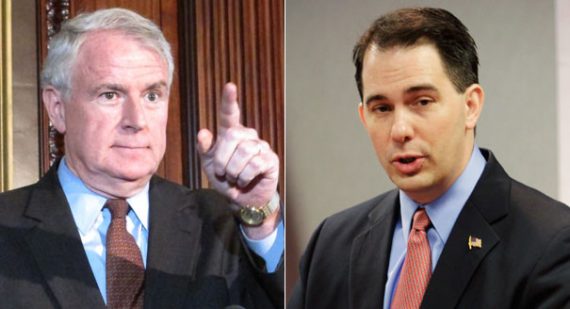 In November 2010, Scott Walker beat Milwaukee Mayor Tom Barrett by just over 100,00o votes to become Governor of Wisconsin. After a year long battle over labor union issues, the two men will meet again in the June 5th recall election to unseat Walker, but that's not exactly what the labor unions had planned:
Milwaukee Mayor Tom Barrett won the Democratic primary in Wisconsin's gubernatorial recall election Tuesday, dealing a blow to organized labor and setting up the June 5 race against Republican Gov. Scott Walker.

Barrett defeated former Dane County executive Kathleen Falk, the unions' preferred candidate, by a wide margin. With 94 percent of precincts reporting, Barrett had 58 percent to Falk's 35 percent. Two other Democratic candidates, Secretary of State Doug La Follette and state Sen. Kathleen Vinehout, received 3 percent and 4 percent, respectively.

On the Republican side, Walker won 97 percent to just 3 percent for activist Arthur Kohl-Riggs.

In other Democratic recall primaries, Madison union leader Mahlon Mitchell won the nomination for lieutenant governor with 51 percent. He'll face incumbent Republican Lt. Gov. Rebecca Kleefisch, who did not face a primary opponent.

Barrett, the party's 2010 gubernatorial nominee who lost to Walker by 6 percentage points, carried the support of the state's Democratic political establishment; Falk had the majority of Wisconsin's influential labor unions behind her candidacy.

Barrett held a double-digit lead over Falk and the other Democratic candidates: in a Marquette University Law School poll out last week, Barrett led Falk by 17 points, 38 percent to 21 percent.

Despite his late entry into the race, Barrett held a wide lead in the polls, aided in part by higher name recognition.Falk acknowledged that fact while campaigning in Milwaukee on Monday, saying she has always been the underdog.

"I have been all along because Tom [Barrett] just ran for governor a year ago," she said.

Barrett's victory came despite organized labor's best efforts against him. Most of the state's unions – including the AFL-CIO, the Wisconsin Education Association Council, the American Federation of State, County and Municipal Employees, the SEIU and the United Food and Commercial Workers – endorsed Falk.

Overall, labor backed Falk to the tune of about $4 million, according to the Milwaukee Journal Sentinel.
Big Labor will line up behind Barrett, of course, but one it's worth noting that Barrett's victory speech last night didn't include one mention of the issue supposedly motivating this recall. Nonetheless, current polling has the race basically tied and you can bet both sides will be pouring money into this race. So, hang on Wisconsin.
Photo via Politico