With Three Days To Go, New Hampshire Is Still Romney Country
There seems to be very little stopping a big night for Mitt Romney next Tuesday.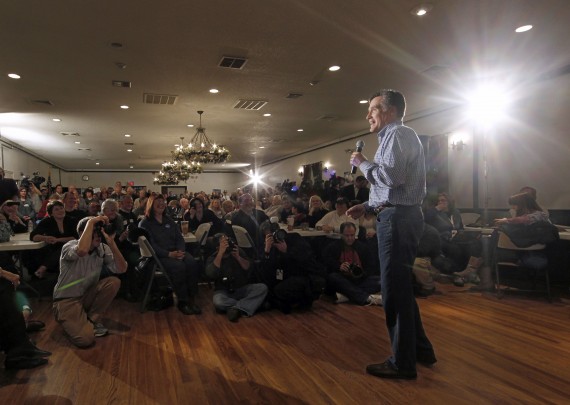 Absent some kind of serious meltdown in the two debates coming up tonight and tomorrow morning (yes, there is a debate tonight and other one tomorrow morning, don't ask why), it seems very unlikely that anyone is going to come anywhere close to Mitt Romney in New Hampshire. The latest evidence comes from the new NBC News/Marist Poll, which was released last night and which shows Romney with a 20 point lead over his rivals:
Just four days until Tuesday's New Hampshire primary, former Massachusetts Gov. Mitt Romney now enjoys a 20-point advantage over his nearest rival in the Granite State, according to a new NBC News-Marist poll conducted after his photo-finish victory in Iowa.

The survey also shows a double-digit bounce since late November in the state for former Pennsylvania Sen. Rick Santorum – who trailed Romney by a mere eight votes in Iowa – as well as a 15-point decline for former House Speaker Newt Gingrich.

And it finds that New Hampshire voters have begun to make up their minds before the Jan. 10 contest, with six in 10 now strongly supporting their candidate of choice.

According to the poll, Romney gets the backing of 42 percent of likely Republican primary voters in New Hampshire, including those leaning toward a particular candidate.

He's followed by Texas Rep. Ron Paul at 22 percent, Santorum at 13 percent, Gingrich and former Utah Gov. Jon Huntsman both tied at 9 percent, and Texas Gov. Rick Perry at 1 percent.

More than a month ago – in an NBC-Marist poll conducted Nov. 28-30 – Romney stood at 39 percent, Gingrich at 24 percent, Paul at 16 percent, Huntsman at 9 percent, Perry at 3 percent and Santorum at 2 percent.

What's more in this newest survey, 60 percent of likely voters say they strongly support their candidate of choice, up from 49 percent in the last poll. Just 11 percent say they might vote differently.
The fact that voters are strongly wedded to their candidate helps Romney, of course, because it makes it less likely that anyone is going to successfully chip away at his lead or that conservatives in the state, which are different from conservatives in states like Iowa and South Carolina in that they are less likely to be socially conservative, will unite behind any particular candidate at this point. Also helping Romney is the fact that he is seen as the only candidate with a chance of beating the President in November by 65% of the voters, and even conservatives in New Hampshire aren't as troubled by him as you might think:
Romney still underperforms among conservative voters, Tea Party supporters and evangelical Christians in the state — but not to the extent he did in Iowa.

Indeed, he leads among very conservative voters (getting 30 percent to 27 percent for Santorum), Tea Party supporters (35 percent to Paul's 25 percent) and evangelical Christians (31 percent to Santorum's 30 percent).

In addition, there are fewer of these more conservative voters in New Hampshire than there were in Iowa.

"New Hampshire is a very different ballgame than Iowa," says Lee Miringoff, the director of Marist College's Institute for Public Opinion, which conducted the survey.
Ron Paul, meanwhile, seems to already be running into the juggernaut of mainline Republicans that will doom his campaign going forward. Nearly 50% of those surveyed said that he was an unacceptable candidate, the highest number garnered for that question for any candidate. Paul will no doubt gain some support from the libertarian-minded voters of New Hampshire but the 20-22% he's been averaging in the polls of late up there seem to be his ceiling, and most likely the highest percentage of the vote he will garner in any primary during the entire election cycle.
So with about three days of campaigning left in the Granite States, including two debates that will garner a lot of attention, Romney leads the pack with a RealClearPolitics average of 41.2, Ron Paul is second with 20.2, Rick Santorum has moved into third at 11.2., Jon Huntsman is at what has to be a disappointing 8.8, Newt Gingrich is at 8.6  , and Rick Perry is at 1.0. Rick Perry has been polling so low in some recent polls, as a matter of fact, that some political reporters have speculated that he actually come in behind former Louisiana Governor and Congressman Buddy Roemer, who has been waging an under-the-radar campaign in the Granite State for the better part of a year. If that happens, even with Perry writing off the state, it will be a huge embarrassment for Team Perry.
Here's the chart, which looks about like you'd expect: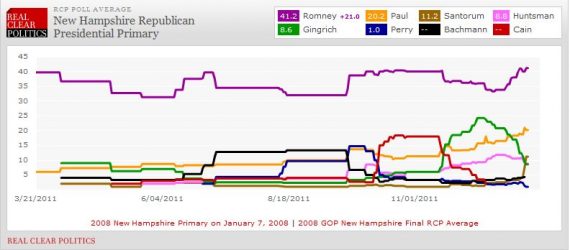 As things stand now, one expects Tuesday night to be a very short one and a very good one for Mitt Romney.
Photo via WBUR-FM (NPR Boston Affiliate)