'Woke' Civil War at the New York Times?
Old-fashioned notions of journalistic neutrality are chafing young reporters in the Age of Trump.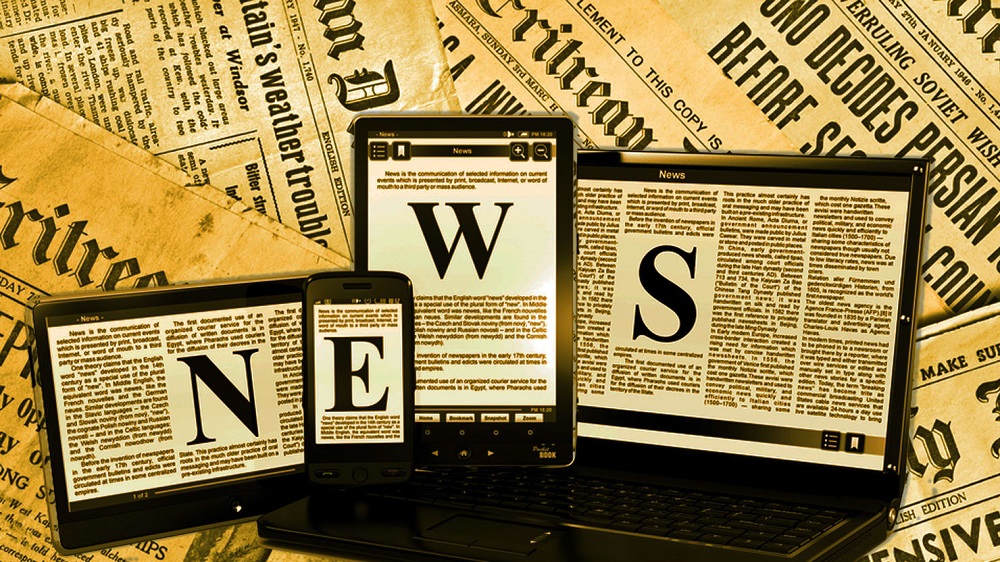 Vanity Fair's Joe Pompeo has a fascinating look "INSIDE THE WOKE CIVIL WAR AT THE NEW YORK TIMES."
Late in the evening on November 8, 2016, The New York Times newsroom was being whipsawed. Donald Trump, to the utter shock and horror of the coastal establishment, was winning. Reporters and editors were in overdrive, tearing up one historic front page for another. The story that America's paper of record had been gearing up to tell in the coming days—months, years—was being obliterated in real time. From a journalistic perspective, that wasn't exactly a bad thing. The new story, after all, was more fascinating, more chaotic—utterly unprecedented. And Trump's election was the kind of Earth-shattering event that only comes around once or twice in a newsperson's career. So for someone like Dean Baquet, the Times's then 60-year-old executive editor, the dominant emotion was exhilaration about this new national epic. But it didn't go unnoticed that, for some in the newsroom, the journalistic mission was not exactly front of mind. "I just remember younger people with sad faces," a person who was there told me, describing those employees as generally being in roles that are adjacent to reporting and editing. Baquet remarked to colleagues in the coming days about how surprised he was by that. "He's thinking, We've got a great story on our hands," my source said. "That was the first indication that a unified newsroom in the age of Trump was going to be a very difficult thing to achieve or maintain."

For most of its history, the Times has been an autocracy, with a church-like reverence for its values and traditions. Rebellion, as against executive editor Howell Raines in 2003, has often been to restore the old order rather than to overthrow it. But, as at many newsrooms and media offices, and in the culture at large, this is a moment of generational conflict not seen since the 1960s. "I've been feeling a lot lately like the newsroom is split into roughly the old-guard category, and the young and 'woke' category, and it's easy to feel that the former group doesn't take into account how much the future of the paper is predicated on the talent contained in the latter one," a Times employee in that latter group told me a couple months ago. "I know a lot of others at the paper with similar positions to mine, especially women and people of color, who feel that senior staff isn't receptive to their concerns."
That there was palpable disappointment inside the NYT's newsroom when Donald Trump beat Hillary Clinton should hardly surprise anyone. The elite media reflects coastal, metropolitan attitudes; they lean toward Democrats in normal times and recoiled against Trump in particular. Similarly, Baquet's reaction is perfectly reasonable for a newspaper publisher: Hot damn, we've got a story on our hands.
But, in Pompeo's telling, something more is going on.
Within the newsroom, it can be difficult for members of this cohort to stomach, say, abiding by restrictions on what they can and cannot say on Twitter and Facebook (platforms that younger millennials were essentially born into), as mandated by an expanded social-media policy issued in October; or being told that participation in last year's Women's March was a no-no (which brings to mind Linda Greenhouse getting into trouble for attending a pro-choice march in 1989); or feeling comfortable with Baquet making an appearance at the same Financial Times conference as Steve Bannon last month. "The woke set was grossed out," an insider told me. (Addressing the matter in an e-mail to the Web site Splinter, Baquet said, quite reasonably, "It sort of feels sort of 'unjournalistic,' if that is a word, to refuse to participate in a forum because Bannon or someone else will be in the same event.")

The most fractious convulsion along these lines has been the recent uproar over the Times's op-ed section, specifically as it relates to a pair of new additions—conservative pundits Bret Stephens and Bari Weiss—who each possess certain contentious views. Stephens, for his part, is a fervent never-Trumper who wants to see the Second Amendment repealed, but he also has expressed skepticism about climate science. Weiss, herself a millennial, is a robust crusader for campus free speech, which puts her at odds with some swaths of the left, and she's also challenged aspects of the #MeToo movement.

In an episode that riled emotions perhaps more than any other, Weiss fired off a tweet during the Olympics that applauded California-born figure skater Mirai Nagasu, while also incorrectly characterizing her as an "immigrant." (Nagasu's parents are first-generation Japanese immigrants.) Weiss deleted the tweet and acknowledged the mis-statement, and later said she felt "awful" about it. But the damage was done. Part of the backlash, as evidenced by an internal chat-room transcript that was leaked to HuffPost, was that Weiss's tweet exemplified a pattern of "microaggressions," per the transcript, that "cut the deepest. and this is DAILY." But the incident also betrayed palpable discomfort with the age-old rules governing the behavior of Opinion writers versus members of the newsroom. Both sides exist in the same space on social media, and each in its own way represents the Times, regardless of how readers engage with the Times in the Twitter-fied media landscape of 2018, where distinctions between the two sides are not as readily apparent. "We make all these assumptions that people understand the difference between the Opinion section and the newsroom," said an under-30 Times employee from the new guard. A Times reporter could conceivably get into hot water for tweeting something that seems to endorse gun control or Black Lives Matter, and yet "Opinion writers," this employee said, "get to represent the Times in a way that isn't right."

Another example? "The biggest thing people are talking about lately is the way the Times humanizes white men who commit violence versus men of color," my source continued. (The Times recently confronted this issue via its Reader Center.) "There's definitely a feeling," the source added, "that the people most concerned about these sorts of things are people in more junior positions, as opposed to people who are in positions of power."
It will not surprise regular readers to learn that I'm mostly with management on this. While many in the public don't distinguish between the news and opinion sides, the elite audience does. Reporters are there to, well, report: Who? What? When? Where? Why? Columnists are there to give their opinions on the world around them. If you're marching in the streets against Donald Trump's election on Saturday you can't very well be taken seriously as a neutral observer of events come Monday.
Where Baquet has gone wrong is in hiring columnists unworthy of the Time's editorial pages. He has done so honestly, though. The NYT op-ed pages have always leaned left but made an attempt to have top-drawer conservative writers. But, frankly, there hasn't been a new William Safire in ages. Ross Douthat is very smart and sometimes interesting, but he's something of an odd duck in terms of his interests. David Brooks is often interesting but, again, not really a mainstream Republican. Brett Stephens simply doesn't add anything. Bari Weiss is a smart-enough controversialist but doesn't have anything like the journalistic credentials to be offering up her opinions under the NYT masthead.*
As with most hot-button topics these days, all roads seem to lead back to the real-estate mogul and erstwhile reality-television fixture who now resides at 1600 Pennsylvania Ave. "I would agree that the question of a generational divide is made more complicated by the fact that it's happening during the presidency of Donald Trump," said Times managing editor Joe Kahn in an interview. "If this had been the first term of Hillary Clinton, or a less divisive, less polarizing figure for many members of our own staff, some of the issues that have arisen might not have taken on quite the level of importance or urgency or alarm that they have." At the same time, said Kahn, the Times "has made it really clear that we consider it crucial to our future that we not become an opposition-news organization. We do not see ourselves, and we do not wish to be seen, as partisan media. That means that the news and opinion divide, and things like social-media guidelines and some of our traditional restrictions on political activity by employees, may feel cumbersome to some people at this point in our evolution."

To Kahn's point, the country is in the midst of a unique and restive moment—not least of all for the ever-ubiquitous millennial population—characterized by empowerment and anger and, yes, "wokeness." Against this backdrop, the Times is arguably changing more rapidly and radically than any other period in its 167-year history, including the ascension earlier this year of its first digital-native publisher, 37-year-old A.G. Sulzberger. Put simply, the Times is working through a complex and fraught makeover in order to become a place that can survive—even if there were no print edition in another 5 or 10 or 20 years. "I have been here a long time," one veteran editor told me. "The tensions you're referring to are not just generational. We are all trying to figure out what the Times is in the digital era."
I've struggled with this to some degree even as an opinion writer. The NYT's mantra has long been "All the news that's fit to print." But reporting in detail on every single Outrage of the Moment will certainly feel like piling on to any but the most ardent Trump foe.
Aside from the youth and "wokeness" of some at the Times, it's simply more challenging than usual to remain neutral in the face of abnormal behavior. A President Mitt Romney might well be cracking down harder on illegal immigration than a President Hillary Clinton. But he almost certainly wouldn't be doing it in the callous and brazen way that Trump has. Acting outside the bounds of the normal staffing processes, ignoring judicial precedent, and issuing outrageous Tweets changes the context of the action. It's incredibly challenging to treat this in a "Just the facts, ma'am" approach.
Inside the newsroom and departments that work closely with it, many legacy jobs have been eliminated over the past few years to make room for an entirely new class of employees. These newcomers include Web-trends reporters and community editors and social-media strategists; product people and visualization specialists and audience-engagement gurus; engineers and audio experts and data scientists and various other positions that didn't used to exist. The Times also has been hiring more writers and editors from outside its traditional talent channels. ("Other relatively similar newspaper companies," in Kahn's words, "that did relatively similar things.") That means the paper is now crawling with journalists who came from some of the same upstart digital publications the Times now counts as competitors. The result is an increasingly diverse and varied organization that suddenly encompasses lots of people who didn't come up in old-school journalism environments like the Times, or people who are at least more inclined to challenge some of the newspaper's entrenched customs in an era where it increasingly feels like the world has been turned on its head and the old rules no longer apply.

"We're eager to have people like that on board, because they bring a set of skills that we need," said Kahn. "But it does present us with a challenge of needing to have a broader discussion about what the values of our workplace are, and also to do a better job of communicating the journalistic values that The New York Times has traditionally had to a new generation of people who may not have learned them from their previous places of work or schooling." Kahn said there is "a little bit of a disconnect between some of the things that, journalistically, as an institution, we feel compelled to do"—reporting without fear or favor, and giving voice to many different sides and perspectives and all of that—"and our workplace values." (Equitable race, gender, and sexual-identity representation; diversity of world views and experience; protection from harassment, etc.)

One of the younger, newer Times employees I spoke with boiled down the conflict as follows, with the obvious caveat that there are, of course, "woke" people in the old guard and traditionalists in the younger set. "The olds," my source said, "feel like the youngs are insufficiently respectful of long-standing journalistic norms, or don't get that things are the way they are for a reason. The youngs feel like the olds are insufficiently willing to acknowledge the ways in which the world and media landscape have changed, and that our standards and mores should evolve to reflect that." (Several Times sources emphasized that this dynamic has been around for decades. As Gay Talese once wrote of the 1950s-era Times: "There were philosophical differences dividing older Timesmen who feared that the paper was losing touch with its tradition and younger men who felt trapped by tradition.")

Similarly, an institutional Times person said, "I think a lot of this younger generation were brought up to believe that it's very important that their voices be heard, and so I think it's a bit harder to fit into an institution where it's less than democratic in some ways. One generation came of age where they entered this esteemed institution and tried to find a way to fit into it, and this other generation has an expectation that the institution will change to accommodate them. That's the essence of the tension."
There was some controversy in the early days of blogging about writers taking free trips or being wined and dined by interest groups in hopes of influencing coverage. Journalists from major media outlets saw that as violating core principles. Bloggers pushed back noting that we weren't journalists and more importantly, as independent operators we had little choice but to combine functions that were separate at a news organization: the same person who wrote the content also served as the ad manager, IT chief, public affairs desk, etc. Over time, we've seen a similar blurring of the lines in the newspaper and magazine businesses.
It's true that the "youngs" have always thought that the "olds" had outdated attitudes. Yet, it's clear that there's more going on here than that. Having grown up in the era of blogs (which is at least 20 years old now) and Twitter (a dozen years old), young reporters really can't fathom not being able to express their every brilliant thought the moment it crosses their woke heads. It's not just the Times, it's everywhere—including places like ESPN (I recommend the Origins podcast episodes on that network).
NYU's Jay Rosen has spent years pushing back at the View From Nowhere, the notion that reporters should pretend not to have a viewpoint. I'm sympathetic to his larger argument and, especially, the notion that "balance" requires getting a quote from some nut in the street to balance out the Nobel Prize-winning scientist's views on climate change. At the same time, I maintain the old-fashioned view that reporters ought strive to tell the story accurately, that their editors should remove evidence of bias from their stories, and that those on the news side should keep their politics to themselves.
_________
*An earlier version of this was slightly harsher towards Weiss under the mistaken impression she was a full-fledged columnist. She's actually just an editorial staffer who occasionally writes there.