Woman Charged With Burglary After Seizing Abusive Husband's Guns
A Florida Woman is being charged with felony burglary after breaking into her estranged husband's apartment to seize his guns and give them to the police.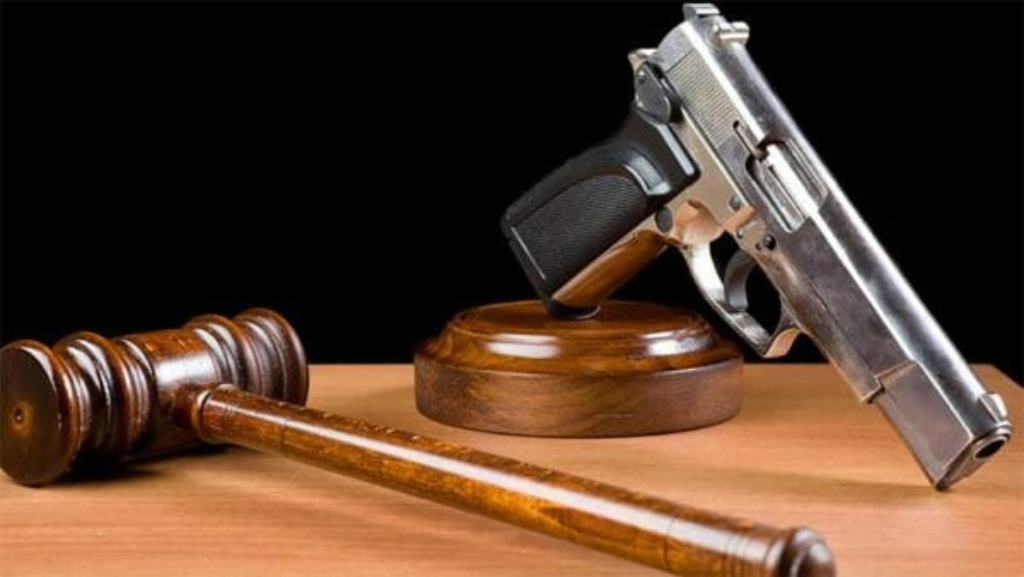 A Florida woman who broke into her estranged husbands apartment to take his guns, which she intended to turn over to police because she feared he would defy a court order to turn his guns in as part of the couple's ongoing divorce and related charges of domestic violence, is being charged with armed robbery, a charge which is leading to some understandable controversy:
Days after her estranged husband was arrested for trying to run her over with a car, a Florida woman is now facing felony burglary charges because she turned his firearms over to law enforcement.

According to the arrest affidavit, 32-year-old Courtney Irby was arrested June 15 and charged with armed burglary of a dwelling and grand theft of a firearm after she entered the apartment of her husband, Joseph Irby, gathered his guns and turned them in to the Lakeland Police Department.

The guns were previously ordered by a judge to be turned in, but when Courtney Irby dropped them off at the jail, an officer told her she was breaking the law.

"So are you telling me that you committed an armed burglary?" asked the officer. Irby answered, "Yes, I am, but he wasn't going to turn them in, so I am doing it," reports the Lakeland Ledger.

Irby had already applied for a temporary injunction against her husband and the two were in the process of a divorce, according to court records.

"She was actively protecting herself and her family from an estranged husband who had not turned over his firearms to law enforcement, and was arrested for it," said State Rep. Anna Eskamani today in a statement. "We should be outraged by her arrest, and Irby should not be prosecuted by the local State Attorney's office."

We reached out to State Attorney Brian Hass' office for comment, and will update this post if and when he gets back to us.

In the last legislative session, Eskamani and Senator Lori Berman filed SB1206 and HB941 to keep guns away from people convicted of misdemeanor domestic violence offenses, and essentially close loopholes in Florida's 2018 risk protection order law, which states that only a law enforcement officer or agency can file a petition for a risk protection order and remove firearms from a respondent who "poses a significant danger."

Both bills died without a hearing.

"Federal gun laws already protect women from domestic abusers by prohibiting gun possession for people convicted of a 'misdemeanor crime of domestic violence' or subject to a final domestic violence restraining order," said Eskamani. "But dangerous gaps and weaknesses in the system remain at the state level."
Understandably, the reaction to this story on social media and on cable news, where I first heard about it on Saturday morning, has been mostly sympathetic to Ms. Irby. Part of the reason for this is the fact that, if convicted on the charges pending against her, Ms. Irby could theoretically face more time in jail than her estranged husband would for the abuse charges pending against her. Given the fact that these charges included attempting to run her over with his car as well as other domestic violence charges, I can see how it would appear to a lay person that there was an especially grave miscarriage of justice going on here.
That argument may be right on a moral level, but there is also a lesson here about not taking the law into your own hands. As I emphasized in the report above, the court presiding over the domestic violence charges against Mr. Irby had already ordered him to turn over his weapons to the police pending trial. This is common in cases such as this involving domestic violence and restraining orders such as the ones that Ms. Irby had obtained against her husband. It's worth noting, though, that Irby's husband was in jail when all of this happened and that the apartment where he was living was not the marital residence since the couple had apparently been separated for some time. Had it been the marital residence then she might have potentially had a defense here since she would have a right of access. In this case, that isn't the case at all.
Instead of breaking into her estranged husband apartment and taking the guns, Ms. Irby should have informed the police and/or the courts that she was aware that he had guns and that there was a pending court order directing him to turn them over. If Mr. Irby refused to comply with that order, then he would have been in contempt of court and the police and the court would have had the authority to grant a search warrant for his apartment and authority to confiscate the guns. Instead, she chose to break into his apartment and steal the guns. The fact that she apparently intended to turn them over to the police is, at least as far as the law is concerned, not relevant.
All that being said, I have to say that I am at least sympathetic to the position Ms. Irby found herself in. Even though her husband was in jail, there was a chance he could get out prior to trial and she feared for her life if he did. Her intent of denying him access to weapons was understandable under those circumstances. At the same time, though, under the facts that we have before us, there was no immediate threat to her life at the time she committed the burglary and she cannot really make use of a "self-defense" argument to justify what she did. As I suggested above, she had other options that would have been equally as effective in separating her husband from his weapons.
My advice to Ms. Irby, then, is to get herself a good lawyer who can perhaps convince a prosecutor that the circumstances of this case, while they meet the legal definition of burglary, do not call for her being tried on those charges. Barring that, they can perhaps negotiate a plea deal that doesn't result in her serving jail time or, if necessary, take the case to trial. Based on the facts we know, I'd say there's a good chance that a jury would refuse to convict her.