Women Likely to be Included in Draft
A long-overdue change appears to be happening.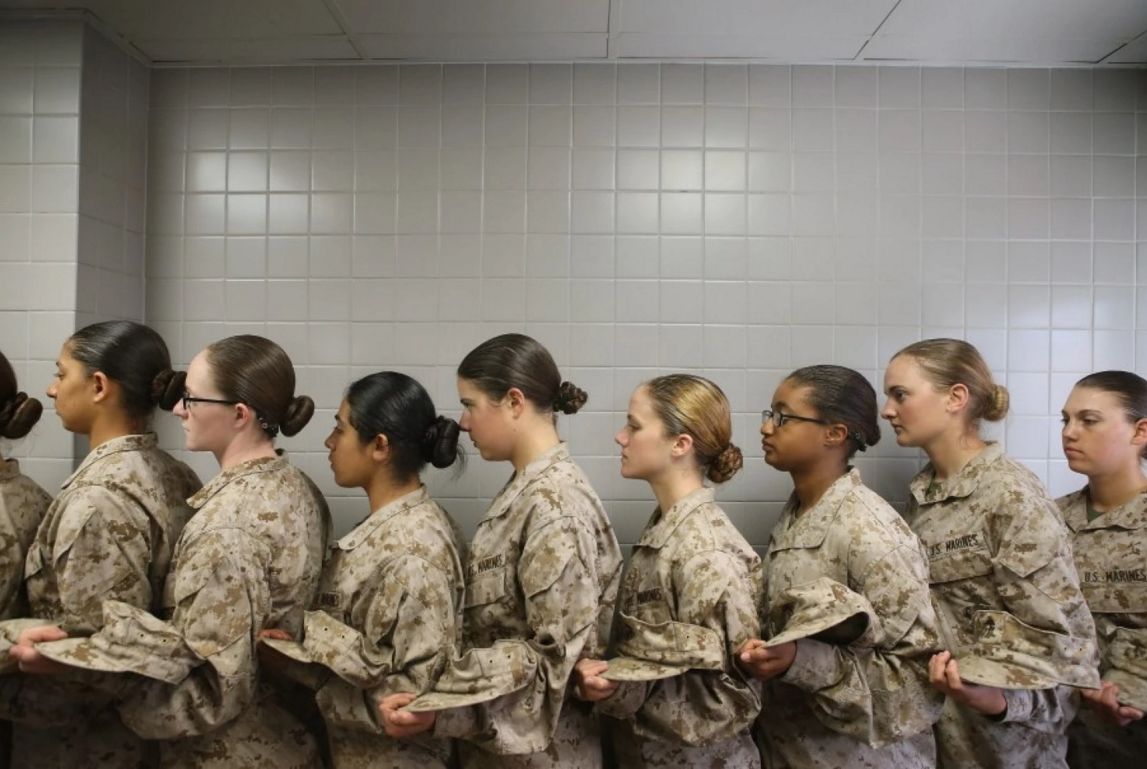 Roll Call ("Congress moves toward requiring women to register for the draft"):
For over 100 years, young men have registered for the draft. Now, Congress is poised to make a historic change for gender equality by requiring women, for the first time in American history, to do the same.
It's not quite true that draft registration has been a thing since World War I. It was sporadic, associated only with wars, until 1940, when it became a permanent feature of our society until being discontinued in 1973. The modern registration system has only been in place since 1980 (signed into law, ironically, by President Jimmy Carter, who pardoned all of the Vietnam-era draft dodgers).
But while support for the change is bipartisan, Congress is leaving the details for later.

That's the easy thing to do, considering the military hasn't drafted anyone since the Vietnam War and it's possible it never will need to again. But if a crisis of monumental proportions were to emerge, the logistics of incorporating women into a much larger military could prove complicated.

Would drafted women be expected to serve in combat roles? And if not, what would their roles be? Would they be housed with men? It appears that neither Congress nor the Pentagon has thought that through.
I don't know how women could be legally excluded from combat roles under the draft. The problem, though, is that a very small percentage of women have the physical strength to make it through infantry training.
Then again, I don't understand, given a string of Supreme Court decisions that have stretched the 14th Amendment and federal anti-discrimination laws far beyond their intent, how women are still excluded from registration. Aside from the sheer logistics of a massive expansion of the force, though, they're not likely to cohabitate with men in the barracks.
Still, included in the House version of the fiscal 2022 National Defense Authorization Act, which that chamber passed last month, was an amendment by Pennsylvania Democrat Chrissy Houlahan and Florida Republican Michael Waltz that would require women to sign up with the Selective Service, a government agency that keeps records of Americans eligible for a potential draft.

And the Senate Armed Services Committee also included language that would require women to register when it marked up its version of the NDAA in July, although the full Senate has not yet taken it up.

Proponents of the change see the move as a victory for women's rights.
Indeed. And, again, I'm not sure exclusion would survive judicial scrutiny anyway.
The country would "need everybody … man, woman, gay, straight, any religion, Black, white, brown," he said recently on the House floor.

According to Houlahan, she and Waltz paired up on the amendment out of a shared belief that Congress should change the current "outdated way of thinking about things."
The thing is, even aside from libertarian arguments about a draft, it's simply untrue that we would "need everybody." Even in a World War III scenario, I don't foresee us needing the 10 million man Army of World War II; that's just not the nature of modern combat. And, of course, even a 10 million man force would require a small fraction of a 330 million population.
Regardless, the idea of drafting other people is one of the things that Congress can agree on in a bipartisan fashion:
Democrats seem united on making the change. Republicans are split, but a critical mass seems to now favor it. Reps. Liz Cheney of Wyoming, Jack Bergman of Michigan and Pat Fallon of Texas all voted in favor of the amendment when it came up at the Armed Services markup last month.
And I'm not sure this makes much sense, either:
According to Houlahan, including women in the Selective Service is just part of a larger overhaul that the system needs. The Selective Service should not just be about combat roles but also be about calling upon Americans to fill other military positions, including cybersecurity and engineering roles, Houlahan said.
Even if one's knowledge of military history is confined to what they've gleaned from watching M*A*S*H reruns, they'd know that we used the draft to conscript specialists like medical doctors in past wars. It's not just for forcing people into infantry duty.
The problem with incorporating cyber specialists and the like isn't figuring out to draft them so much as the larger military personnel system. For historical and cultural reasons, the services all insist on enlisting only fit individuals who can pass criminal background checks, lack tattoos visible in a t-shirt, and aren't habitual users of marijuana. That's increasingly difficult. Moreover, it has been decades since we've taken people outside of the medical field in at other than a starting rank. We probably need to reconsider some of these decisions in light of modern circumstances.
Currently, women make up 16 percent of the military's total force, according to an analysis from the Brookings Institution.

But Houlahan demurred when asked about the logistical challenges of integrating women into the military in greater numbers, and she acknowledged that there would be "some complications" and that no work had yet been done to that end.
Again, aside from the infantry and a handful of other specialties that require a lot of upper body strength, most jobs in the modern military can be done by a reasonably fit woman. (A handful of women have succeeded in the infantry, including passing Ranger school and the Marine Infantry Officer Course, but thus far they've been high caliber athletes.) The challenges of going from a force that's 16 percent women to one that's closer to 50 percent women in short order are mostly logistical and cultural.
For some Republicans, the inclusion of women in the Selective Service is a moral issue — one that may come up when the House and Senate conference the defense policy bill later this year.

At the Senate Armed Services markup over the summer, five Republicans voted against the amendment by the panel's chairman, Democrat Jack Reed of Rhode Island, requiring women to register.

Ranking member James M. Inhofe of Oklahoma was among the five, along with Tom Cotton of Arkansas, Josh Hawley of Missouri, Roger Wicker of Mississippi and Mike Rounds of South Dakota.

Cotton tweeted at the time that he would "work to remove it before the defense bill passes."
I don't know that this is a "moral issue" so much as a cultural and aesthetic one. Regardless, unless there are 40 willing to filibuster the Defense appropriations bill over this issue, it's likely a minor obstacle.
In 2016, both the House and Senate Armed Services panels approved the change, but it did not make it into the final fiscal 2017 defense authorization bill.

In the House that year, the Republican majority effectively stripped the provision out of the NDAA on the floor without a vote when the Rules Committee adopted a so-called self-executing rule that turned the required registration into a mandate for a study of the issue.

But with Congress now entirely in Democratic hands, the likelihood that women will have to register has increased.
Well, yes. But it's not just a partisan matter. Five years of women fully integrated into combat roles has simply changed the environment. It hasn't been nearly as big a challenge as opponents feared.