Woodward: Military Thwarted Obama
Bob Woodward reports that President Obama was looking for options other than staying the course in Afghanistan. The military didn't provide any.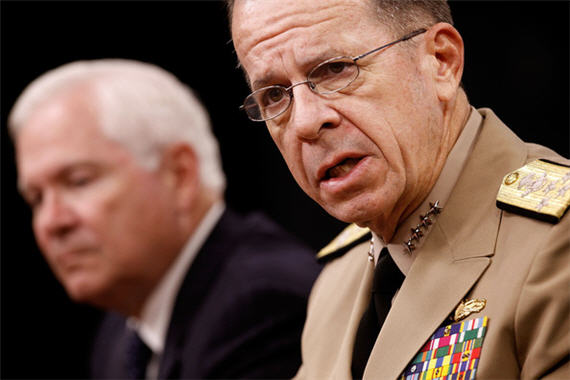 WaPo continues to give Bob Woodward free advertising for his latest tome, Obama's Generals, and he's obliging with some juicy bits.
President Obama was on edge.

For two exhausting months, he had been asking military advisers to give him a range of options for the war in Afghanistan. Instead, he felt that they were steering him toward one outcome and thwarting his search for an exit plan. He would later tell his White House aides that military leaders were "really cooking this thing in the direction they wanted."

He was looking for choices that would limit U.S. involvement and provide a way out. His top three military advisers were unrelenting advocates for 40,000 more troops and an expanded mission that seemed to have no clear end. When his national security team gathered in the White House Situation Room on Veterans Day, Nov. 11, 2009, for its eighth strategy review session, the president erupted.

"So what's my option? You have given me one option," Obama said, directly challenging the military leadership at the table, including Defense Secretary Robert M. Gates, Joint Chiefs Chairman Adm. Mike Mullen and Army Gen. David H. Petraeus, then head of U.S. Central Command.

"We were going to meet here today to talk about three options," Obama said sternly. "You agreed to go back and work those up."

Mullen protested. "I think what we've tried to do here is present a range of options."

Obama begged to differ. Two weren't even close to feasible, they all had acknowledged; the other two were variations on the 40,000.

Silence descended on the room. Finally, Mullen said, "Well, yes, sir."

Mullen later explained, "I didn't see any other path."
This adds a bit more confirmation to what I've long suspected was the case:  Obama was desperately looking for a way out from under the Afghanistan rock.  Despite having campaigned chastising his predecessor for putting that "necessary war" on the back burner to pour resources into the "unnecessary war" in Iraq, he'd come to think there was no path to success.  And the military —  including his own appointees — were doing their level best to force his hand to stay the course if not double down.
But, while some of the public statements and leaks by Stanley McChrystal in particular concern me, this part of it strikes me as legitimate.   The assembled military leadership simply saw no honorable choice in the matter. The options, as they saw it, were to continue to slog on or to withdraw with our tail between our legs. And this:
The only distinctly new alternative offered to Obama came from outside the military hierarchy. Vice President Biden had long and loudly argued against the military's 40,000-troop request. He worked with Gen. James E. Cartwright, the vice chairman of the Joint Chiefs of Staff, to develop a "hybrid option" – combining elements of other plans – that called for only 20,000 additional troops. It would have a more limited mission of hunting down the Taliban insurgents and training the Afghan police and army to take over.

When Mullen learned of the hybrid option, he didn't want to take it to Obama. "We're not providing that," he told Cartwright, a Marine known around the White House as Obama's favorite general.
Some variation of the Biden plan actually struck me as the best path by that point. By I can understand why the Pentagon's seniors weren't enamored of it.