Worst Military Advice
President Biden was advised to keep troops in Afghanistan . . . for no apparent reason.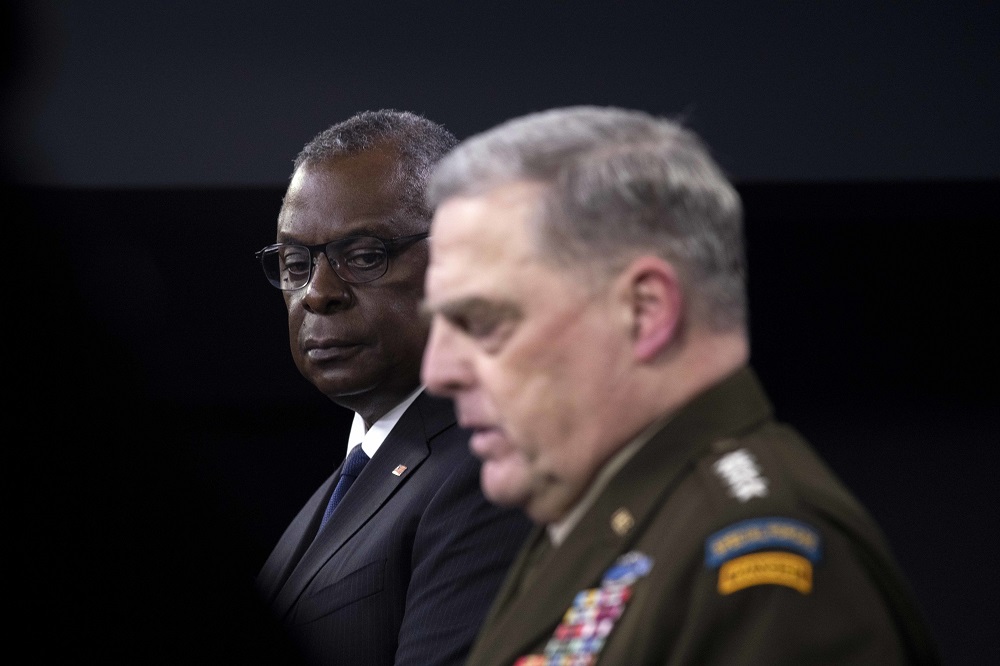 The headlines from yesterday's testimony by senior Pentagon officials to Congress, not surprisingly, focuses on what seems to be a rather serious contradiction between with what President Biden has told us about his decision to withdraw from Afghanistan:
NYT ("Top defense officials acknowledge they advised against withdrawing all troops from Afghanistan."):
Top U.S. military officers acknowledged publicly for the first time that they had advised President Biden not to withdraw all American troops from Afghanistan ahead of the chaotic evacuation during which 13 American service members were killed.

Appearing before a Senate panel, Gen. Mark A. Milley, the chairman of the Joint Chiefs of Staff, said that military leaders were able to give their advice to the president during the lead-up to Mr. Biden's decision to withdraw. But, the general said, "Decision makers are not required in any manner or form to follow that advice."

General Milley testified to the Senate Armed Services Committee with Defense Secretary Lloyd J. Austin III and Gen. Kenneth F. McKenzie, Jr., the head of the military's Central Command. Both men, along with General Milley, were said to have advised Mr. Biden not to withdraw all troops. During the hearing, Generals Milley and McKenzie confirmed that.
WaPo ("Military leaders, refusing to fault Biden, say troop withdrawal ensured Afghanistan's collapse"):
The Pentagon leaders who presided over the Afghanistan war's conclusion said Tuesday that they had predicted Kabul's government and its military would "collapse" after the United States' departure but refused to fault President Biden for withdrawing U.S. forces, even as they agreed the haphazard exit was a "strategic failure."

Gen. Mark A. Milley, chairman of the Joint Chiefs Staff, and Gen. Kenneth "Frank" McKenzie, chief of U.S. Central Command, told the Senate Armed Services Committee that they had advised both Biden and his predecessor, President Donald Trump, to keep at least 2,500 American troops in Afghanistan. It was his belief, Milley said, that "an accelerated withdrawal" risked losing "substantial gains" made over two decades of fighting in Afghanistan, "damaging U.S. worldwide credibility and . . . resulting in a complete Taliban takeover or general civil war."

Tuesday's hearing marked the first time Milley, McKenzie and Defense Secretary Lloyd Austin have faced lawmakers publicly since last month's evacuation from Kabul, a deadly 17-day race that has left unresolved the future of counterterrorism operations and the fate of Americans who remain stranded. Much of the session involved lawmakers, depending on their party, trying to enlist the generals' support in blaming either Trump or Biden for the failures of the past and Afghanistan's uncertain future.
Axios ("Top Pentagon officials grilled on Afghanistan"):
Top military leaders confirmed in a Senate hearing Tuesday they recommended earlier this year that the U.S. keep 2,500 troops in Afghanistan, and that they believed withdrawing those forces would lead to the collapse of the Afghan military.

Why it matters: Biden denied last month that his top military advisers wanted troops to remain in Afghanistan, telling ABC's George Stephanopoulos: "No one said that to me that I can recall."
So, either Biden is lying here or his memory is failing him at a level that should cause grave concern about his ability to carry out the duties of his office. Neither of those prospects is comforting.
Still, if the point of the hearings was to dunk on Biden's judgment regarding the withdrawal, there wasn't a lot of ammunition. Milley stressed the shopworn concept of "best military advice" and rightly noted that elected policymakers are not required to take it. In this case, one can certainly question the wisdom of said advice. As summarized in the above-linked Axios report:
On the chaotic evacuation: Austin said in his opening statement that military leaders began planning for a non-combatant evacuation of Kabul as early as the spring, and that this is the only reason U.S. troops were able to start the operation so quickly when the Taliban captured the city. "Was it perfect? Of course not," Austin acknowledged.
On abandoning Bagram Air Base: Austin told senators that keeping Bagram, the center of U.S. operations in Afghanistan for two decades, would have required an additional 5,000 troops and provided little value for evacuation efforts. "Staying at Bagram — even for counterterrorism purposes — meant staying at war in Afghanistan, something that the president made clear he would not do," Austin said.
On the collapse of the Afghan security forces: "We helped build a state, but we could not forge a nation," Austin said. "The fact that the Afghan army we and our partners trained simply melted away, in many cases without firing a shot, took us all by surprise. It would be dishonest to claim otherwise."
On recommendations for the withdrawal: Milley said in an opening statement that his analysis in the fall of 2020 was that a rapid U.S. withdrawal without the Taliban meeting specific conditions could result in the collapse of the Afghan government and damage U.S. credibility. "That was a year ago. My assessment remained consistent throughout," Milley said.
On Russian bases in Central Asia: Austin denied that the U.S. has asked Vladimir Putin for permission to use Russian military bases to launch counterterrorism operations against targets in Afghanistan but confirmed that Milley was seeking "clarification" on an offer from Putin concerning this issue.
On U.S. credibility: "I think that our credibility with allies and partners around the world and with adversaries is being intensely reviewed by them to see which way this is going to go. And I think that 'damage' is one word that could be used, yes," Milley told senators.
On "over the horizon" counterterrorism: McKenzie said the U.S. does have the limited ability to monitor terrorist threats from outside Afghanistan, telling senators: "We're still refining the best practices on that, but we do have a way forward." He said that details on the strategy are best left to a classified setting.
On the Trump-Taliban peace deal: McKenzie told senators that "the primary accelerant to lowering morale and general efficiency of the Afghan military" was the Doha peace agreement, which the Afghans believed was "forced on them."
As strategist Steven Metz put it,
I'm struggling to understand the logic of yesterday's testimony from DoD leaders. I heard: 1) they recommended leaving a residual force; 2) if they left a residual force it wouldn't deter or stop the Taliban's offensive; and 3) the endstate was going to be the same anyway.
Longtime WaPo defense reporter Greg Jaffe concurs,
Why spend taxpayers' money and drop bombs that will undoubtedly kill Afghan civilians if you're not going to alter the end state? It feels morally wrong.
The bottom line was that there was never going to be an optimal time to leave Afghanistan. The government never controlled the territory and was never going to. The security forces were never going to stand up to the Taliban once was left. Leaving American forces and continuing to sporadically use drone strikes simply prolonged the inevitable and likely not for long.
It is often observed by civil-military relations scholars that senior uniformed officers tend to give decision-makers only one real option because the others are so unpalatable. As more than one has joked, it's often "World War III or nothing." Here, Milley and company were essentially warning of dire consequences unless we continued our presence indefinitely. And even then.