Would Not Running For POTUS Make Sarah Palin Irrelevant?
Her appeal is not her ideas, policies, or achievements but her personality and appeal to the red meat base.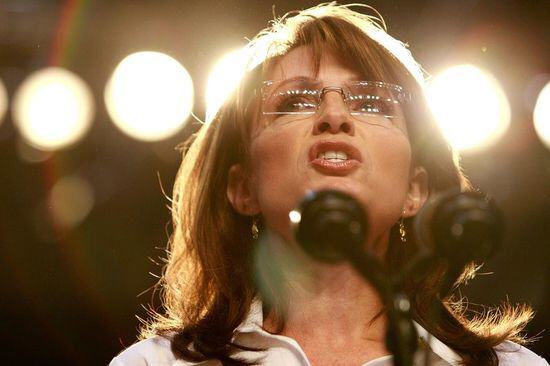 Writing in response to Steve Kornacki's piece at Salon, which Steven Taylor wrote about here at OTB earlier today, John Sides argues that, even if she doesn't run for President and lose as Kornacki postulates, Sarah Palin would still become largely irrelevant once the GOP actually chooses a nominee:
[H]ere's another way to make Palin disappear: have a presidential election in which she is not a candidate.  The surest way to sideline any prominent Republican politician between now and November 2012 is for them not to enter the race.  Indeed, even those that do enter the race will be sidelined by not winning.  The candidates, and then the ultimate nominee, will suck up virtually all of the oxygen.
In support of his argument Sides provides this Google Trends Chart, which shows news mentions and searches of Palin online (represented in blue) declining as the GOP race has started to heat up while those of Michele Bachmann, Rick Perry, and Mitt Romney (red, green, and orange respectively) have increased and largely outpaced Palin: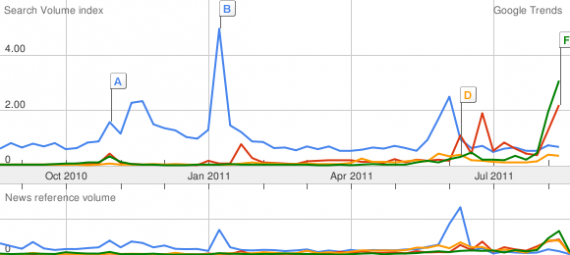 Essentially, Sides argues, if Palin doesn't run she'll gradually continue to fade in relevance, and interest to the media, as the GOP race heats up, and especially after the nominee is chosen. On some level, Sides' argument makes sense. If Palin doesn't run in 2012, the media, which is going to be spending the next 15 months obsessed with political news, polling, and candidates, isn't going to be paying nearly as much attention to her as it did in the past. If a Republican wins the Presidency in 2012, this is likely to continue.
But does that mean that Sarah Palin is finished, or that she'll necessarily disappear? I don't necessarily think so, at least not as long as the Republican Party remains in the condition it is today.
While I'm not sure that a Google Trends chart is the best indication of the phenomenon that Sides is trying to examine, it's worth noting that Palin's standing in the search volume index now isn't much different than it was a year ago. There have been spikes throughout the past year, usually when Palin was doing something (i.e, the Memorial Day Weekend bus trip) or when she was in the news, which explains the spike in January in the wake of the shootings in Tucson. It's not like she's less of a news draw now than she was a year ago, and given her popularity inside the GOP and the Tea Party movement, it seems unlikely to me that she'd just fade away unless she chose to do do so. As long as she has a platform on Facebook, Twitter, and Fox News Channel, she'll be able to speak to her fan base, and that will keep her relevant inside the GOP no matter what happens in the 2012 elections.
Even if the GOP wins the White House in 2012, one could see Palin sitting on the sidelines (because we all know she'd never lower herself to accept a cabinet position) criticizing the Romney or Perry White House over some policy choice or another. Her ability to rile up the base is still there, and as long as it exists and she chooses to use it she will still be a force inside the Republican Party.
Sarah Palin became popular not because of the force of her ideas, most of which are borrowed sound bites inserted into stump speeches, nor because of her extensive record of achievements in office, but because she appealed to the red meat base of the GOP and because she exploited the celebrity status that her distinction as the first female GOP Vice-Presidential candidate granted to her. As long as she chooses to continue to exploit that for fun and profit, the idea that she's just going to disappear from the political scence is sheer fantasy.