Xi Jinping Solidifies His Hold On Power In China
China's Xi Jinping solidified his hold on power well into the next decade over the weekend.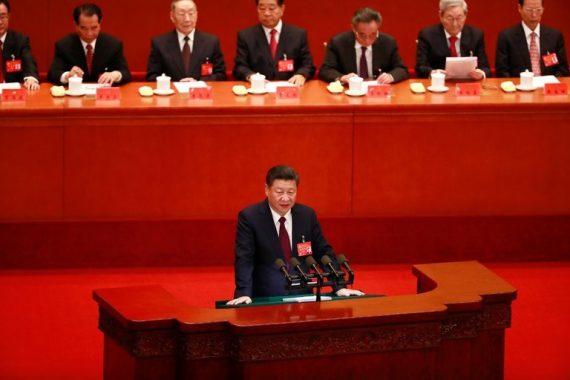 There were significant moves in China over the weekend that have solidified President Xi Jinping's hold on power for the foreseeable future and catapulted him into the category of one of the most important rules of China since the end of Second World War:
BEIJING — China's Communist Party has cleared the way for President Xi Jinping to stay in power indefinitely, by announcing Sunday that it intends to abolish term limits on the presidency, a momentous break with decades-old rules meant to prevent the country from returning to the days when Mao was shown cultish obedience.

The surprise move, revealed in a dryly worded proposal to amend the Constitution, is the boldest yet by Mr. Xi as he seeks to strengthen the party's control over a modernizing society and restore China to what he considers its rightful place as a global power — an agenda that his allies have suggested requires his personal leadership.

He has pressed China's claims over the South China Sea, begun a global infrastructure plan called the Belt and Road initiative, drastically reorganized the military, bulked up domestic security and enforced ideological purity in schools and media — all parts of his vision of China as a prosperous, respected player on the world stage that stays faithful to its Communist and Confucian roots.

The timing of the announcement startled even experienced observers of Chinese politics: Mr. Xi completes his first term as president next month and could have waited until late in his second term to act. He also could have stepped down after his second term and run the country from behind the scenes, as some of his predecessors have.

The move alarmed advocates of political liberalization in China who saw it as part of a global trend of strongman leaders casting aside constitutional checks, like Vladimir V. Putin in Russia and Recep Tayyip Erdogan in Turkey.

The Constitution now limits Mr. Xi, who became president in 2013, to two terms in that office, amounting to 10 years. But the party leadership has proposed removing the line that says the president and vice president "shall serve no more than two consecutive terms," Xinhua, the official news agency, reported on Sunday.

By moving so early in his tenure, Mr. Xi, 64, is in effect proclaiming that he intends to stay in office well past 2023, overturning rules of succession in Chinese politics that evolved as the party sought stability following the power struggles to replace first Mao, and then Deng Xiaoping.

"Xi Jinping will certainly continue," said Zhang Ming, a retired historian at Renmin University in Beijing. "In China, he can do what he wants to do, and this is just sending a clearer signal of that."

Mr. Xi already serves as the party's general secretary and the military chief, positions with no term limits.

"This is the next step in the continuing breakdown of political norms that had held sway in China's reform era," said Carl Minzner, a professor of law at Fordham University in New York and author of a new book on Mr. Xi's increasing authoritarianism.

"What are the risks of these shifts?" Professor Minzner said. "In the short term, all the traditional dangers that arise from the excessive centralization of power in the hands of one person. But in the long term, the real question is how far the breakdown in political norms could go."

Jiang Zemin, the leader who succeeded Deng, was installed during the Tiananmen protests of 1989 and served two terms as president from 1993 to 2003. But he lingered in power until 2004 by retaining control of the committee that runs China's military.

His successor, Hu Jintao, stepped down from all his positions after his two terms — an example that some experts had expected Mr. Xi to follow.

But as Mr. Xi's first term comes to an end, few in China see much likelihood of his power being subdued anytime soon by rivals in the leadership elite.

"Xi is now unfettered. He owns the entire policy process," Susan Shirk, the head of the 21st Century China Center at the University of California, San Diego, wrote in a forthcoming paper about politics under Mr. Xi. "And Chinese domestic and foreign policy is only as restrained or aggressive as he wants it to be. The risk of policy misjudgments is greater than it has been under any other leader since Mao died."

Mr. Xi had already built expectations that he would stay in office past two terms, and some analysts said he must have decided to move while at peak political strength. Usually, authority begins to ebb from Chinese leaders as retirement nears.

"I can see where his thinking is that he's riding high, he's got the momentum, and took the initiative to ram this through," said Jude Blanchette, an expert on Chinese politics in Beijing who works for the Conference Board, which provides research for companies. "Why risk diminished power three years from now if the economy tanks or there's a conflagration with North Korea, and not have the ability to do it?"

In another victory for Mr. Xi, the draft amendments to the Constitution would add his trademark expression for his main ideas — "Xi Jinping Thought on Socialism with Chinese Characteristics for a New Era" — into the preamble of the Constitution, as well as adding a nod to the ideological contributions of his predecessor, Mr. Hu.

The proposed amendments would also authorize a new anticorruption commission that Mr. Xi has pushed. The commission would expand the reach of corruption investigations, which up to now have mostly been conducted by a Communist Party agency acting largely beyond the law.

The amendments are almost certain to be passed into law by the party-controlled legislature, the National People's Congress, which holds its annual full session starting on March 5. The congress has never voted down a proposal from party leaders.

In what would be another break with tradition, Wang Qishan, a close ally of Mr. Xi in his campaign against corruption and disloyalty in the party, appears set to return to power as vice president. Mr. Wang, 69, stepped down from a party position last year because of his age.

The abolition of the term limit may also explain another recent move by Mr. Xi to send one of his closest advisers, Liu He, to Washington on Tuesday. While that trip had initially looked like an attempt to discuss the Trump administration's tougher rhetoric on trade, it now seems likely to also be a mission to explain Mr. Xi's plans to American leaders.

(…)

Mr. Xi's strongman style has been compared to that of the Russian president. But even Mr. Putin did not try to erase his country's constitutional limit on serving more than two consecutive terms as president when he approached that limit in 2008.

Instead, he arranged for a close adviser, Dmitri A. Medvedev, to serve as president for a single term while Mr. Putin held the post of prime minister. Mr. Putin then returned to the presidency in 2012, and is running this year for re-election.

With Mr. Xi's hold on power now seems unquestioned for the foreseeable future, the biggest question will be how he chooses to wield it.

"Xi Jinping is susceptible to making big mistakes because there are now almost no checks or balances," said Willy Lam, an adjunct professor at the Chinese University of Hong Kong who is the author of a 2015 biography of Mr. Xi. "Essentially, he has become emperor for life."
This move by the Chinese Communist Party's inner circle is significant in several respects.
First of all, the fact that it is being made before Xi even begins serving his second term as President is extraordinary and likely a signal of just how successful Xi has been in consolidating his power in the less than six years since becoming General Secretary of the Communist Party and the five years that have passed since becoming China's President. Ordinarily, this isn't a move you'd expect to see until we got closer to the end of a second term, but the fact that the bar on serving beyond a second term is being revoked now shows that Xi has likely succeeded in either installing loyalists in the important positions in the party and the government or gaining the support of the people already in those positions. It also shows the extent to which his campaign against  "corruption" and dissent has succeeded in shaping the inner sanctums of the part to his liking.
Second of all, it shows the confidence that the leadership of the Chinese Communist Party has in Xi's leadership and the direction in which he has been moving the country since assuming power in 201. This has included, as noted, above both the campaign against dissent and "corruption" within the party itself as well as an effort to censor the information available to a China whose urban population at least has become more and more wired into an Internet that includes access to foreign news and information sites. In many cases, this has included directly blocking Chinese citizens from accessing social media sites such as Facebook and controlling what information Chinese citizens can access using search engines such as Google. It has also included a far more assertive role for China around the world than we've seen in the past as well as crackdowns on dissent and corruption that, as noted, has clearly had an impact and that the powers that be in China are happy to let Xi continue to move the country in the direction it has been going over the past several years.
Finally, the fact that Xi has been elevated in the Chinese Constitution to a position equal to that of Mao Tse-Tung and Deng Xiaoping is a strong indication that -the party is committing itself to continuing to move in the direction it has been moving since Xi assumed power. In theory, at least, it means that Xi can stay in power as long as he wishes and that he is, effectively, an "Emperor for life" as Professory Wily Lam of the Chinese University of Hong Kong characterizes it in the article quoted above. Given that Xi is only 64 years old, this effectively means that he could remain in power not just until the end of the next decade, but well beyond that, and in any case well beyond the time that President Trump would remain in office should he be re-elected in 2020.
As Chris Buckley and Keith Bradshear note in a news analysis in The New York Times, these moves have raised concerns about what it means for the future both inside China and internationally:
President Xi Jinping's efforts to indefinitely extend his rule as China's leader, announced on Sunday, raised fresh fears in China of a resurgence of strongman politics — and fears abroad of a new era of hostility and gridlock.

Mr. Xi, who has been president since 2013, has tried to cultivate an image as a benevolent father figure who is working to promote China's peaceful rise.

But the ruling Communist Party's decision to open a path to a third term for Mr. Xi heightened a sense of resentment in China among academics, lawyers, journalists and business executives. Many have watched warily as Mr. Xi has used his power to imprison scores of dissidents, stifle free speech and tighten oversight of the economy, the world's second largest.

Wu Qiang, a political analyst in Beijing who is critical of Mr. Xi, said the change to the Constitution would turn Mr. Xi into a "super-president."

"He will have no limits on his power," he said.

Government censors rushed to block criticism of the decision. Internet memes depicted Mr. Xi as an emperor with no regard for the rule of law and showed a portrait of Mr. Xi replacing Mao's hallowed image in Tiananmen Square. Another repurposed an ad for Durex condoms, adding a tag line — "Twice is not enough" — to poke fun at the idea of Mr. Xi angling for a third term.

The party's move comes as Mr. Xi has proclaimed an era of China's greatness, when the country, he says, will take what he sees as its rightful place as a top global power. Already, it is establishing military bases in the Western Pacific and Africa, building infrastructure across Asia, parts of Europe and Africa, and running what Mr. Xi hopes will be the world's No. 1 economy within two decades or sooner.

"China feels it is on the road to great power status and they want to perpetuate the trajectory they are on," said David Finkelstein, director of China Studies at CNA, a research institute in Arlington, Va.

Some analysts outside China said they worried that allowing Mr. Xi one-man rule might worsen an increasingly tense relationship between the United States and China.

After years of efforts by the United States to engage China on issues from market reform to climate change to human rights, the Trump administration turned on Beijing last December and called China a strategic competitor in its first national security document.

Washington policy makers are preparing plans to impose tariffs on some Chinese imports, limit Chinese investments in the United States, particularly in technology, and spend more on the United States military to sustain its big advantage over the People's Liberation Army.

In congressional testimony earlier this month, the director of the F.B.I., Christopher Wray, described China as "not just a whole of government threat but a whole of society threat."

Mr. Trump may well see Mr. Xi's consolidation of power as part of a global trend toward increasingly influential leaders, in which he might include himself along with Mr. Xi and Vladimir V. Putin, the Russian leader, said James Mann, the author of "The China Fantasy," which contradicted the popular view that increasing prosperity would lead to political liberalization in China.

"I'm guessing he will not deplore the lack of democracy in China, because that's the sort of thing he rarely if ever does," Mr. Mann said of Mr. Trump.

Mr. Mann also said Mr. Trump might not have much problem with what Mr. Xi had accomplished.

"Over the past 14 months in office, Trump has almost never voiced the sort of support for our constitutional system that has been a staple in the statements of past presidents," Mr. Mann said. "He does not respect the dignity or integrity of political opponents. He does not express support for the independence of the courts or the freedom of the press."

So if anything, he said, "I think Trump is probably jealous."

(…)

With an unlimited term in office, Mr. Xi would almost certainly be in office beyond 2024, the year Mr. Trump would leave the White House if he won a second term.

"This objectively makes him stronger than Trump, who has no reason to like the change," Mr. Shi said.

At home, Mr. Xi will probably have considerable support for a third term, the result of a yearslong campaign to sideline political rivals and limit dissent. And nationalists cheered the decision, describing Mr. Xi as a singular force who could restore the glory of the nation.

But as the news spread, readings of Hannah Arendt, who wrote about the evils of totalitarian rule, and passages from George Washington, who retired after two terms as president, were discussed on social media in Chinese legal circles.

Douglas H. Paal, a China expert at the Carnegie Endowment for International Peace, said the sudden move, before Mr. Xi even starts his second term next month, suggested that things were not "normal" within the Communist Party.

"This looks like forced marching, not normal order, so something is going on," Mr. Paal said. "Xi is winning, but it will take sleuthing to find out what. These are not ordinary times."
The biggest unknown here, of course, is what this might mean for the United States and for American allies that are also China's immediate neighbors. This includes, quite obviously, nations such as South Korea and Japan, as well as nations such as Taiwan, The Philippines, and Russia. In many cases, these nations and others are ones that have clashed with China in recent years over claims to shipping lanes and various islands in the South China Sea and other waters around China. in others these are nations that may have regional interests that conflict with China's recent actions and the potential direction in which they may be headed. The best expectation we can have is that we'll see a continuation of the policies we've seen from Beijing in the past several years, and perhaps their acceleration to some extent. And, of course, all of this will be taking place while China is led by a man who has a clear vision of where he wants to take his country, the power within the ruling party to turn his will into policy, and who has already demonstrated himself to be a far more adept player on the world stage than his American counterpart. This suggests a rocky road ahead for the United States and its efforts to maintain its influence in the region, and the possibility of further clashes between the United States and China in the future unless both nations are able to come to some kind of mutual understanding. Right now, the prospects for that don't look very good.