Yemen's al Qaeda No. 2 Still Dead
Abu Sufyan al-Azdi, al Qaeda's number two man in Yemen, is still dead. Or dead again. Or finally dead.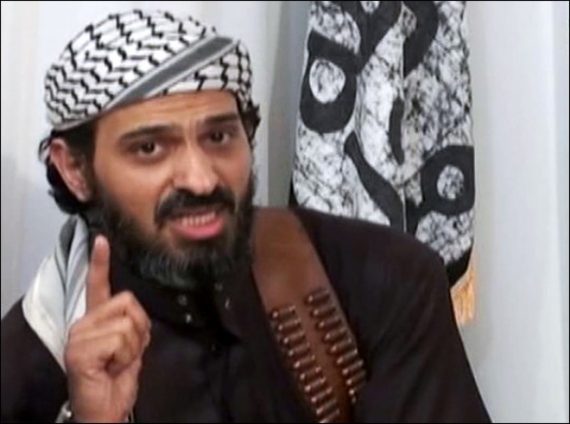 Abu Sufyan al-Azdi, al Qaeda's number two man in Yemen, is still dead. Or dead again. Or finally dead.
AP ("Al-Qaida branch says No. 2 leader killed in Yemen"):
The Yemen-based branch of al-Qaida announced Wednesday that the group's No. 2 figure, a former Guantanamo Bay prisoner, has died in a U.S. drone strike.

The announcement, posted on militant websites, gave no date for the death of Saudi-born Saeed al-Shihri.

Yemeni security officials, however, said al-Shihri died of serious injuries sustained when a drone strike targeted him in November last year.

Al-Shihri had survived an earlier drone attack, in September 2012, the officials added, speaking on condition of anonymity because they were not authorized to talk to media.

Wednesday's announcement came in a video purporting to show the group's chief theologian, Ibrahim Al-Robaish, in which he eulogized al-Shihri.

In the video, al-Robaish said al-Shihri was hit by the drone while speaking on his mobile telephone in the province of Saadah, north of the Yemeni capital of Sanaa.

The authenticity of the video, which was first reported by the U.S. monitoring service SITE, could not be independently confirmed but it appeared on militant websites commonly used by al-Qaida.

In January, Yemen's official SABA news agency reported that al-Shihri died of wounds from a drone strike three months earlier.

Al-Shihri, also known as Abu Sufyan al-Azdi, fought in Afghanistan and spent six years in Guantanamo. He was returned to Saudi Arabia in late 2007 and later fled to Yemen to join the al-Qaida branch there.
CNN ("Yemen: No. 2 al Qaeda leader in Arabian Peninsula killed") reported him dead in January:
The second-in-command of al Qaeda in the Arabian Peninsula was killed in a recent counter-terrorism operation, the Yemeni government confirmed Thursday.

Abu Sufyan al-Azdi, also known as Saeed al-Shahri, died after being wounded in the governorate of Saadah on November 28, said the Supreme National Security Committee of Yemen. He was also one of the most wanted men in Saudi Arabia.

Al-Azdi was buried by militants linked to al Qaeda at an undisclosed location inside Yemen, the government said in a statement.
Then again, back in October, al-Azdi or someone purporting to be him was pretty adamant about being alive (CBS, "Qaeda's No. 2 in Yemen: Rumors of my death untrue"):
A man claiming to be al Qaeda's No. 2 in Yemen released an audio recording denying reports that he had died in a U.S. drone attack, as Yemeni officials said Monday that another top member of the terror network was killed in a drone strike earlier this month.

The authenticity of the clip, purportedly made by Saeed al-Shihri, could not be definitively confirmed.

But CBS News' Khaled Wassef reports the audio, which was posted late Sunday to the primary blog of al Qaeda in the Arabian Peninsula and produced by the al Qaeda franchise's media wing, does appear authentic. The voice heard is identical to previous messages from al-Shihri.
If he's still dead come Christmas, I'm calling it official.