Yes, Presidential Approval Matters
An explanation to a question you likely weren't asking.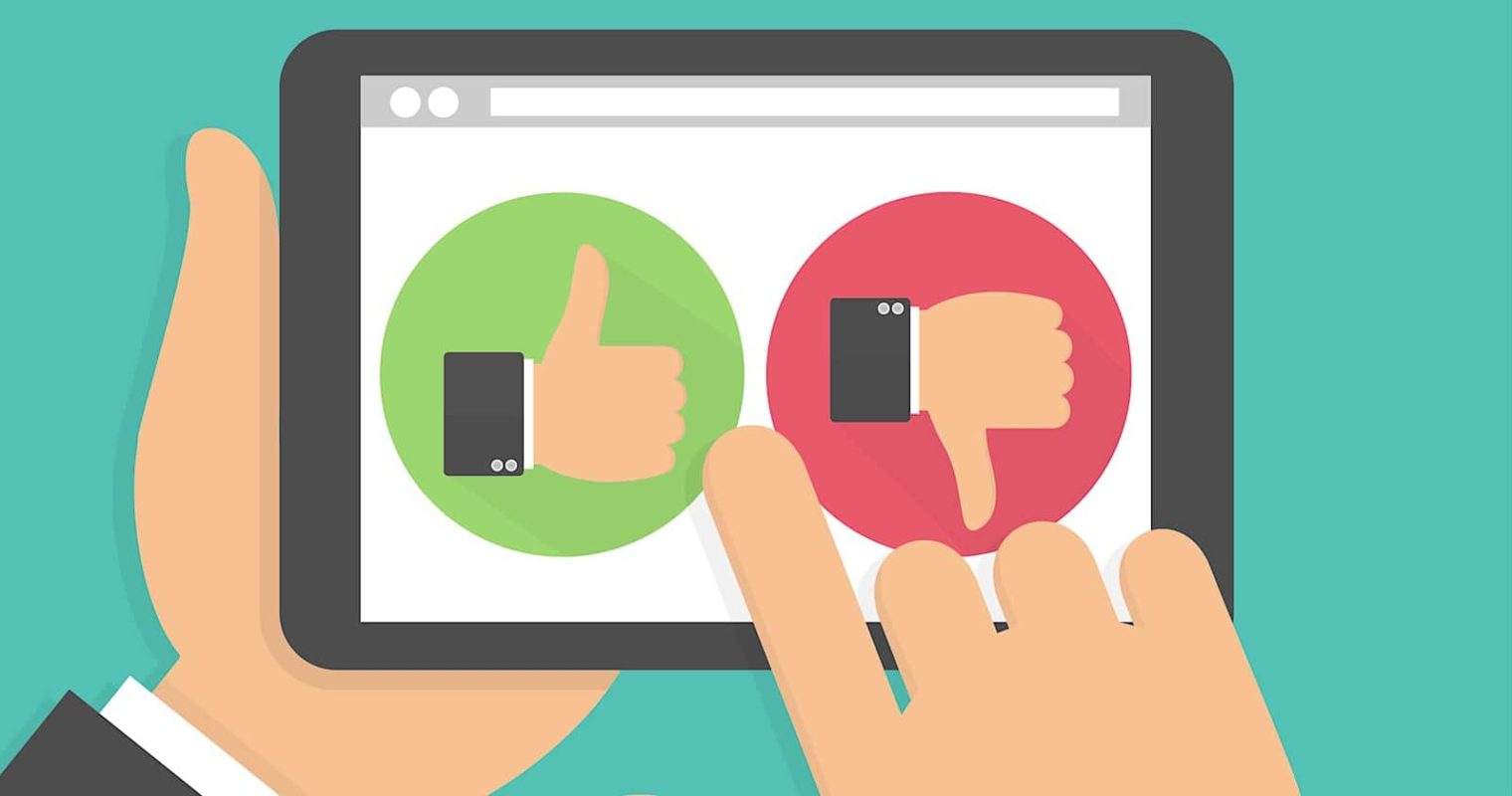 FiveThirtyEight's Geoffrey Skelley explains "Why You Should Still Pay Attention To Joe Biden's Approval Rating," even though, if you're reading OTB or FTE you likely hadn't considered doing otherwise.
His premise:
When it comes to presidential approval ratings, the days of big swings in opinion and sky-high ratings are gone.

Consider that former President Donald Trump's approval rating mostly hovered between 40 and 45 percent, earning him the distinction of having the steadiest approval rating of any president since World War II. In fact, one way Trump embodied the nickname "Teflon Don" so early was by how little his approval numbers moved in response to the many controversies swirling around him.1 Former President Barack Obama also saw small fluctuations in his approval numbers.
Well, sure. We're hyperpolarized and sorted in a way that we haven't been in decades. But that is a fact of life that, unless changed, limits how much Presidents can get done.
Further—and this is why I've been paying attention to the polling numbers—we can see that President Biden is considerably more popular than his predecessor. According to the RealClearPolitics polling average, Biden's approval is at 52.9% with a disapproval of 41.9%.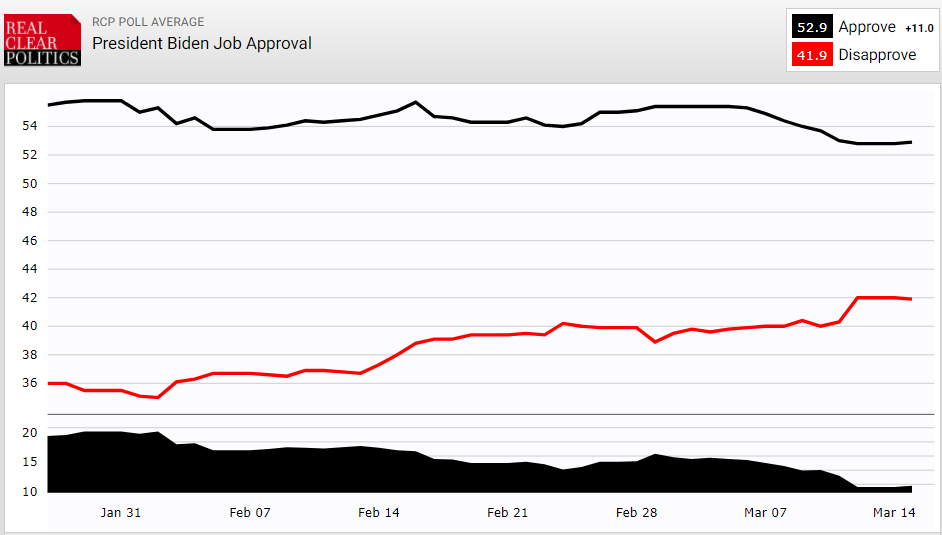 That's significantly more popular than Trump, who never got above 46 percent approval and spent all but the first few days of his administration underwater: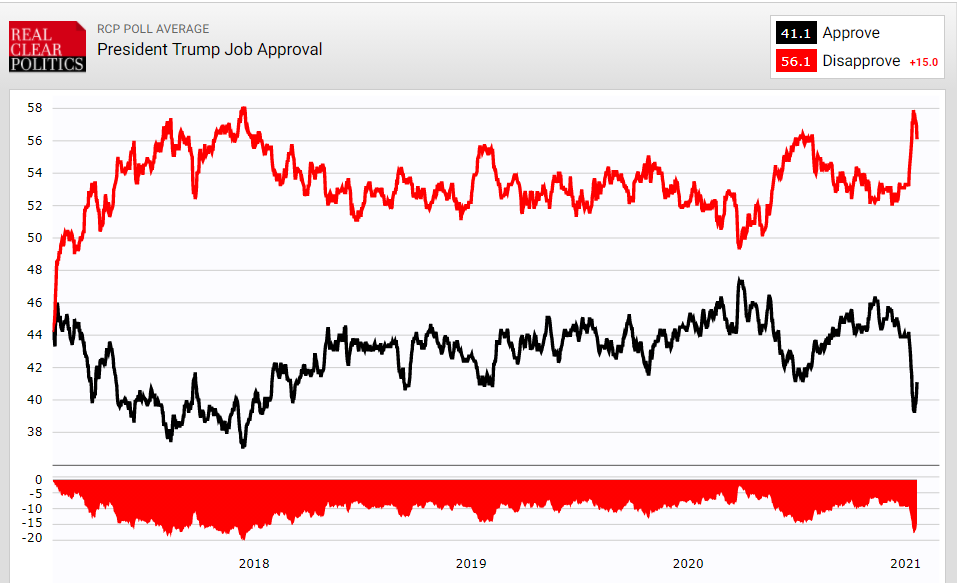 Surely, that tells us something about how the public perceives their comparative performances, notwithstanding that most are viewing it through partisan lenses?
You'd think. But Skelley instead compares it to other eras:
It's early yet, but President Biden's initial approval marks aren't all that impressive, either. Or at least that's true when compared to past presidents' ratings in the first few months of their presidency, often referred to as the "honeymoon" period. (According to FiveThirtyEight's presidential approval tracker, 53 percent of Americans approve of Biden's job performance,2 whereas at this point in the presidency, most new presidents' approval ratings have usually been closer to 60 percent.)
Well . . . okay. But looking at Skelley's own charts, we see that this hasn't been true in a long time. Truman, Eisenhower, Kennedy, Johnson, Ford, and Carter all had serious "honeymoons." In that era, only Nixon enjoyed less than 70 percent approval. Beginning with Reagan in 1981, none started with even 60 percent approval until Obama—who only barely exceeded that before slowly receding to the 50-50 mark by about a year in.
Regardless, approval is approval. If half the country doesn't approve of a President's job performance because they're partisan poopyheads not giving him a fair chance . . . they don't approve of the President's job performance.
Which, after that bizarre setup, is more or less Skelley's position.
So if the new normal is presidential approval ratings that don't change all that much, is it time to abandon them?

Not so fast. On the one hand, we do need to recalibrate our expectations of presidential approval ratings. They're just not going to move that much in our hyper-polarized political climate. But that doesn't mean approval ratings aren't a useful window into how the public broadly views a president's performance. Or that they can't still signal a change in political fortunes. And once we move past the presidency, approval ratings of other American leaders, such as governors, see wider ranges of support largely because partisanship isn't quite as baked in at the state level.
Which just tells us that, as much as we've nationalized and presidentialized American politics, a lot of politics remains local. California remains a one-party state who will vote for the Democratic nominee in 2024 absent circumstances so extraordinary that I'm unable to conjure it. But Democrat Gavin Newsom's management of the COVID crisis has nonetheless been wildly unpopular. Almost certainly even moreso with Republicans—but unpopular all the same.
The rest of Skelleys' post digs further into the ways in which Presidential approval ratings are relatively more bounded than they once were. Which is perfectly interesting in a polling geek or political science sort of way. But the answer to the opening question remains self-evident.