Yet More Throwing of Israel under the Bus
When will the madness end?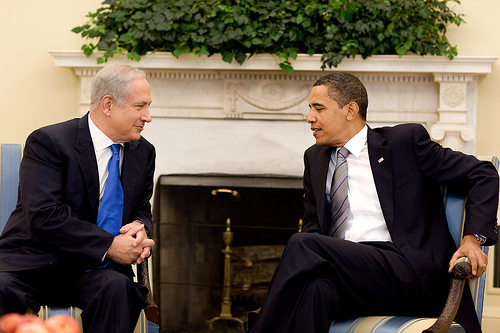 Joel Greenberg:
Israeli commentators pointed out Sunday that the 1967 lines have for years been considered the basis for any future border between Israel and a Palestinian state, noting that Obama had mentioned land swaps that could leave large settlements inside Israel, as Netanyahu has demanded.

"What did Obama say?" wrote Ofer Shelah, a columnist in the Maariv newspaper. "That any agreement with the Palestinians, if and when it is signed, must be based on the 1967 lines with border adjustments. Is there any Israeli or Palestinian who doesn't know that this is what will happen? It's the only game in town

Dov Weisglass, who was chief of staff to then-Prime Minister Ariel Sharon, said in a radio interview that "anyone here deluding himself . . . that the drawing of the new map will be based on any reference point other than the 1967 boundaries is simply disconnected from reality."
First Obama, and then the blast from the past from Israeli PM Olmert and now this.
When will the madness end?
All sarcasm aside, the thing that I have found most vexing (to the point of annoyance) in watching reaction to Obama's speeches on the Middle East is the notion that what was said about the 1967 borders was something radical, new and/or well outside the mainstream.  It was not.  Not only that, it was far from new.  One can debate whether it is a good idea or not, but to pretend like it is crazy talk (i.e., "throwing Israel under the bus" or the like) is crazy talk in and of itself (or, to be more kind, misguided and incorrect).
I do not know the editorial disposition of Maariv, but know full well that Ariel Sharon was well within the mainstream of Israeli politics and so would consider a quotation from his chief of staff to likewise be within said mainstream.  So please, if you think this is somehow outside the realm of the reasonable on this topic, you are simply incorrect.
And again:  that the notion is mainstream makes it neither right nor wrong, but it would help the discourse if we could at least agree to play in the same reality.
h/t:  Goldblog.