Young Voters Far Less Enthusiastic For Obama This Time Around
Younger voters are starting to become as cynical as the rest of us.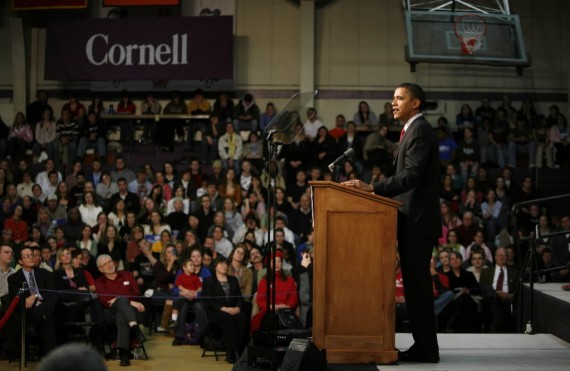 One of the most striking phenomenon of the 2008 Presidential campaign was the manner in which Barack Obama's campaign managed to excite younger voters, especially those in the 18-29 year old age cohort which has typically turned out at the polls far less than older voters ever since being granted the vote by the 26th Amendment. Indeed, voter turnout among this age group was 51.1%, the highest it had been since 1992 when it reached 52.0%, although still not as high as the all-time high for this group, which was reached in 1972 when 55.4% of 18-29 year olds voted. More importantly, though, this group voted for Obama over McCain by the amazing margin of 66% to 32%, thus proving themselves to be a valuable part of the Obama coalition. It didn't take long, though, for things to start turning sour as the "Hope & Change" of the campaign gave way to realities of governing and the sour economy led many of these voters to realize that the job situation wasn't good for them at all despite that college degree. By 2010, there was talk that younger voters were starting to feel abandoned by the President and, indeed, voter turnout among this group fell by 50% in the 2010 midterms. Now, with the election campaign coming to a close and the race incredibly close, there are signs that the Obama campaign many not be able to count on this group being as eager to show up at the polls:
The cheering midst of a rally featuring President Barack Obama and a largely college-age crowd of 15,000 on the Oval at Ohio State University would not seem a likely place to encounter those not in the president's corner.

Yet, the first five students approached at random by a Dispatch reporter on Oct. 9 turned out to support Republican Mitt Romney and his aspirations of replacing Obama in the White House.

The must-vote adoration and enthusiasm for Obama isn't what it once was among 18- to 29-year-old Millennials in central Ohio, a must-win area in a must-win state for presidential hopefuls.

This is not 2008, when two-thirds of the youth vote broke big for Democrat Obama and his message of change amid the accompanying offer of making history by electing the first black president.

This is 2012, with Obama running on a recession-riddled record. Job prospects are iffy for even educated young Ohioans. Some fear their generation is in danger of failing to match or better their parents' now-dinged lifestyles.

Husband and wife William, 26, and Katherine Frost, 20, OSU students from Grove City, had high hopes for Obama but now are Romney voters. "Obama didn't fulfill his promises," she said. "I'm ready for a fresh change," he said.

(…)

[C]ourting and turning out the votes of youth, who are less reliable in going to the polls than older voters are, is proving more difficult this time around — a trend that could work against Obama's re-election chances.

National polls suggest Obama still enjoys a near 20 percentage-point advantage over Romney among young adults, but their enthusiasm has waned, leaving them less likely to vote than in 2008.

Polling late last month by the Pew Research Center found young voters, who have cast a majority of their votes for Democrats in the past three presidential elections, are significantly less engaged than in 2008.

Sixty-three percent of young registered voters plan to cast ballots this year, compared with 72 percent four years ago. And 61 percent call themselves "highly engaged" this year, down from 75 p ercent in 2008.

Herb Asher, a professor emeritus of political science at Ohio State, said youthful excitement over Obama has been tempered by the "real world and reality" of governing during tough times.

"And there's nothing in particular about Romney's candidacy that would have unique or special appeal to young people. Neither of the candidates today are considered to be rock stars by young people," Asher said.

Asher expects Obama to be a favorite again with Millennials in central Ohio but adds a footnote: "The real question is not so much the level or loyalty of support but turnout. … The youth vote is an integral part of his strategy and extremely important here."
These anecdotal reports from the Ohio State campus are corroborated by a new poll released last week by Harvard's Institute Of Politics, which shows younger voters far less enthusiastic about the President than they were four years ago:
When America's 18-29 year-olds were asked which presidential candidate they trust more to handle a number of top issues, late September IOP polling shows President Obama favored over Governor Romney on health care (+23), foreign policy (+23), to be the Commander-in-Chief of the military (+22), immigration reform (+20) – and the economy (+19 percentage points). Obama was also trusted more to handle "issues of concern to someone your age" (+31) and "issues of concern to women (+33).

In addition, six-in-ten Millennials (62%) said the statement: "the problems President Barack Obama inherited are so complex it takes more than four years to do the job" came closer to their own view, while only a third (33%) said the same about the statement: "despite his best efforts, President Obama has failed.

18- to 29- year-old voters favoring Gov. Romney are more likely (65%) than those favoring President Obama (55%) to say they will "definitely" be voting this fall.  Overall, 48% say that they will "definitely" vote in the November elections, with another ten percent (10%) saying "probably" and sixteen percent (16%) saying "50-50"
On some level it's not all that surprising that this voting cohort has lost the enthusiasm that they had four years ago. After all, many of the promises that the President made back then — from greater transparency to fixing the way Washington works to closing Gitmo haven't come to pass. The old slogan of "Hope & Change" has been replaced by the far more ambiguous "Forward." And, most importantly, these voters find themselves facing a future that is far less bright than they might have thought it would be as recently as four years ago. Moreover, I can't really say that the President has given this group of voters much of anything to be enthusiastic about over the next four years, and it's often much harder to get people excited about voting against someone than it is to get them to vote for someone. Given this, it's not at all surprising to see them feeling far less enthusiastic about the President than they did four years ago. Will it have an impact on the race? That's hard to say, but whenever a candidate finds themselves unable to generate turnout from their most important constituencies it ought to be a sign of concern. In a close election, a difference of a few percentage points between 2012 and 2008 could make all the difference in the world.
There's another side to this equation, of course. While it's true that the President has likely disappointed younger voters and the state of the economy, it's also true that these voters had rather unrealistic expectations for an Obama Presidency:
[T]he other problem with the younger voters that rallied behind Obama is that they simply had unrealistic expectations of what he could do, even with majorities in both Houses of Congress and notwithstanding the fact that there was a severe economic downturn that pretty much put the rest of the campaign agenda on the back burner. The idea that Barack Obama was going to "remake Washington," which was one of the common themes that seemed to motivate younger voters two years ago, was simply naive in the extreme, and anyone who's been following politics long enough knew from the start that it was a promise he could never keep.
So now, these voters have had their unrealistic hopes replaced by the harsh light of reality, and the result seems to be that they've become as cynical about politics as the rest of us. Welcome to the club, kids.