Zelensky's Plea for Help
Ukraine's leader wants more help than he's going to get.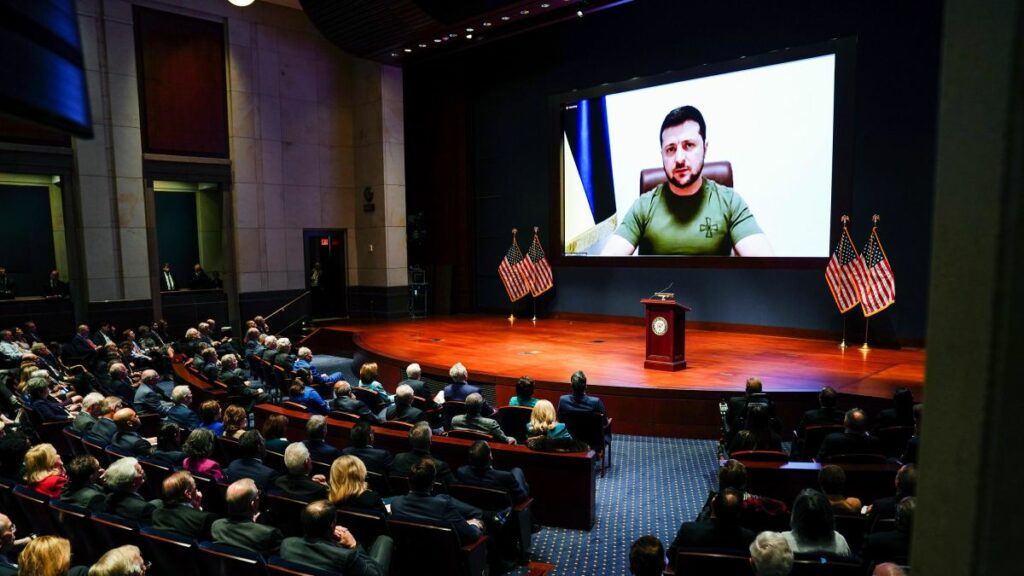 The News:
WaPo ("As diplomats hint of progress in talks, Ukraine accuses Russia of bombing Mariupol theater"):
Ukrainian officials accused Russia on Wednesday of bombing a theater where hundreds of displaced families have sought refuge in the besieged port city of Mariupol, part of a string of intense attacks that continued even as diplomats said they were making progress in peace talks.

Video footage showing the smoking ruins of the once-stately Mariupol Drama Theater emerged soon after officials from both Russia and Ukraine expressed cautious optimism about negotiations to end almost three weeks of fighting, and President Volodymyr Zelensky delivered an impassioned virtual address to U.S. lawmakers calling for air support and the creation of a "humanitarian no-fly zone" to protect evacuation corridors.

There was no immediate word on deaths or injuries, though a local official said the fate of "several hundred" people remained unknown.

The strikes in Mariupol and other cities served as a vivid reminder of international concerns about whether Russia would hold to any negotiated truce, and of the immense toll that will be taken as each day passes without a deal. Further cutting against the idea of an imminent end to the war, Russia is deliberating reinforcement of its troops and supplies, the Pentagon said Wednesday, as naval forces bombarded towns outside Odessa, a key port city on the Black Sea. A defense official said the Russians may be softening defenses before invading on the ground.

[…]

Russian Foreign Minister Sergei Lavrov told a Russian TV channel that there is "hope for reaching a compromise" in negotiations, echoing comments by Ukrainian officials that the parties were inching closer to a breakthrough. However, both sides stressed that the talks were difficult, with differences remaining over security guarantees for Ukraine and other thorny issues.

U.S. and Western officials, speaking on the condition of anonymity because of the sensitivity of the matter, expressed skepticism about the optimistic statements from the Ukrainian delegation about the talks. Some officials said they suspect Zelensky is trying to keep up momentum, even if negotiations are progressing poorly. Others say the Ukrainian leader may not be sharing a full account of closed-door discussions. Many diplomats fear that Moscow is only using the talks to buy time and replenish its forces.
NYT ("As Russian Troop Deaths Climb, Morale Becomes an Issue, Officials Say"):
In 36 days of fighting on Iwo Jima during World War II, nearly 7,000 Marines were killed. Now, 20 days after President Vladimir V. Putin of Russia invaded Ukraine, his military has already lost more soldiers, according to American intelligence estimates.

The conservative side of the estimate, at more than 7,000 Russian troop deaths, is greater than the number of American troops killed over 20 years in Iraq and Afghanistan combined.

It is a staggering number amassed in just three weeks of fighting, American officials say, with implications for the combat effectiveness of Russian units, including soldiers in tank formations. Pentagon officials say a 10 percent casualty rate, including dead and wounded, for a single unit renders it unable to carry out combat-related tasks.

With more than 150,000 Russian troops now involved in the war in Ukraine, Russian casualties, when including the estimated 14,000 to 21,000 injured, are near that level. And the Russian military has also lost at least three generals in the fight, according to Ukrainian, NATO and Russian officials.

Pentagon officials say that a high, and rising, number of war dead can destroy the will to continue fighting. The result, they say, has shown up in intelligence reports that senior officials in the Biden administration read every day: One recent report focused on low morale among Russian troops and described soldiers just parking their vehicles and walking off into the woods.

The American officials, who spoke on the condition of anonymity to discuss operational matters, caution that their numbers of Russian troop deaths are inexact, compiled through analysis of the news media, Ukrainian figures (which tend to be high, with the latest at 13,500), Russian figures (which tend to be low, with the latest at 498), satellite imagery and careful perusal of video images of Russian tanks and troops that come under fire.

American military and intelligence officials know, for instance, how many troops are usually in a tank, and can extrapolate from that the number of casualties when an armored vehicle is hit by, say, a Javelin anti-tank missile.

The high rate of casualties goes far to explain why Russia's much-vaunted force has remained largely stalled outside of Kyiv, Ukraine's capital.

"Losses like this affect morale and unit cohesion, especially since these soldiers don't understand why they're fighting," said Evelyn Farkas, the top Pentagon official for Russia and Ukraine during the Obama administration. "Your overall situational awareness decreases. Someone's got to drive, someone's got to shoot."
WSJ ("A Ukrainian Town Deals Russia One of the War's Most Decisive Routs"):
A Kalashnikov rifle slung over his shoulder, Voznesensk's funeral director, Mykhailo Sokurenko, spent this Tuesday driving through fields and forests, picking up dead Russian soldiers and taking them to a freezer railway car piled with Russian bodies—the casualties of one of the most comprehensive routs President Vladimir Putin's forces have suffered since he ordered the invasion of Ukraine.

A rapid Russian advance into the strategic southern town of 35,000 people, a gateway to a Ukrainian nuclear power station and pathway to attack Odessa from the back, would have showcased the Russian military's abilities and severed Ukraine's key communications lines.

Instead, the two-day battle of Voznesensk, details of which are only now emerging, turned decisively against the Russians. Judging from the destroyed and abandoned armor, Ukrainian forces, which comprised local volunteers and the professional military, eliminated most of a Russian battalion tactical group on March 2 and 3.

The Ukrainian defenders' performance against a much-better-armed enemy in an overwhelmingly Russian-speaking region was successful in part because of widespread popular support for the Ukrainian cause—one reason the Russian invasion across the country has failed to achieve its principal goals so far. Ukraine on Wednesday said it was launching a counteroffensive on several fronts.

"Everyone is united against the common enemy," said Voznesensk's 32-year-old mayor, Yevheni Velichko, a former real-estate developer turned wartime commander, who, like other local officials, moves around with a gun. "We are defending our own land. We are at home."
NPR ("Biden calls Putin a war criminal"):
President Biden on Wednesday was asked by reporters whether he was ready to call Russian President Putin a war criminal.

"I think he is a war criminal," Biden said.

White House press secretary Jen Psaki noted that a legal review has been under way at the State Department to review the matter.

"He was speaking from his heart," she said.

This is the furthest that Biden — who often emphasizes the role of personal leader-to-leader diplomacy in international relations — has gone to decry the actions taken by Putin. When asked earlier this month if he thought Russia was committing war crimes, he said the White House was following events closely but that "It's too early to say that."

Earlier Wednesday Biden spoke about the "appalling devastation" inflicted on Ukraine, including reports of doctors and patients being held hostage in Mariopol. "These are atrocities," Biden said. "It's an outrage to the world."

The White House has called for an investigation into if Russian forces are committing war crimes in Ukraine, and experts have told NPR that evidence of them is "undoubtable." If any International Criminal Court investigation advances, Putin and his generals could face indictment.
Some Opinions:
Max Boot, WaPo ("We can't let Putin's threats deter us from supplying Ukrainians with fighter planes"):
Russia's unprovoked invasion of Ukraine has plunged the world into its worst military crisis since the end of the Cold War. From the U.S. standpoint, the war carries two opposing dangers: We could underreact, and thus let Russia get away with unprovoked aggression that will destroy the world order. Or we can overreact, allowing the conflict to spiral out of control. Put another way: We can't afford to start a larger war, but we also can't afford to let Russia win.

President Biden has mostly done a good job of walking this narrow line. He has rejected, for example, dangerous calls for a no-fly zone that would force U.S. troops into combat with the Russians. But Biden has erred too far on the side of caution by refusing Poland's offer to supply Ukraine with its MiG-29 fighter jets. The administration's position is that Ukraine doesn't really need the aircraft and that providing them would be a dangerous escalation.

We shouldn't let an aggressor veto aid to his victims. If the Ukrainians say they want MiG-29's, we should provide them. We should also send anti-ship missiles, S-300 antiaircraft missiles armed drones, and lots more munitions of all kinds to replenish Ukrainian stockpiles. The volume of weapons is already high but needs to be higher.

What is the difference, anyway, between shooting down a Russian airplane with a Stinger missile or a MiG-29? The Soviets supplied fighter aircraft to North Korea and North Vietnam to shoot down U.S. aircraft; in Korea, some of those planes were even flown by Russian and Chinese pilots. The United States, for its part, supplied Nationalist China in 1941 with both aircraft and former U.S. military pilots — the famed Flying Tigers — to fight Japanese aggression. That is how great-power competition works. As long as U.S. personnel are not firing on Russians, Ukraine is still a proxy war — and not a precursor to World War III.
Henry Olsen, WaPo ("Sorry, President Zelensky. The U.S. cannot risk direct war with Russia."):
Ukrainian President Volodymyr Zelensky's virtual address on Wednesday to Congress was moving and persuasive. He's right that the United States can and should do more to help his country win its existential fight with Russia. But he's wrong to ask us to risk direct war with Russia by establishing a no-fly zone over Ukraine.

Wearing the olive-green T-shirt that has become his wartime uniform, and appearing virtually from a capital that's under siege, Zelensky was David asking us to join his fight against Goliath. Make no mistake: That's what the no-fly zone he wants would mean — a hot war between the world's two biggest nuclear powers.

President Biden's greatest skill is showing empathy, but the current crisis has proved that he's also capable of hardheadedness. We must be clear-eyed about where our interests align with — but also diverge from — Ukraine's. We climb the escalation ladder at our peril. That's why Biden's response to Zelensky was so wise: The most we can realistically do is give David more slingshots.
E.J. Dionne Jr., WaPo ("Zelensky reminds us that impunity is the enemy of justice"):
The power of Ukrainian President Volodymyr Zelensky's video address to Congress on Wednesday owed to something more than charisma born of clarity, tenacity and personal bravery.

Five words, unlikely to make a list of Top 5 sound bites, defined why this is a battle for a generation. The confrontation in Ukraine, Zelensky declared, is a fight "to keep justice in history."

He's right. Allowing Russia's aggression to succeed would mean ratifying a future that privileges power over justice, autocracy over self-determination and impunity over accountability.
Charles M. Blow, WaPo ("What Is Our Moral Obligation in Ukraine?"):
After a discourse into our inconsistent intervention decisions in humanitarian crises over the last 30 years, he writes,
When does America have a moral obligation to intervene — particularly for humanitarian reasons — in conflict? And which factors contribute to the choices we make?

[…]

I say that the United States must supply military aid and should supply humanitarian aid. But I also say that we must be more consistent in determining who deserves outpourings of our humanitarian impulses.

Human suffering is human suffering. It has been a constant in the story of mankind. Sometimes it overlaps with our national interests, and sometimes it does not. But our sense of morality must remain constant, and in it we must find a place for equity.
My Two Cents:
As heart-wrenching as Zelensky's speech was, I'm not sure why Congress agreed to host it. President Biden already has an incredible burden in dealing with this crisis without adding to the emotionalism surrounding it. The above-quoted columnists lay out the difficult choices in front of the administration. Thus far, I believe the President and his team have threaded the needle incredibly carefully, continuing to ratchet up pressure on Putin and support for Ukraine without crossing a red line. I'm agnostic on the issue of fighter jets versus drones but have no reason to distrust Biden and company's instincts here. They certainly have access to more information than I do.
That negotiations are ongoing is, I suppose, good news. But I haven't the foggiest what end state will be acceptable to both parties at this juncture. Anything short of a complete Russian withdrawal and Putin in irons before the International Criminal Court will be unjust. And Zelensky and company are clearly not in the mood for appeasement.
Putin is indeed a war criminal of the highest order. He invaded a peaceful, law-abiding nation without provocation and is deliberately slaughtering innocents. But it's hard to envision a scenario where he sees justice.
Finally, while I would imagine that thousands dead and much tougher resistance than expected is indeed taking a toll on the morale of Russian troops, I'm skeptical that they're anywhere near a breaking point. As a good friend and seasoned combat leader recently reminded me, Russians have a long history of putting up with unspeakable misery in wartime and continuing to slog on.