12 Dead, At Least 50 Wounded In Mass Shooting At Colorado Movie Theater
Terror erupted in a Colorado movie theater early this morning.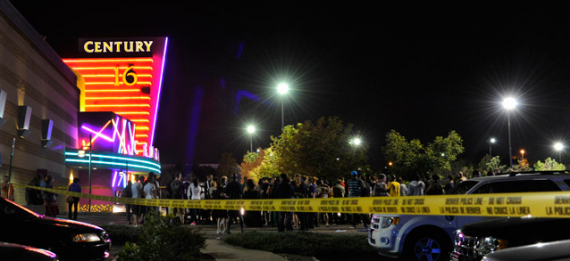 Sometime after midnight local time in Aurora, Colorado, a midnight showing of The Dark Knight Rises became the scene of a mass shooting that has left at least 14 people dead as of this hour:
AURORA — Fourteen people were killed and about 50 were injured early Friday when shots rang out at an Aurora movie theater during a premiere showing of the new Batman movie.

A suspect in is custody and an aparment building connected to the suspect was being evacuated and searched for possible explosives, according to Police Chief Dan Oates,

Ten people died at the theater and four others died at hospitals.

Sometime after 1 a.m., police received reports of gunshots at the Century 16 Movie Theaters at the Aurora Town Center.

No confirmed information is available on how many people were injured and whether there were any fatalities.

Dozens of ambulances and police vehicles were outside the mall, where the theater was showing "The Dark Knight Rises." Police from all over the metro area had been called to the scene.

A witness, Bejamin Fernandez, 30, said he was watching the movie when he heard a series of explosions. He said that people ran from the theater and there were gunshots as police shouted 'get down!"

He says he saw people falling, including one young girl.

Salina Jordan, 19, was in Theater 8 and saw people hit in her theater. She said one girl was struck in cheek, others in stomach including a girl who looked to be around 9 years old.

She said it sounded like firecrackers until someone ran into Theater 8 yelling "they're shooting out here!"

The police came running in, telling people to run out. Some police were carrying, dragging bodies, she said.

Police had set up a command post near the Dillards and were interviewing hundreds of possible witnesses. Some were taken by buses to Gateway High School for questioning.

Police spokeswoman Cassidee Carlson says "the scene is still very active and we have little information for release at this time."
Local news station KUSA reports that there is one person in custody, a man who was found by police in the back of the theater with at least two firearms, a gas mask, and, reportedly, a bullet proof vest of some kind. Some witnesses interviewed by local news have said that the person was dressed in a costume of some kind, possibly a character from the movie as a disguise. It's also being reported that the person in custody told police that there were explosives of some kind at this apartment and, in fact, reports at the moment are that explosives were indeed found there, although its not clear what the quantity or type might be.
Some of the eyewitness reports that have been streaming over CNN from local affiliates have been quite horrifying. One man described seeing a police officer carrying a young girl out of the theater with what appeared to be gun shot wounds to her back and her body "lifeless." The police officers who were on duty when the incident happened apparently were putting victims in their cars and rushing them directly to hospitals rather than wait for EMTs.  Of course, through all of this the eyewitness statements are going to be confused at times and even now, three hours later, investigators are still talking to the people who were in the theater at the time.
The police aren't commenting about the identity of the shooter so there's no indication if this is a terrorist act of some kind or, more likely, a lone nut with a lot of guns. It's worth noting that Aurora is only miles away from Littleton, Colorado and the site of the Columbine High School shootings, so this is not an unfamiliar event for the area.
Update: One Denver television station is live-streaming its coverage of the incident, and the Denver Post's Twitter feed has been quite active the last several hours, additional Twitter coverage can be found here.
Update 8:03am: The initial death toll has been revised down to 12. Of course, with several victims still in critical condition these numbers are likely to fluctuate for the better part of the day.
Additionally, both President Obama and Mitt Romney have released statements:
President Obama made the following statement on the Colorado movie theater shooting:

"Michelle and I are shocked and saddened by the horrific and tragic shooting in Colorado. Federal and local law enforcement are still responding, and my Administration will do everything that we can to support the people of Aurora in this extraordinarily difficult time. We are committed to bringing whoever was responsible to justice, ensuring the safety of our people, and caring for those who have been wounded. As we do when confronted by moments of darkness and challenge, we must now come together as one American family. All of us must have the people of Aurora in our thoughts and prayers as they confront the loss of family, friends, and neighbors, and we must stand together with them in the challenging hours and days to come."

And Mitt Romney today made the following statement on Friday morning's shooting:

"Ann and I are deeply saddened by the news of the senseless violence that took the lives of 15 people in Colorado and injured dozens more. We are praying for the families and loved ones of the victims during this time of deep shock and immense grief.  We expect that the person responsible for this terrible crime will be quickly brought to justice."
Both men are scheduled to have campaign events today. One expects that their remarks will be more tempered than planned, assuming the events aren't canceled altogether.
Update 8:20am: ABC News is reporting that the suspect has been identified as James Homes of Aurora:
A lone gunman burst into a movie theater in Aurora, Colo., at a midnight showing of the latest Batman film, "The Dark Knight Rises," and opened fire, killing at least 12 people and injuring at least 50, police said.

James Holmes, 24, of North Aurora, was apprehended at the scene clad in a bullet-proof vest and riot helmet.

Witnesses said Holmes crashed into the movie theater from an emergency exit door at the front of the auditorium, setting off a smoke bomb and then shooting off dozens of rounds from multiple firearms, police told ABC News.

Holmes was caught by police in the parking lot of the Century 16 Movie Theaters, nine miles outside of Denver, after police began receiving dozens of 911 calls at 12:39 a.m. MT. He was carrying a gas mask, rifle, and handgun, and police believe at least one other gun was left in the movie theater.

Police said the suspect mentioned having explosives stored, leading them to evacuate his entire North Aurora apartment complex and search the buildings.
No word on motive yet, obviously.
Update 9:30am: ABCNews reports on an interesting conversation with a woman who is apparently Holmes's mother:
Police said 10 victims died inside the theater, while dozens of others were taken to local hospitals, including a child as young as 6 years old.

A San Diego woman identifying herself as James Holmes's mother spoke briefly with ABC News this morning.

She had awoken unaware of the news of the shooting and had not been contacted by authorities. She immediately expressed concern that her son may have been involved.

"You have the right person," she said.

"I need to call the police," she added. "I need to fly out to Colorado.
In other news, people are already trying to score political points off this tragedy and talking about the politics of what happened. To which I can only say, can we wait for the partisan finger pointing and the "what it all means" posts until after the bodies are buried?