Another Poor Attempt at Illustrating the Scourge of Voter Fraud
Another failed attempt to demonstrate the problems of voter fraud in the US.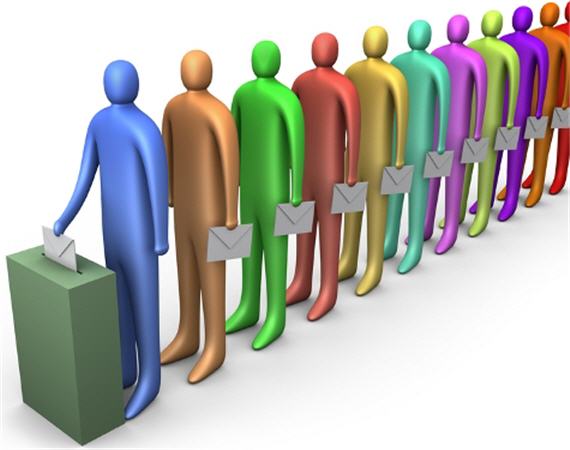 Deroy Murdock provides what seems to be a fairly typical "analysis" of voter fraud in the US in a NY Post column:  The vote fraud that Democrats refuse to see.  The method of argumentation is one I have seen before, and it seemed worthy of comment as an example of certain species of a common approach on the topic.
The piece is a combination of bullet points of examples of some combination of voter fraud and errors in the US electoral system that are summed up to proclaim that not only is voter fraud empirically real, but Democrats/critics of numerous Republicans attempts to address the issue are ignoring a grave, demonstrable problem.
He concludes:
Today, in order to preserve the dodgy electoral system that seems to benefit them when fishy things happen, their battle cries have devolved into "Count every vote, but don't worry if some of them are negated by fake ones" and "One man. One vote. Usually."

This is pathetic. If Democrats will tolerate non-widespread vote fraud, how many phony ballots are they willing to see neutralize genuine ones? 265? 765? 7,474?
A couple of thoughts occur.  One is that this falls into a "methinks thou dost protest too much" situation, given that as I noted yesterday, the electoral system of the US has far more structural advantages built into it for the GOP than it does the Democratic Party.  A second is that all the piece does is present a vague defense of the Presidential Advisory Commission on Election Integrity while trying to reinforce the narrative that there is a huge problem that needs addressing while at the same time displaying borderline innumeracy.
The entire analysis is predicated on that fact that one can find examples of either actual cases of voter fraud and/or errors in voter rolls.  No one with any knowledge of the process would deny that this is the case.  And, by the way if it seemed as if the commission in question was dedicated to finding ways to strength our voting system, then that would be fabulous–unfortunately, their approach has been counterproductive at best.  And, moreover, the approach seems to fit far more into a long-term approach by Republican policy-makers to address what they see as a massive problem by simply making voting more difficult (while not even fixing many of the problems that Murdock cites).
I suppose some credit should be given to the piece to at least admit that the problem is not wide-spread–although he still tries to make the situation sound dramatically dire.  He does not go an especially good job of citing his evidence (links, for example, would have been nice), but for the sake of argument, let's go with them. He provides the following numbers:  265, 742, 765, 953, and 7,474 which sum to 10,199.  The numbers were often for multiple year–some dating back to 2000, others being more proximate to the present.  Geographically, these examples are scattered across the country.  In the scope of elections on a national scale, this is a very small number.  Even relative to local elections, the numbers cited are small.
Yes, we should work to avoid any cases of fraud or error.  But as with any policy choice we should weigh the cost and the benefit.  Should we pursue policies that could make it difficult for large numbers of voters from participating to address such a small number of examples?
Moreover, do policies like voter ID or curtailing early voters solve the kind of problems that Murdock is so concerned about?  Let's look at some of his evidence.
For example:
 The Heritage Foundation's non-exhaustive survey confirms, since 2000, at least 742 criminal vote-fraud convictions.
First, those are cases of people who were caught, so score one for the system, yes?  Second, that is a tiny number compared to one election cycle, let alone the numerous ones that have been held since 2000.  Third, the column does not tell us what types of fraud was caught  (a relevant issue if we are looking for policy solutions).
Here's another example:
North Carolina announced in April 2014 that 13,416 dead voters were registered, and 81 of them recently had voted. Among 35,750 North Carolinians also registered in other states, 765 voted in November 2012, both inside and outside the Tarheel State.
Murdock does not provide links in his column, but here is one account that matches what he is referring to.    Note that dead people being registered is a clerical error, not fraud and 81 is a tiny number.  And, it ends up that of the 81 who voted, 30 appear to have died after they voted, which takes Murdoch's number down to ~51.  From the linked piece:
 Eighty-one of those individuals, she said, died before an election in which they are recorded as having voted.

Strach cautioned that about 30 of those 81 voters appear to have legally cast their votes early via absentee ballot and then died before Election Day.

However, she said, "There are between 40 and 50 [voters] who had died at a time that that's not possible."
In terms of persons who are registered in two states, that is not hard to do.  Moreover, neither voter ID nor any other policy proposal that the GOP is pushing that I am aware of would solve that problem.  If we want to fix that we need a thoroughly modern, computerized voter registration system and probably some form of national ID that can be checked at the polling place (or, at least, that would remove new registrants in one state from the voters rolls of another).  This would be very expensive, and unlikely to be implemented.  If 265 people did vote in two states either a) they voted in different elections (the linked news story does not say it was the same election) or they voter in-person in one state and mailed a ballot into another.  Voter ID does not stop this outcome.
And yes:  people should not be voting in multiple places.  We are talking here about 765 examples. That is a very small number in relative terms and the odds that those votes had any ultimate effect on the elections in question is infinitesimal.   Now, again, I am in favor of finding policies to stop such outcomes, but let's do an honest cost/benefit analysis first.
Here's another example:
In May 2016, CBS2 Los Angeles identified 265 dead voters in southern California. Many cast ballots "year after year."
I found the found the story here:  CBS2 Investigation Uncovers Votes Being Cast From Grave Year After Year
The Los Angeles County Registrar told CBS2: "We remove 1200 to 2000 deceased records from the database per month."

But the news station checked all of the dead voters from LA County on the Registrar's website and found 212 of the 215 were still registered and eligible to vote in next month's presidential primary election.
This is a clerical issue.  The fix here is a better means of communication between those who keep death records and those who keep the voter rolls.  A national ID and database would do that, by the way (at least more efficiently than it is done now, but any system is going to have errors).  Beyond that, I would note that the population of LA County is over 10 million.  The information provided, therefore, seems to actually be pretty impressive from a error-rate point of view.
Also, there is this:
"The problem is California has been the most derelict state in the country in implementing statewide databases that are required under federal law. They just blew it off for over a decade," said Adams.
Fiscal conservatives take note:  a lot of these problems are the result of inadequate funding.
It is unclear from the piece if any of the dead voters were in-person fraud cases.  At least some of them were mail-in:
But the Los Angeles County Registrar confirms they have signed vote-by-mail envelopes with her mother's name for the 2014 and 2012 election, though she died 10 years ago.
Again:  this is a problem, but it is not a problem solved by most (any?) of the GOP, voter-fraud-hysteria fueled policy proposals.
To summarize:  First, Murdoch is incorrectly stating that critics of GOP efforts don't take these kinds of errors seriously.  This is not true (certainly not for me).  The issue is how to solve them and whether it is worth the cost.  No system, especially one this complex, is going to be perfect and error-free.
Second, the GOP solutions do not match these problems.  Voter ID does not fix flaws in mail-in voting.  Curtailing early voting does not address errors in voter rolls.    Worse, the purported remedies tend to make voting more difficult.  The fact that the voters who are most inconvenienced by these policies tend to be Democratic constituencies is, no doubt, coincidental (yes, I am being sarcastic).
Third, any analysis of this situation needs to have a better sense of the relative numbers involved.  While perfection would be nice, we are talking here about evidence that is largely insignificant in the grand scheme of things.