As Doubts Grow About The Economy, Trump's Job Approval Suffers
As doubts about the health of the economy start to mount, President Trump's job approval is starting to suffer.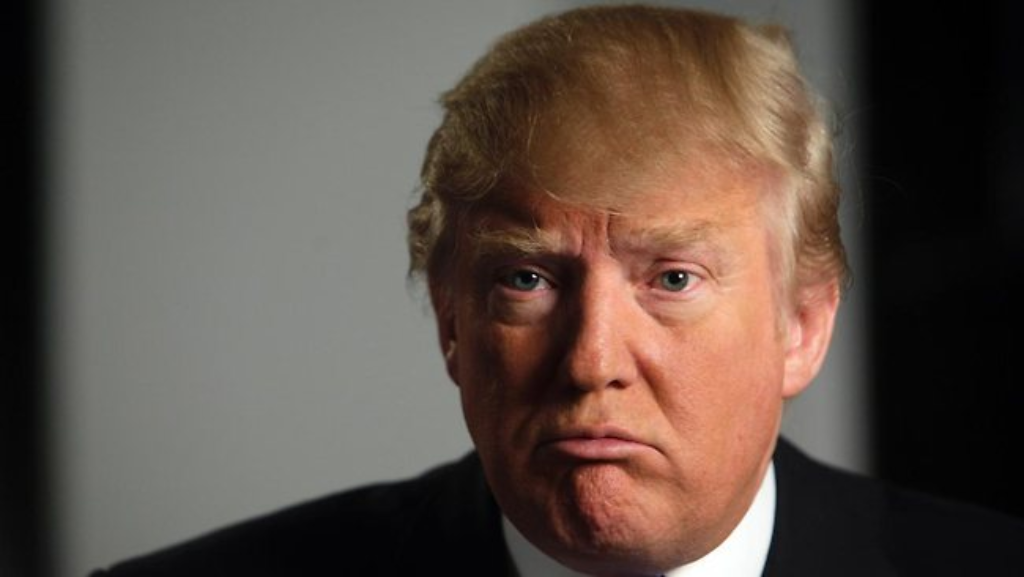 New polling finds that President Trump's job approval numbers are down and that he's losing support on the one issue that was helping him, the economy:
President Trump is ending a tumultuous summer with his approval rating slipping back from a July high as Americans express widespread concern about the trade war with China and a majority of voters now expect a recession within the next year, according to a new Washington Post-ABC News poll.

The survey highlights how one of Trump's central arguments for reelection — the strong U.S. economy — is beginning to show signs of potential turmoil as voters express fears that the escalating trade dispute with China will end up raising the price of goods for U.S. consumers.

The poll also shows a schism between Americans' continued positive ratings of the economy and fears of a downturn, with far more saying Trump's policies have increased chances of a recession than decreased it.

Trump's approval rating among voting-age Americans stands at 38 percent, down from 44 percent in early July but similar to 39 percent in April, with 56 percent now saying they disapprove of his performance in office. Among registered voters, 40 percent say they approve of Trump, while 55 percent disapprove.

Concerns over the economy — and specifically Trump's handling of trade negotiations with China — have become a drag on the president's public standing, particularly with women.

The Post-ABC poll finds that Trump's economic approval rating has also declined from 51 percent in early July to 46 percent in the new survey, with 47 percent disapproving. His relatively positive standing on the economy continues to buoy his reputation amid public criticism on other issues.

In the July survey, the economy was the sole issue on which Trump received positive numbers, with more than half of all Americans disapproving of his handling of immigration, health care, gun violence, climate change and other issues.

Trump's handling of trade negotiations with China is a particularly weak spot, with 35 percent in the new poll approving of him on this issue and 56 percent disapproving.

While a 56 percent majority of Americans rate the economy as "excellent" or "good," that figure is down from 65 percent in November. A separate question finds 6 in 10 say that a recession is either "very likely" or "somewhat likely" in the next year. That fear compares with 69 percent who said a recession was likely in fall 2007, shortly before the recession began later that year.
CNN also released a poll this week with similar numbers for the President:
Six in 10 Americans say President Donald Trump does not deserve to be reelected, according to a new CNN Poll conducted by SSRS, and more now say he's doing a poor job than a good one of keeping important campaign promises.

Overall, the poll paints a picture of a President who has done little to improve negative impressions of him or his work during his time in office. Across several questions asked early in Trump's time in office and asked again now, the poll finds little positive change and deep partisan polarization.

The 60% who say the President does not deserve to be reelected is similar to the 63% who felt that way in November 2017. That outpaces his most recent predecessors at a similar stage in their presidencies. In October 2003, a CNN/Gallup/USA Today poll found that 52% of Americans thought George W. Bush did deserve reelection, and Gallup's polling in 2011 found the share saying Barack Obama did not deserve to be reelected stood in the low 50s.

The President's approval rating remains about where it was in mid-August, with 39% approving of the job he's doing and 55% disapproving. Although any change in the last few weeks has not been large enough to be statistically significant, his disapproval rating is the highest it's been since early February, with approval the lowest since January.

Trump's approval ratings for handling major issues are largely stagnant, with what little movement there is heading in the wrong direction for the President. His approval rating for handling the economy has dipped below 50% for the first time since early this year, and his ratings have worsened at least slightly on foreign trade, foreign affairs and environmental policy.

The President's approval rating for handling immigration has held roughly steady, but the 59% who currently disapprove is numerically the highest since just before last year's midterm elections. A majority (52%) say Trump's policies on immigration do too much to limit immigration to the US, 24% consider them about right and 20% say they do not go far enough.

(…)

Compared with early this year, more overall now say that the President has changed the country for the worse. Among all adults, 80% say the President has created significant changes in the country, up from 76% who felt that way in early February. That includes 45% who say the President has changed things for the worse, up from 37% who said so in the survey earlier this year. Thirty-three percent say Trump has changed the country for the better and 2% said the change hasn't been for better or worse or were undecided about what the change meant.

That shift comes mostly from independents and Democrats. Among Republicans, 73% say the President has changed the country for the better — that stood at 70% in February. Among independents, the share who say Trump has changed things for the worse shifted from 35% in February to 47% now. Among Democrats, that share has increased from 62% to 69%.

Further, 51% say Trump is doing a poor job keeping important promises he made during the presidential campaign and 43% say he's doing a good job. That's a reversal since April, when 50% said he was doing a good job and 46% a poor one. That change comes almost entirely among independents, 51% of whom said he was doing a good job keeping his promises in April, that now stands at 38%.

The President's volatile summer — including several sudden shifts on policy on guns and trade as well as stubborn defenses of demonstrably untrue statements — has not led to a worsening of public trust in official communications from the White House. Overall, 71% say they trust only some or nothing at all of what they hear from official White House communications, about the same as the 68% who felt that way in late 2017. Just 9% say they trust almost all of what they hear from the White House, and another 19% say they trust most of it.
These numbers are largely consistent with other recent job approval polling, all of which continues to show the President in roughly the same range he has been since the start of his Presidency:
Looking at the polling averages, Trump average disapproval in RealClearPolitics average stands at 53.6% while his approval stands at 43.3%. In the FiveThirtyEight average, meanwhile, the President's disapproval stands at 53.7% while his approval stands at 41.6%. As we can see from the RCP chart, the President's job approval has largely stayed within the same pattern over the past several months, a pattern that was set from the beginning of his Administration: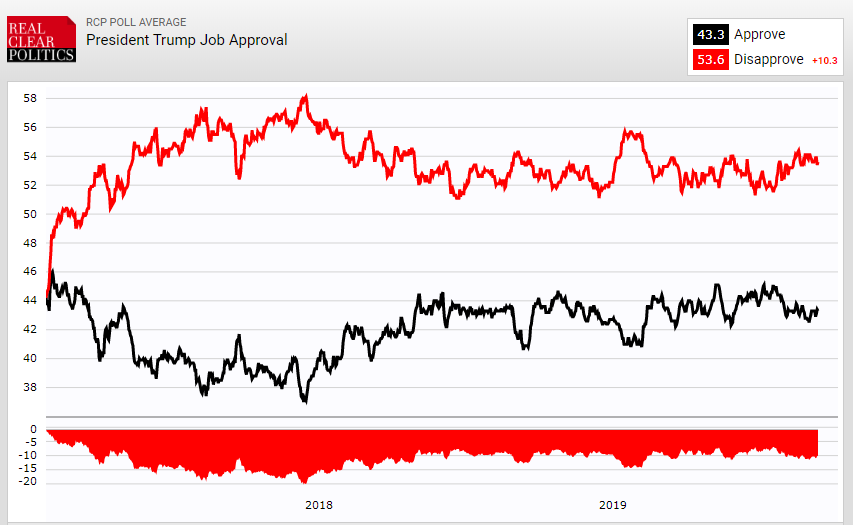 And here's the chart for the 538 average: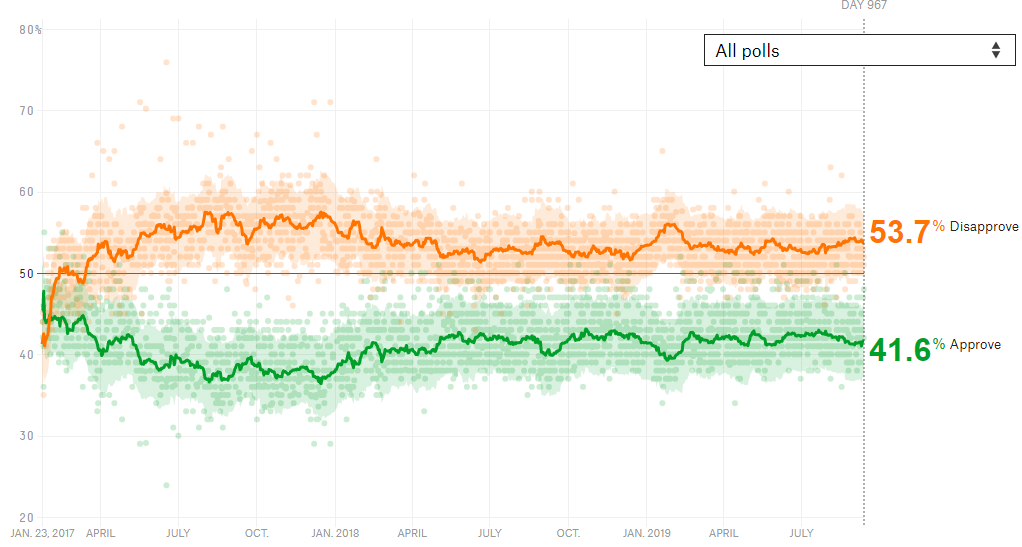 As I said, this is roughly the same range that the President has been in since he became President, and it roughly coincides with the portion of the national popular vote that he won in the 2016 election. What's most notable, of course, is the fact that, unlike any other previous President, Trump has never seen a point where his job approval exceeded his disapproval and has not seen a time when his approval came anywhere close to 50%. Ordinarily, of course, this would be suicidal for an/Way incumbent President. That may well turn out to be the case for Trump, but as I noted above, he managed to win an election in 2016 with roughly the same level of national support that he has today, so it seems as though it would be foolish to rule anything out at this point.
There is one area of concern for the President that could grow worse as the election gets closer. While Trump has seen negative overall job approval numbers, the one bright spot for him has been the economy. First of all, the economy, in general, has been strong, and this has translated into high job approval numbers on the economy as a result. Recently, though, those numbers have begun to sour. In the ABC News/Washington Post poll referenced above, for example, Trump's disapproval on the economy has turned negative with 49% disapproving and 47% approving. Similarly, the CNN poll shows the President's approval and disapproval on the economy tied at 48%. Other polling showing similarly low numbers include polls from NPR, PBS, and Marist, Quinnipiac, and Reuters/Ipsos. Of the recent polling, only YouGov and Harvard/Harris show the President's numbers in the positive double-digit range they were in the past. All of this puts the President's average job approval on the economy according to RealClearPolitics at 49.4% approve and 46.4% disapprove, for a positive balance of 3.0 points. All of this is happening while the economy remains in relatively good shape. Should things really turn south, which is a distinct possibility in the next twelve months, this will be bad news for the President as we get closer to the election.