42% Of Americans Believe In Creationism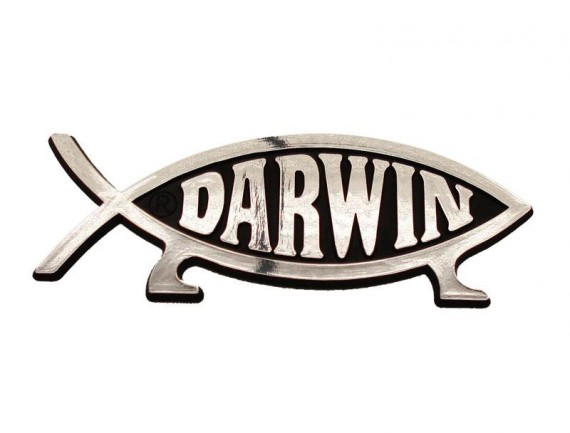 A new Gallup poll finds that 42% of Americans believe that so-called "Creationism" explains the origin of man:
PRINCETON, NJ — More than four in 10 Americans continue to believe that God created humans in their present form 10,000 years ago, a view that has changed little over the past three decades. Half of Americans believe humans evolved, with the majority of these saying God guided the evolutionary process. However, the percentage who say God was not involved is rising.

This latest update is from Gallup's Values and Beliefs survey conducted May 8-11. Gallup first asked the three-part question about human origins in 1982.

The percentage of the U.S. population choosing the creationist perspective as closest to their own view has fluctuated in a narrow range between 40% and 47% since the question's inception. There is little indication of a sustained downward trend in the proportion of the U.S. population who hold a creationist view of human origins. At the same time, the percentage of Americans who adhere to a strict secularist viewpoint — that humans evolved over time, with God having no part in this process — has doubled since 1999.
Here's the chart showing how the public has responded to this question over the past 32 years: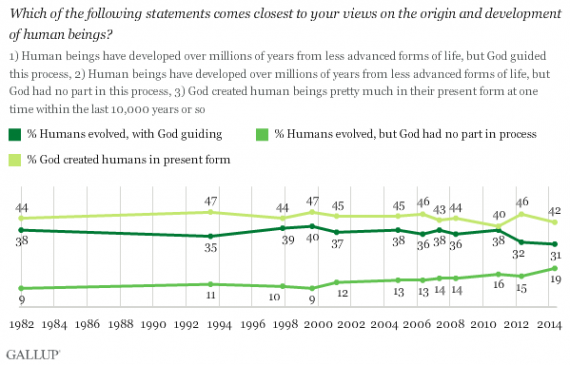 Not surprisingly, the heaviest influences on opinion on this subject are religion, level of education, and age:
Religiousness relates most strongly to these views, which is not surprising, given that this question deals directly with God's role in human origins. The percentage of Americans who accept the creationist viewpoint ranges from 69% among those who attend religious services weekly to 23% among those who seldom or never attend.
Educational attainment is also related to these attitudes, with belief in the creationist perspective dropping from 57% among Americans with no more than a high school education to less than half that (27%) among those with a college degree. Those with college degrees are, accordingly, much more likely to choose one of the two evolutionary explanations.
Younger Americans — who are typically less religious than their elders — are less likely to choose the creationist perspective than are older Americans. Americans aged 65 and older — the most religious of any age group — are most likely to choose the creationist perspective.
Here's the demographic breakdown: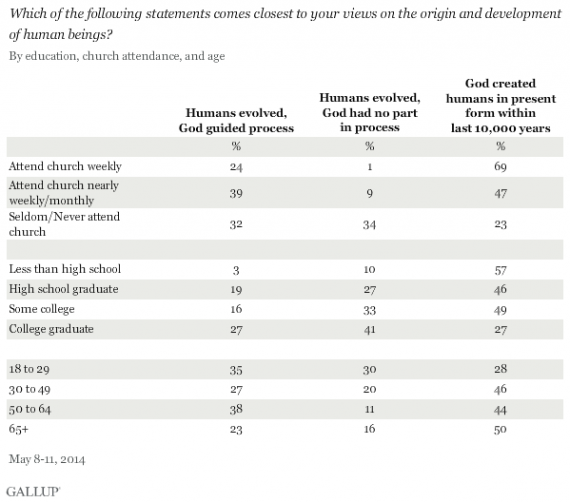 And we wonder why our students continue to perform so poorly on international science tests.