61% Of Americans Support Same-Sex Marriage, According To A New Poll
As oral argument in the Supreme Court gets closer, a new poll finds public support for same-sex marriage at it's highest level yet.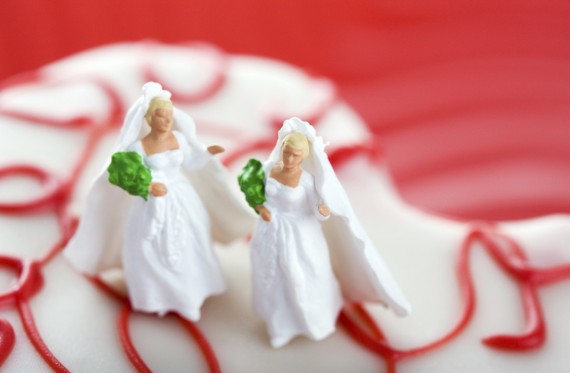 With only five days to go before the Supreme Court hears oral argument in set of consolidated cases that could very well lead to the nationwide legalization of same-sex marriage, a new poll finds that public support for same-sex marriage is at an all time high:
A record-high 6 in 10 Americans support same-sex marriage and a similar share say individual states should not be allowed to define marriage as only between a man and a woman, according to a new Washington Post-ABC News poll.

(…)

The Post-ABC poll finds 61 percent of Americans support allowing gays to marry and 35 percent are opposed. Support is up only slightly from last year but is a reversal from public sentiment a decade ago, when opponents outnumbered supporters 58 percent to 39 percent.

In the short and long run, support for same-sex marriage has grown significantly across demographic and political groups.

Among those under age 30, support has grown since 2005 from 57 percent to 78 percent. Among those 65 and over, it has increased from 18 percent to 46 percent. Support has also risen by double digits across partisan groups, though Democrats and independents have shifted the most.

Despite that, wide swaths of opposition persist among important voting groups. More than 6 in 10 Republicans oppose allowing gay couples to marry, and that increases to 71 percent of conservative Republicans, who play a critical role in the party's presidential primaries and caucuses.

Nearly half of seniors continue to oppose same-sex marriage. Other surveys find opposition among majorities of white evangelical Protestants and those who attend religious services at least once a week.

By contrast, the Post-ABC poll finds that majorities of Democrats, independents and every age group under 65 support allowing same-sex marriages.

There are 37 states, plus the District of Columbia, where, through the legislative process or court order, gay couples are allowed to marry. In those place, 64 percent say such unions should be legal. But even in the 13 states where same-sex marriage is not legal, 54 percent say it should be.

The public's perspective on whether states may forbid same-sex marriage mirrors overall views on the subject, according to the poll. Sixty-one percent oppose allowing states to prohibit same-sex marriages, and 62 percent support requiring states to recognize same-sex marriages performed in other states.
A year ago, a Gallup poll showed support for same-sex marriage among American adults at 55%, the highest it had ever been measured in that poll, so while this is the first poll we've seen showing support above 60%, it's not entirely surprising to see it there. As I've noted before, public opinion on this issue has undergone a profound and rapid change since it first entered public consciousness in the mid-1990s. Back then, polling generally indicated that at least three-quarters of Americans opposed same-sex marriage and, for a long time, the forces opposed to marriage equality owned the political field and were able to pass laws or constitutional amendments limiting civil marriage to opposite sex couples in a majority of the states. Over time, though, public opinion on the issue began to change and, after North Carolina became the last state to pass an amendment barring same-sex marriage in April 2012. Since then, we have seen a tide of voter referendums, laws passed by state legislatures, and court decisions that have expended the number of states where same-sex marriage is legal from less than ten to thirty-seven in a few short years. This has been accompanied by a steady increase in public support for same-sex marriage that, as I have noted before, has actually occurred at a far more rapid pace than it took for interracial marriage to become "socially acceptable" in the wake of the Supreme Court's 1967 decision in Loving v. Virginia. Now, we are just a few days away from arguments in the nation's highest court that could lead to the nationwide legalization of same-sex marriage.
As is always the case, the demographics in the poll are the most interest and politically important piece of information. Among young people, support for same-sex marriage is now at 78%, a number which indicates that there are very few millenial voters who oppose same-sex marriage and that candidates that hold that position are likely to have trouble attracting younger voters. More broadly, though, there are only three demographic groups where opposition to same-sex marriage is even the plurality position; Republicans, where 63% say they oppose same-sex marriage, conservatives, where 56% say that they oppose it, and voters over 65, where 49% say they oppose while 46% are in support. That last number is somewhat interesting because most recent polling had shown older Americans much more strongly opposed, so it would appear that opinions are changing even among that demographic group. As for Republicans, well, despite some signs of change there, it's fairly clear that people who consider themselves Republicans are still strongly opposed to same-sex marriage. In holding that opinion, though, they are out of step with their fellow Americans.
Public opinion is, of course, not a relevant concern for the Justices who will be tasked with ruling on the constitutionality of laws banning same-sex marriage between now and June. At the same time, though, the Court clearly pays attention to the political world around it when handling cases like this, and even Justice Ginsburg has expressed concern in the past that the Court may have put itself too far ahead of public opinion when it handed down the decision in Roe v. Wade in 1973. In that respect, this poll is in some sense a signal to the Justices that they don't necessarily need to be concerned about being ahead of public opinion if they rule in the manner many people expect them to later this year.