A Bad First Week At The Obamacare Exchanges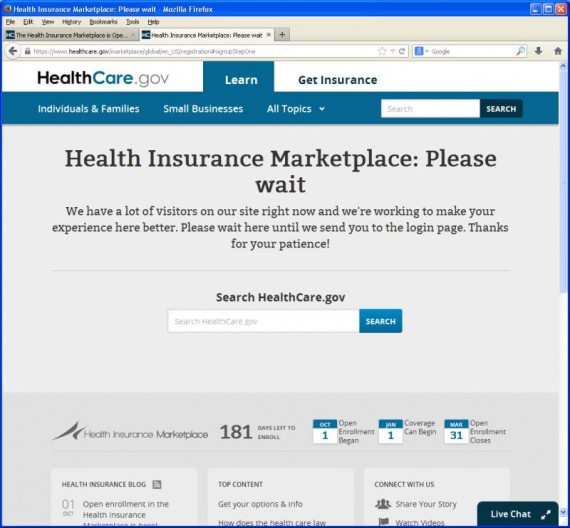 It's been a bad first week for the Obamacare Exchanges:
It's a batting average that won't land the federal marketplace for Obamacare into the Healthcare Hall of Fame.

As few as 1 in 100 applications on the federal exchange contains enough information to enroll the applicant in a plan, several insurance industry sources told CNBC on Friday. Some of the problems involve how the exchange's software collects and verifies an applicant's data.

"It is extraordinary that these systems weren't ready," said Sumit Nijhawan, CEO of Infogix, which handles data integrity issues for major insurers including WellPointand Cigna, as well as multiple Blue Cross Blue Shield affiliates.

Experts said that if Healthcare.gov's success rate doesn't improve within the next month or so, federal officials could face a situation in January in which relatively large numbers of people believe they have coverage starting that month, but whose enrollment applications are have not been processed.

"It could be public relations nightmare," said Nijhawan. Insurers have told his company that just "1 in 100" enrollment applicants being sent from the federal marketplace have provided sufficient, verified information.
The problems apparently go well beyond the issue that the websites were having on the first day they opened, many of which were arguably attributable to heavy traffic:
Infogix Chief Product Officer Bobby Koritala and others said Friday that the problem appears to be limited to Healthcare.gov, which is handling plans for people in 36 states, not the exchanges being operated individually by the 14 other states and the District of Columbia.

"One hundred people submit their application, one of them goes all the way through the processing … a big chunk of them are being held," Koritala said. "They need to get more clarifying information."

He blamed the exchange's software, which is allowing too many people to finish the process online without making sure they provide answers needed by the insurers processing the applications.

(…)

It doesn't surprise me—I've heard similar numbers," said Dan Mendelson, CEO of consulting firm Avalere Health, when asked about the 1-in-100 rate that Infogix cited.

"This is not a traffic issue," Mendelson said. "Right now, the systems aren't working."
Mendelson and Koritala were both optimistic that the federal marketplace could make software adjustments to reduce the number of deficient applications being transmitted to insurers, and reduce the time and effort expended getting back to applicants.

But, Mendelson warned, "I'm going to say they have one month to get their act together on the IT" to reduce the lag in verifying and finalizing applications. If that doesn't happen, the government could "potentially increase the length of the enrollment period."

People have until Dec. 15 to enroll and pay for a plan to be effective Jan. 1. The enrollment deadline for 2014 is March 31.
Something tells me they'll be pushing those deadlines back unless they're able to find a way to clear up these problems in relatively short order.