A Bit More About the Ron Paul Newsletters
So what was it: taken out of context or written by someone else?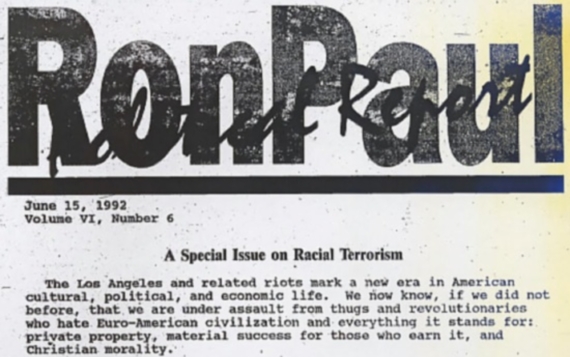 Not to belabor the issue, but I have learned more since my previous two posts on the subject, so in the interest of sharing information, here's another post.
First, if you are curious what the newsletters looked like, go here, here or here.  What one finds is that the presentation was such that the clear implication was that Paul wrote the documents under discussion.  They were presented as an actual letter to the subscribers under a masthead with Paul's name, written in the first person, and ostensibly signed by Paul.
Second, Paul and his camp originally used the "taken out of context" defense (see here) and Paul did not assert that he did not write the newsletter until 2001 (see here), which means he campaigned for office several times accepting responsibility for the documents, but just claiming that the quotes in circulation were either made up or, as noted, "taken out of context."  I suppose that one could use that defense in the mid-1990s, but it was becoming increasingly difficult to do so by the early 2000s (given the changes to information gathering and sharing that had taken place by that time).  One thing is clear:  finding copies of the newsletter has been difficult and Paul has been unwilling to turn over the archives.
The options in regards to what all this means are as follows:
1)  Paul Wrote the newsletters and now is lying about having done so.
2)  Paul did not write the newsletters, but was aware of their contents at the time, or
3)  Paul did nor write the newsletters, and was unaware of their contents.
He claims that #3 is the truth (see here).   However, if we accept that as the truth, then what does that say about the fact that in 1996 he spoke as though he was the author and that the content was fine, just being taken out of context?
From the DMN in 1996:
Dr. Paul, who is running in Texas' 14th Congressional District, defended his writings in an interview Tuesday. He said they were being taken out of context.

"It's typical political demagoguery," he said. "If people are interested in my character . . . come and talk to my neighbors."

[…]

According to a Dallas Morning News review of documents circulating among Texas Democrats, Dr. Paul wrote in a 1992 issue of the Ron Paul Political Report: "If you have ever been robbed by a black teenaged male, you know how unbelievably fleet of foot they can be."

Dr. Paul, who served in Congress in the late 1970s and early 1980s, said Tuesday that he has produced the newsletter since 1985 and distributes it to an estimated 7,000 to 8,000 subscribers. A phone call to the newsletter's toll-free number was answered by his campaign staff.
From a 1996 edition of Roll Call*:
Of his statements about Jordan, Paul said that "such opinions represented our clear philosophical difference. The causes she so strongly advocated were for more government, more and more regulations, and more and more taxes. My cause has been almost exactly the opposite, and I believe her positions to have been fundamentally wrong: I've fought for less and less intrusive government, fewer regulations, and lower taxes."
The statements in question:
a portion of Paul's Aug. 15, 1992, newsletter in which he slammed the late Texas Rep. Barbara Jordan (D) as a "moron" and a "fraud."

"When is someone going to say publicly what everyone knows privately?" Paul wrote in the excerpt Morris provided to reporters. "Namely that University of Texas affirmative action law professor Barbara Jordan is a fraud? Everything from her imitation British accent, to her supposed expertise in law, to her distinguished career in public service, is made up."

"If there was ever a modern case of the empress without clothes, this is it," Paul continued. "She is the archetypical half-educated victimologist, yet her race and sex protect her from criticism."

First elected in 1972, Jordan went on to serve three terms in the House and is considered a pioneer in opening up politics to African-Americans.
Matt Welch has a  list of examples in a 2008 Reason piece, including the following from a 1996 Austin American-Statesmen article:
"Dr. Paul is being quoted out of context," [Paul spokesman Michael] Sullivan said.  "It's like picking up War and Peace and reading the fourth paragraph on Page 481 and thinking you can understand what's going on."

[…]

"You have to understand what he is writing.  Democrats in Texas are trying to stir things up by using half-quotes to impugn his character," Sullivan said.  "His writings are intellectual.  He assumes people will do their own research, get their own statistics, think for themselves and make informed judgments."
Paul now claims to not only having not written the newsletters, but to have never read them (this is what he told Wolf Blitzer back in 2008).
For more, see Ta-Neishi Coates:  Ron Paul's Shaggy Defense.
I know some folks think that this stuff doesn't matter, but I think that it does.  It raises issues about what Paul actually believed  vis-a-vis some pretty vile stuff (for example, see here specifically) and about his honesty (at one point he defended these writings and now claims to have had little-to-no knowledge about them), not to mention his ability to act as a manager  (the best case scenario here is that he farmed out his name for cash and paid no attention what was published in association with it).
*Accessed via Lexis-Nexis:
Democrat's Secret Weapon Against Paul: His Own Writings
Roll Call, July 29, 1996, 680 words, By Tim Curran