Ron Paul's Newsletter Problem
Should Ron Paul find his currently upward trajectory to continue he will find himself facing greater media (and opposition) scrutiny.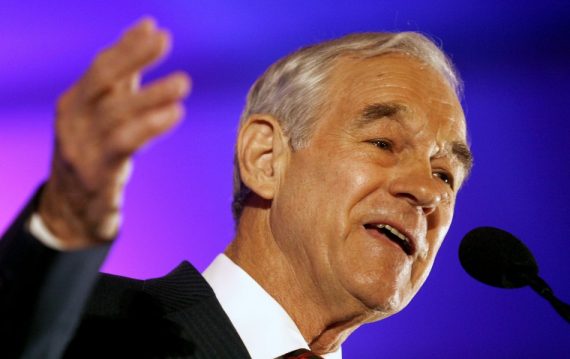 Should Ron Paul find his currently upward trajectory to continue he will find himself facing greater media (and opposition) scrutiny.  One source of such scrutiny will be the newsletters he published over a multi-decade period.  James Kirchick described the basic history of the newsletter thusly back in a 2008 piece in the New Republic:
Paul's newsletters have carried different titles over the years–Ron Paul's Freedom Report, Ron Paul Political Report, The Ron Paul Survival Report–but they generally seem to have been published on a monthly basis since at least 1978. (Paul, an OB-GYN and former U.S. Air Force surgeon, was first elected to Congress in 1976.) During some periods, the newsletters were published by the Foundation for Rational Economics and Education, a nonprofit Paul founded in 1976; at other times, they were published by Ron Paul & Associates, a now-defunct entity in which Paul owned a minority stake, according to his campaign spokesman. The Freedom Report claimed to have over 100,000 readers in 1984. At one point, Ron Paul & Associates also put out a monthly publication called The Ron Paul Investment Letter.
Paul has, over the years, been criticized for these newsletters, although I would argue that he has never faced a full scale onslaught regarding them (and by "onslaught" I means intense and prolonged mass media scrutiny coupled with his political opponents pouring over them as well looking for lines of attack).  In the past he has attempted to deflect criticism by noting that he didn't write all the newsletters himself (a defense that strikes me as anemic, as they were published under his name and without bylines).  Reason did a piece a while back on this subject:  Who Wrote Ron Paul's Newsletters?
The main problem, as Kirchick notes, is this:
whoever actually wrote them, the newsletters I saw all had one thing in common: They were published under a banner containing Paul's name, and the articles (except for one special edition of a newsletter that contained the byline of another writer) seem designed to create the impression that they were written by him–and reflected his views. What they reveal are decades worth of obsession with conspiracies, sympathy for the right-wing militia movement, and deeply held bigotry against blacks, Jews, and gays. In short, they suggest that Ron Paul is not the plain-speaking antiwar activist his supporters believe they are backing–but rather a member in good standing of some of the oldest and ugliest traditions in American politics.
Examples of problematic passages from the Kirchick piece are as follows:
The Freedom Report's online archives only go back to 1999, but I was curious to see older editions of Paul's newsletters, in part because of a controversy dating to 1996, when Charles "Lefty" Morris, a Democrat running against Paul for a House seat, released excerpts stating that "opinion polls consistently show only about 5% of blacks have sensible political opinions," that "if you have ever been robbed by a black teen-aged male, you know how unbelievably fleet-footed they can be," and that black representative Barbara Jordan is "the archetypical half-educated victimologist" whose "race and sex protect her from criticism." At the time, Paul's campaign said that Morris had quoted the newsletter out of context. Later, in 2001, Paul would claim that someone else had written the controversial passages. (Few of the newsletters contain actual bylines.) Caldwell, writing in the Times Magazine last year, said he found Paul's explanation believable, "since the style diverges widely from his own."
(Note:  it is unclear to me how the lines in question would be any less problematic in context).
And from the Reason piece:
The letters published between Paul's first run for president and his return to Congress in 1996 are another story—replete with claims that Martin Luther King "seduced underage girls and boys," that black protesters should gather "at a food stamp bureau or a crack house" rather than the Statue of Liberty, and that AIDS sufferers "enjoy the attention and pity that comes with being sick."
The one I have heard repeated the most is "Order was only restored in L.A. when it came time for the blacks to pick up their welfare checks"—a statement that Reason notes the Paul has "repudiated" and also about which he has states he has "no idea" who wrote it.  (A few more examples can be found here).
Now, Paul may be able to claim some level of plausible deniability about authorship, but it strikes me that this is insufficient to explain away items published in a newsletter bearing his name and that normally was written in a way that suggested he was the author.
Meanwhile, the topic emerged in an interview with Sean Hannity (transcript here) where Paul again rejected what had been written whilst still saying he had no idea who had written it (again:  in the newsletter with his name emblazoned on it).  This response prompted Commentary's Alana Goodman to note:
Ron Paul has had three years to formulate a response to these questions, since Jamie Kirchick's investigation into his newsletters came out in The New Republic. He had to know that he was going to get asked about this at some point during his campaign. And that's his answer? That he doesn't know who wrote these things? That's completely unacceptable.
Indeed.
She goes to note:
And this was during a friendly interview with Hannity, who didn't push back too hard. Imagine how that same conversation would have gone with someone from CNN or MSNBC, or even one of the news anchors from Fox.
Double indeed.
Dave Weigel, co-author of the Reason piece above, thinks that unless one of Paul's GOP opponents decides to use this stuff in an attack that is will not emerge as a major issue.
Unless an opponent tries to tar Paul by saying he endorsed racism, Republican voters probably won't hear about it. And will someobody attack him? Ah, here's where the problems with the Paul moment come in. Paul's very strong in Iowa and strong in New Hampshire. But after those states vote, the race moves to South Carolina and Florida. The first state has always been one of Paul's weakest. The second state is simply too large for Paul's fans to overwhelm the vote like they can in Iowa caucuses or in the relatively small New Hampshire primary. They're mostly closed primaries, with no ways for liberal anti-war Democrats to boost Paul. So Republicans don't think Paul will grow beyond his new, fairly large subsection of the GOP. Paul only becomes a problem to them if the race continues to the caucus states that he performed very well in last time, where he's had extra time and money to organize.
As such, the logic goes, there will be no reason to seriously attack Paul.  A legitimate line of reasoning, I will admit.  Still, should Paul have some unexpected level of success, I expect the newsletter issue to become more prominent and I do think this presents Paul with a serious problem.