Former Aides Say Ron Paul Signed Off On Racist Newsletters
Yet more revelations about Ron Paul's newsletters.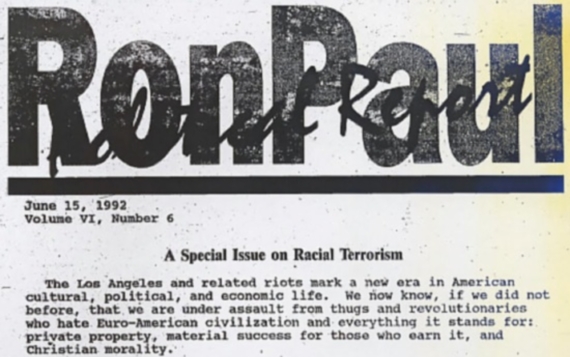 The basic defense that we've gotten from Ron Paul to the charges that the newsletters that were published under his name while he was out of Congress in the 1990s is that he was not directly involved in the publication and was unaware of what was being published under his name. Of course, there's also been some evidence that he was more aware of the content of those newsletters than he now seems willing to admit, but there's been no direct testimony from others regarding Paul's involvement in the project. Until now that is. Today, The Washington Post is out with a story quoting a number of former Paul supporters as saying that Paul was heavily involved in the publication of the newsletters, and in the decision to include provocative racial content as a way to boost subscriptions:
[P]eople close to Paul's operations said he was deeply involved in the company that produced the newsletters, Ron Paul & Associates, and closely monitored its operations, signing off on articles and speaking to staff members virtually every day.

"It was his newsletter, and it was under his name, so he always got to see the final product. . . . He would proof it," said Renae Hathway, a former secretary in Paul's company and a supporter of the Texas congressman.

The newsletters point to a rarely seen and somewhat opaque side of Paul, who has surprised the political community by becoming an important factor in the Republican race. The candidate, who has presented himself as a kindly doctor and political truth-teller, declined in a recent debate to release his tax returns, joking that he would be "embarrassed" about his income compared with that of his richer GOP rivals.

Yet a review of his enterprises reveals a sharp-eyed businessman who for nearly two decades oversaw the company and a nonprofit foundation, intertwining them with his political career. The newsletters, which were launched in the mid-1980s and bore such names as the Ron Paul Survival Report, were produced by a company Paul dissolved in 2001.

The company shared offices with his campaigns and foundation at various points, according to those familiar with the operation. Public records show Paul's wife and daughter were officers of the newsletter company and foundation; his daughter also served as his campaign treasurer.

(…)

A person involved in Paul's businesses, who spoke on condition of anonymity to avoid criticizing a former employer, said Paul and his associates decided in the late 1980s to try to increase sales by making the newsletters more provocative. They discussed adding controversial material, including racial statements, to help the business, the person said.

"It was playing on a growing racial tension, economic tension, fear of government," said the person, who supports Paul's economic policies but is not backing him for president. "I'm not saying Ron believed this stuff. It was good copy. Ron Paul is a shrewd businessman."

The articles included racial, anti-Semitic and anti-gay content. They claimed, for example, that the Rev. Martin Luther King Jr. "seduced underage girls and boys"; they ridiculed black activists by suggesting that New York be named "Zooville" or "Lazyopolis"; and they said the 1992 Los Angeles riots ended "when it came time for the blacks to pick up their welfare checks." The June 1990 edition of the Ron Paul Political Report included the statement: "Homosexuals, not to speak of the rest of society, were far better off when social pressure forced them to hide their activities."

(…)

Ed Crane, the longtime president of the libertarian Cato Institute, said he met Paul for lunch during this period, and the two men discussed direct-mail solicitations, which Paul was sending out to interest people in his newsletters. They agreed that "people who have extreme views" are more likely than others to respond.

Crane said Paul reported getting his best response when he used a mailing list from the now-defunct newspaper Spotlight, which was widely considered anti-Semitic and racist.
The Spotlight was a popular magazine on the far, far right of American politics in the 80s and 90s that often gave positive coverage to political figures such as Pat Buchanan and David Duke, along with coverage of so-called Trilateral Commission and Bilberberg conspiracies. To say that it stayed into racism and anti-Semitism is to put it mildly. However, it's no surprise that the readers of such a publication might be attracted to a newsletter that was publishing some of the things that Paul's Survival Report published during the relevant period.
Reason's  Nick Gillespie pretty much sums up how I think many libertarians, though not this particular libertarian, feel about this whole affair:
When you go back and look at the actual newsletters, the level of offensiveness and sheer stupidity is stunning. In one "Survival Report," for instance, the writer defends "Poor Marge Schott!," the rancid owner of the Cincinnati Reds who defended Hitler, railed against "sneaky goddamn Jews," and at one point whined about "million-dollar niggers" (one of whom, Eric Davis, had helped the Reds win the 1990 World Series). Schott was fined for such comments and eventually squeezed out of baseball. The writer of the Surivial Report likens such actions to being prosecuted for "thought crimes from the novels of Orwell and Huxley [sic]." While regularly arguing that businesses are private spaces that can set their own rules for employment and service, the writer argues that "Schott's leftist critics have no concern for the First Amendment." What's more, people who get bent out of shape by racist language "never seem to mind whenever someone uses the Creator's name in vain?" The writer also doesn't bother quoting Schott's slurs, a classic strategy in defending the indefensible.

(…)

As I wrote in late December, I don't think the newsletters invalidate Paul's candidacy or his years of principled small-government legislating. But they remain disturbing and, more to the point, show a real failure of leadership first in their existence and second in his unwillingness to get to the bottom of a story that troubles some of his most sympathetic followers. His unwillingness to settle things once and for all is a sad reminder that no politician is perfect, even one who wants to cut $1 trillion from next year's budget.
One of the reasons that Paul gets a break on some of this stuff, is simply because of his steadfastness on issues of principles. I can certainly understand that, but at some point one has to stand up and denounce something that's wrong, and Paul not only didn't do that in the 1990s, he apparently consciously decided to appeal to it in order to make his business more profitable. Far be it from me to deny someone the right to make a profit, but when you do it by pandering to base racial hatreds you've got some questions to answer for it. Whether one believes in those ideas or not, providing voice to them is a tacit endorsement, especially if one if a former Congressman and Presidential candidate.  Of course, libertarians would not have had this problem if they'd rallied behind Gary Johnson instead, but I suppose that's water under the bridge.