Trump the Authoritarian, Fascist, Racist, No-Good Person Who Should Not be Elected President
The NYT goes too far but not far enough.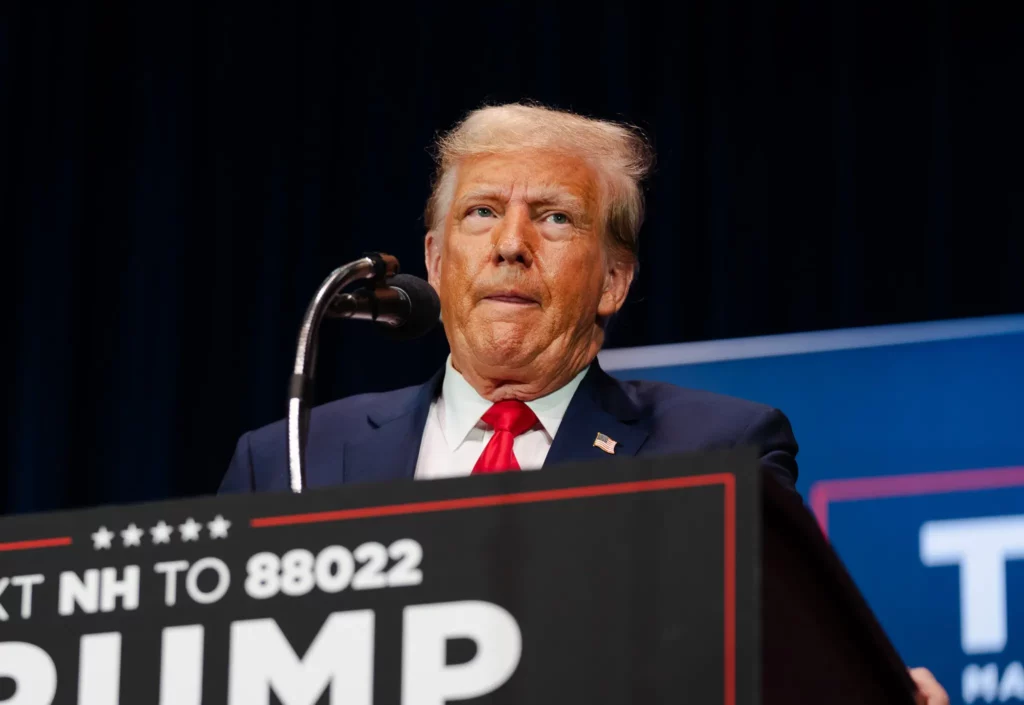 The front page of today's NYT features an op-ed by political correspondents Michael C. Bender and Michael Gold headlined "Autocratic Tone Intensifies Fears Of Trump's Plans." The online version is bolder still, with the headline "Trump's Dire Words Raise New Fears About His Authoritarian Bent."
The content is nothing surprising to readers here or there, a summary of the growing nastiness of his re-election campaign. It begins,
Donald J. Trump rose to power with political campaigns that largely attacked external targets, including immigration from predominantly Muslim countries and from south of the United States-Mexico border.

But now, in his third presidential bid, some of his most vicious and debasing attacks have been leveled at domestic opponents.

During a Veterans Day speech, Mr. Trump used language that echoed authoritarian leaders who rose to power in Germany and Italy in the 1930s, degrading his political adversaries as "vermin" who needed to be "rooted out."

"The threat from outside forces," Mr. Trump said, "is far less sinister, dangerous and grave than the threat from within."

This turn inward has sounded new alarms among experts on autocracy who have long worried about Mr. Trump's praise for foreign dictators and disdain for democratic ideals. They said the former president's increasingly intensive focus on perceived internal enemies was a hallmark of dangerous totalitarian leaders.
We covered that all here ten days ago; that a rehash is front page news is, well, interesting. There's nothing new here nor is there any connecting of the dots that brings fresh insights.
The closest we get is this:
Mr. Trump has become increasingly unrestrained with each successive campaign, a pattern that parallels the escalating stakes for him personally and politically.

In 2016, he was a long-shot candidate with little to lose, and his broadsides were often paired with schoolyard taunts that drew laughs from his audiences. Four years later, Mr. Trump's approach became angrier as he sought to cling to power, and his term ended in a deadly riot by his supporters at the Capitol.

This election cycle, Mr. Trump faces more pressure than ever. In part, his decision to open an early White House campaign was an attempt to shield himself from multiple investigations, which have since resulted in the bulk of the 91 felony charges he now faces.
And then there's this:
Mr. Trump's rise to power was almost immediately accompanied by debates over whether his ascendancy, and that of other leaders around the world with similar political views, signaled a revival of fascism.

Fascism is generally understood as an authoritarian, far-right system of government in which hypernationalism is a central component.

It also often features a cult of personality around a strongman leader, the justification of violence or retribution against opponents, and the repeated denigration of the rule of law, said Peter Hayes, a historian who has studied the rise of fascism.

Past fascist leaders appealed to a sense of victimhood to justify their actions, he said. "The idea is: 'We're entitled because we've been victimized. We've been cheated and robbed,'" he said.
None of this would ordinarily constitute front-page news but, as I've recounted here for years, there have been increasing calls from the left for the journalistic establishment to abandon its longstanding ethos and devote its energies to banding the drum about how dangerous Trump is. This would seem to be an example of doing just that.
So, I was amused to see this from Jeff Jarvis at Bluesky Social: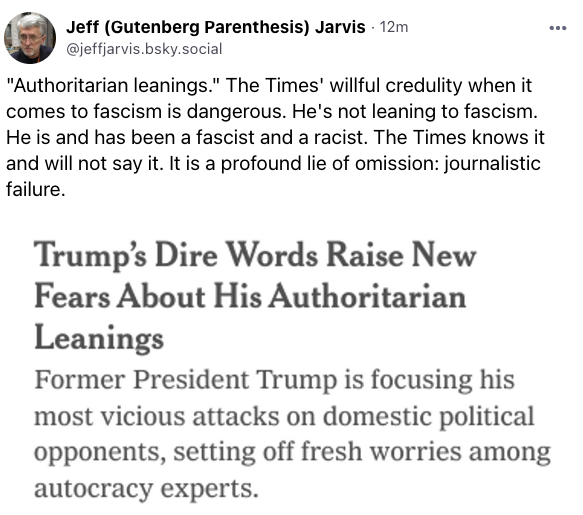 Apparently, editorializing on the front page isn't enough. Even the scholars quoted in the NYT piece didn't go that far.
"There are echoes of fascist rhetoric, and they're very precise," said Ruth Ben-Ghiat, a professor at New York University who studies fascism. "The overall strategy is an obvious one of dehumanizing people so that the public will not have as much of an outcry at the things that you want to do."

[…]

Some experts on authoritarianism said that while Mr. Trump's recent language has begun to more closely resemble that used by leaders like Hitler or Benito Mussolini, he does not quite mirror fascist leaders of the past. Still, they say, he does exhibit traits similar to current strongmen like Viktor Orban of Hungary or Recep Tayyip Erdogan of Turkey.

Mr. Trump's relatively isolationist views run counter to the hunger for empire and expansion that characterized the rule of Hitler in Germany and Mussolini in Italy. As president, he was never able to fully wield the military for political purposes, meeting resistance when he sought to deploy troops against protesters.
Interestingly, the best analysis in the piece came from a non-expert:
"It's too simplistic to reference him as a neofascist or autocrat or whatever — Trump is Trump, and he has no particular philosophy that I've seen after four years as president," said former Defense Secretary Chuck Hagel, a Republican who served in President Barack Obama's cabinet after 12 years as a senator from Nebraska.

Still, Mr. Trump's campaign style is "damn dangerous," Mr. Hagel said.

"He continues to push people into corners and give voice to this polarization in our country, and the real danger is if that continues to bubble up and take hold of a majority of Congress and statehouses and governorships," Mr. Hagel went on. "There must be compromise in a democracy because there's only one alternative — that's an authoritarian government."
Trump is indeed damn dangerous, both in terms of his rhetoric and his willingness to abandon all manner of democratic norms. The guardrails that restrained him last time—including Republican election officials in key swing states—are much weaker than they were before.
His opponents should be banging that drum constantly. The press, including the NYT, should absolutely be highlighting his dangerous words and plans and, indeed, are constantly doing so.
Going further and simply calling him a "fascist" in its headlines might make Democrats and other anti-Trumpers happy. But it ruins their credibility as a news outlet, turning them into an opposition organ. And it will convince nobody who would otherwise consider voting for Trump not to do so.