Trump and Fascism
Should Donald Trump be classified as a fascist?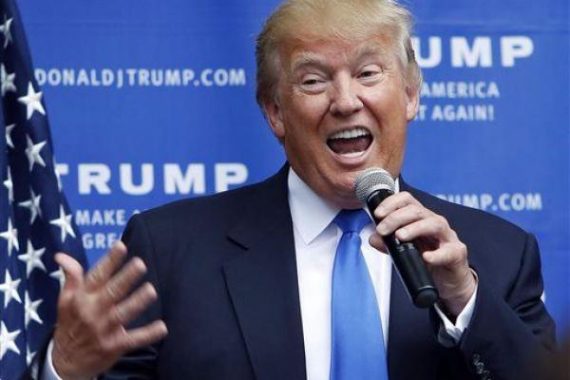 A popular subject for discussion of late has been that of the relationship between Donald Trump and fascism.  Indeed, Doug Mataconis noted the topic here at OTB recently.  I have been meaning to write on this topic since at least before Thanksgiving, but like James Joyner, my blogging is not what it used to be.
In any event, there has been a legitimate question about whether Trump represents a fascism in some capacity.  I will confess to finding him unsettling (his broad targeting of groups of people, whether it be Mexicans, the Chinese, or Muslims is disconcerting to say the least).  I think it is wholly accurate to state that he is running a blatantly racist campaign.  Further, the nationalism that pervades his approach is explicitly wrapped up in racial identity (where the "us" is rather implicitly white, and the "them" are non-white).  He also appeals to his special leadership abilities as well as to a vague sense of lost national greatness.  At a minimum he is right-wing populist and nationalist who embraces a mixture of 19th Century Know-Nothingism with a significant splash of modern European ultra-nationalism (à la the Le Pens).
The question becomes, however, is he a fascist?  (Spoiler:  ultimately, no–but he is concerning nonetheless).
Fascism is not the easiest term to define owing, in large part, to the fact that it was not well defined even by those who practiced it.  It also lacks a firm philosophical foundation (it borrows from here and there, but there is nothing like Marxism, for example, upon which fascism is built).
To make cogent application of the term even more problematic, the term (alongside "Nazi") has long been nothing more than a political epithet, rather than a useful term for discussion (if you want to insult someone in politics, it doesn't get much better than "fascist" or "Nazi").
I defined the term as follows in 30 Second Politics:
Fascism is a totalitarian, nationalistic governing philosophy that has its origins in Italy under Benito Mussolini and also emerged in different forms in Adolph Hitler's Germany and Francisco Franco's Spain. It is an illiberal regime type, insofar as it denies the significance and rights of the individual and expects citizens to function together in a corporate fashion for the glory of the state. Fascism is defined as much by what it opposes as what it supports: it is anti-modern, anti-rationality, anti-democratic, and vehemently anti-communist. Fascism is also militaristic and espouses an imperialistic, expansionistic foreign policy. The use of military symbolism as a means of underscoring the importance and power of the state is a common staple of fascist governments.
Nazism is a variation of fascism, which I defined as follows:
A variant of fascism, Nazism was a totalitarian ideology that mixed extreme nationalism with racism and military expansionism. The word Nazi derives from an abbreviation of the National Socialist German Workers' Party (Nationalsozialistische Deutsche Arbeiterpartei), which was the party of Adolph Hitler when he was appointed to the Chancellorship in 1933. Once in power, the Nazis governed Germany as a one-party totalitarian state. The Nazi ideology was illiberal, antiSemitic, anti-Marxist, and stridently nationalist. A key element of Hitler's Nazism was the notion that the Germanic people should be united into one empire (Reich).
Now, again, the book in question was called, in full, 30-Second Politics: The 50 Most Thought-Provoking Theories in Politics, Each Explained in Half a Minute, so we are hardly talking about comprehensive, deep definitions.  Still, the above does provide a basis for discussion:  fascism is very much in opposition to other modes of thought and their key concepts.   
A good place to focus, however, is the notion of what fascism opposes and what it supports.  To that end we can jump to a useful piece at Vox (yes, I know) by Dylan Matthews which is summation of interviews with five experts on the subject.  The piece talks about several factors, and is worth reading in full.  Let me note two, which is fascism's opposition to democracy and its embrace of violence.
In regards to anti-democracy:
Every expert I spoke to identified support for the revolutionary overthrow — ideally through violence — of the state's entire system of government as a necessary characteristic of fascism. Griffin's preferred definition of fascism is:

Fascism is a genus of political ideology whose mythic core in its various permutations is a palingenetic form of populist ultra-nationalism.

The word "palingenetic" means rebirth, reflecting Griffin's view that fascism must involve calling for the "rebirth" of the nation. That might at first glance sound like Trump's promise to "make America great again," but Griffin insists on a distinction. Rebirth, in his theory, actually requires the dramatic abandonment of the existing political order. "There has to be a longing for a new order, a new nation, not just a reformed old nation," he told me. "As long as Trump does not advocate the abolition of America's democratic institutions, and their replacement by some sort of post-liberal new order, he's not technically a fascist."
Trump is not campaigning against the constitution, democratic principles, nor the nature of the regime (nor do I think he has a secret plan in this realm).  He is not promising something new.  I will allow that his basic message is reactionary:  a promise to return to a better past.  However, he is doing do within the confines of the existing system (when Mussolini made promised about restoring Italy, he alluded to the Roman Empire; when Hitler made promises is was a about an imagined past where the race all were in proper balance).
The above, by the way, also gets to the core of why it drives me crazy when people claim that Hitler is an example of an elected official who used charisma to get elected and then subvert democracy.  Not only was Hitler never elected, his party (along with several others in Weimar Germany) were explicitly anti-regime and promised to create something wholly new that was not democracy.
(There is more on this topic at the Vox link).
Mussolini (with the help of Giovanni Gentle) described fascism's views on democracy thusly (emphasis mine):
After Socialism, Fascism combats the whole complex system of democratic ideology, and repudiates it, whether in its theoretical premises or in its practical application. Fascism denies that the majority, by the simple fact that it is a majority, can direct human society; it denies that numbers alone can govern by means of a periodical consultation, and it affirms the immutable, beneficial, and fruitful inequality of mankind, which can never be permanently leveled through the mere operation of a mechanical process such as universal suffrage….

…Fascism denies, in democracy, the absur[d] conventional untruth of political equality dressed out in the garb of collective irresponsibility, and the myth of "happiness" and indefinite progress….

…given that the nineteenth century was the century of Socialism, of Liberalism, and of Democracy, it does not necessarily follow that the twentieth century must also be a century of Socialism, Liberalism and Democracy: political doctrines pass, but humanity remains, and it may rather be expected that this will be a century of authority…a century of Fascism. For if the nineteenth century was a century of individualism it may be expected that this will be the century of collectivism and hence the century of the State….
In regards to violence:
Fascism, Payne says, requires "a philosophical valuing of violence, of Sorelian violence. [Fascists believe] that violence is really good for you, that it's the sort of thing that makes you a vital, alive, dedicated person, that it creates commitment. You make violence not just a political strategy but a philosophical principle. That's unique to fascism."

Donald Trump did inspire the beating of a homeless man in Boston, and a protester was punched at one of his rallies, and his reaction to each case was appalling. But that's a far cry from the violence-as-philosophical-commitment that characterized fascists. Further still are his pronouncements that he wants to build a military so strong "we never have to use it."

Fascists were certainly never shy about using military power to inflict violence. As Mussolini put it in his 1932 essay "The Doctrine of Fascism," "Fascism … discards pacifism as a cloak for cowardly supine renunciation in contradistinction to self-sacrifice. War alone keys up all human energies to their maximum tension and sets the seal of nobility on those peoples who have the courage to face it."
Trump certainly engages in bullying at his events and he talks about US military action quite a lot (but that is hardly unique to Trump in American politics–his views on dealing with ISIS are relatively mainstream within the GOP).
Mussolini described fascism's views on war and peace thusly (emphasis mine):
Fascism, the more it considers and observes the future and the development of humanity quite apart from political considerations of the moment, believes neither in the possibility nor the utility of perpetual peace. It thus repudiates the doctrine of Pacifism — born of a renunciation of the struggle and an act of cowardice in the face of sacrifice. War alone brings up to its highest tension all human energy and puts the stamp of nobility upon the peoples who have courage to meet it. All other trials are substitutes, which never really put men into the position where they have to make the great decision — the alternative of life or death….
There is more at the Vox piece on individualism and economics, but I will leave those for the reader to pursue as they will.
Beyond the Vox piece, I would very much recommend a piece by Dave Neiwert from a week or so ago:  Donald Trump May Not Be a Fascist, But He is Leading Us Merrily Down That Path.  The Niewert piece is long and thoughtful and is a combination of application of scholarship on fascism and a discussion of elements of American right-wing populism that feeds into the Trump phenomenon.  This is already a very long post, so I will not attempt a point-by-point excerpting of the piece, but will instead recommend it while pointing to his conclusion:
All of which underscores the central fact: Donald Trump may not be a fascist, but his vicious brand of right-wing populism is not just empowering the latent fascist elements in America, he is leading a whole nation of followers merrily down a path that leads directly to fascism.

[…]

America, thanks to Trump, has now reached that fork in the road where it must choose down which path its future lies – with democracy and its often fumbling ministrations, or with the appealing rule of plutocratic authoritarianism, ushered in on a tide of fascistic populism. For myself, I remain confident that Americans will choose the former and demolish the latter – that Trump's candidacy will founder, and the tide of right-wing populism will reach its high-water mark under him and then recede with him.

[…]

Trump may not be fascist, but he is empowering their existing elements in American society; even more dangerously, his Tea Party brand of right-wing populism is helping them grow their ranks, along with their potential to recruit, by leaps and bounds. Not only that, he is making all this thuggery and ugliness seem normal. And that IS a serious problem.
I think this basically correct:  Trump is not himself a fascist but his approach and appeal has fascistic elements that are quite concerning.  He is not running an anti-regime, anti-democracy campaign.  He is not building a paramilitary apparatus as a means of spreading violence as a political tool (nor is he preaching war for war's sake/as a means of national greatness).
He is a demagogue. He is using clear racist (if not eliminationist) rhetoric.  He does represent an ugly part of American politics.  I just don't think he is a fascist.  This matters for two reasons.  One is simply accuracy–it matters that we use proper language.  The second is that since "fascist" is so often used as an epithet in our politics, that using the term could allow Trump and his supporters to deflect criticism from truly odious elements of his campaign.