Yes, It Is Appropriate To Think Of Donald Trump As a Fascist And Demagogue
Given his rhetoric, it's fairly clear that Donald Trump is drawing from a poisonous political well. So there's no point in failing to acknowledge reality.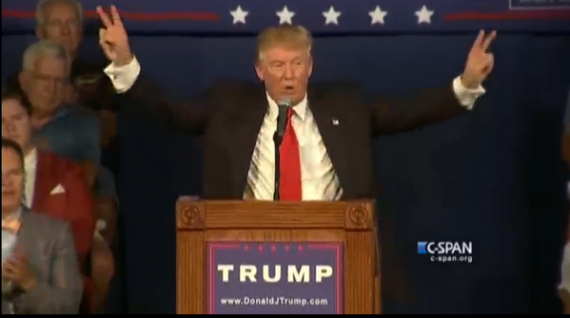 In yet another example of his continuing devotion to intimidation and authoritarian tactics, Donald Trump suggested in a speech just prior to the long holiday weekend that people report on their neighbors:
GOP presidential front-runner Donald Trump said late Tuesday that everyday Americans should monitor their neighbors for questionable behavior.

"The real greatest resource is all of you, because you have all those eyes and you see what's happening," he told listeners in Myrtle Beach, S.C.

"People move into a house a block down the road, you know who's going in," Trump continued. "You can see and you report them to the local police."You're pretty smart, right?" he asked his audience. "We know if there's something going on, report them. Most likely you'll be wrong, but that's OK.

"That's the best way. Everybody's their own cop in a way. You've got to do it. You've got to do it."

Trump's remarks expand on his recent calls for surveillance of America's mosques for potential terrorism.

He also criticized President Obama late Tuesday for not monitoring the nation's Islamic worship centers for extremism.

"There's something going on in the mosques and other places," Trump said. "There's some nastiness, there's some meanness there.

"[Why is President Obama] so empathetic on not solving the problem?" the outspoken billionaire asked.

"I call him the great divider," Trump added of Obama. "I am going to be a unifier. I'm going to be the best protector. I'm going to fight like hell for this country."
This is just one example of the way that Trump is handling criticism. Last week, he threatened to sue the SuperPAC supporting John Kasich over reports about the plan they have to go after him if they "defamed" him. In reality, of course, the fact that Trump would quite obviously be considered a "public figure" under the Supreme Court's ruling in New York Times v. Sullivan makes it incredibly unlikely that any such lawsuit could succeed, but that's not the point of this kind of threat. Instead, as he has in the past, Trump is clearly attempting to intimidate a critic into silence, or to at least soften the tone of the attack. This is, of course, with Trump's history up until now, and it reminds one of authoritarians of the past, as The New York Times' Timothy Egan notes:
[O]ver the last three months, in listening to plans of the Republican presidential front-runner and the views of his increasingly thuggish followers, I'm starting to have some dark fears should Donald Trump become president.

Take him at his word — albeit, a worthless thing given his propensity for telling outright lies and not backing down when called on them — Donald Trump's reign would be a police state. He has now outlined a series of measures that would make the United States an authoritarian nightmare. Trump is no longer entertaining, or diversionary. He's a billionaire brute, his bluster getting more ominous by the day.

"We're going to have to do things that we never did before," he said in the demagogic spiral following the Paris attacks. "And some people are going to be upset about it, but I think that now everybody is feeling that security is going to rule."

What's he talking about? In his words, he wants to implement "the unthinkable."

(…)

Like any good authoritarian — Soviet or banana republic — Trump concocts plots and dark doings to scare the quivering masses. And no one on the public stage is better at the Big Lie this year than Trump. PolitiFact found that 75 percent of his so-called factual statements are "mostly or entirely false." The other 25 percent were "half true" or "mostly true." His score in the flat-out "true" column was zero.

But that doesn't stop him. The more lies he tells, the more popular he is with a large part of the Republican base that lives in a world of made-up horror and blunt force solutions.
The fact that Trump is mirroring the language of authoritarian dictators going back well into the worst parts of the history of the 20th Century, combined with the fact that he's leading in the Republican polls both nationally and in the early primary states like Iowa, New Hampshire, South Carolina, and Florida, makes it hard to dismiss what he's saying as just the rantings of a crazy uncle like many of us were doing in the past. Say whatever you will about Trump, but his success in the polls, which may or may not translate into success at the polling place or caucus, indicates that he is saying things that a significant portion of the Republican Party agrees with. The fact that he's also tapping into some of the worst aspects of American politics just make it all the more concerning, and it has caused many commentators, even many pundits on the right who seem to clearly recognize the danger that Trump poses to the Republican brand to begin pushing back not just by attacking Trump on substance, but by increasingly using words like demagogue and fascist to describe his rhetoric and the political movement it seems to be inspiring. Perhaps the most notable recent example of this push back against Trump comes Ohio Governor John Kasich:
The gloves are off in the fight between John Kasich and Donald Trump.

Well, technically they've been off since last Friday. But the Kasich campaign released a Web ad Tuesday directly attacked Trump with a darker tone than any other candidate has used so far to go after the business mogul.

The spot features retired Air Force Col. Tom Moe speaking at an event in Ohio, the same day Trump held a rally in Columbus. Moe, who the Kasich campaign identifies as a former Vietnam POW, paraphrases a quote from Protestant pastor Martin Niemöller, taken from his lectures after World War II.

"You might not care if Donald Trump says Muslims should register with their government, because you're not one," says Moe, to an ominous soundtrack. "And you might not care if Donald Trump says he's going to round up all the Hispanic immigrants, because you're not one. And you might not care if Donald Trump says it's okay to rough up black protesters, because you're not one. And you might not care if Donald Trump wants to suppress journalists, because you're not one. But think about this: If he keeps going, and he actually becomes president, he might just get around to you. And you better hope there's someone left to help you."
Here's the ad:
Commentary's Noah Rothman, who has been quite critical of Trump in his own right, argues against describing Trump in this manner, though:
You might be inclined to call this creeping wickedness fascism, and I might be, too. But prudence and decency demand that we take a step back.

First, while it might be a rather fine distinction to make, it is nevertheless important to note that fascism is not synonymous with Nazism. To cheapen that militant, authoritarian, genocidal system of social organization by using it to describe an entertainer is careless at best. Trump has done nothing to deserve the indictment but to talk. If we are to define down the charge of totalitarianism to mean belligerent speech, then conservatism will have become no better than the spoiled adult-size children who populate college campuses demanding safe spaces to protect them from intellectual exercise. Were Trump to attain power, the nation might be subjected to the darkest impulses that animated history's Tojos and its Francos, but that day is not today.

Second, even if this charge were a valid one, it will have precisely the opposite effect that I imagine those who deploy it wish that it would. There is a segment of the Republican electorate that does not evaluate Trump like they would a traditional candidate. For many, adoration of Trump less resembles traditional support for a politician and is more akin to fandom. The unfounded notion that their champion, the blank canvas onto which they've projected their dreams, is little more than the reincarnation of Father Coughlin will only foster sympathy for him and push them deeper into Trump's camp. Those, like Kasich, who hope to chip away at Trump's appeal by linking him to a murderous ideology responsible for millions of deaths are not only displaying remarkable sanctimony and myopia but are making the task of discrediting Trump that much more difficult.

Donald Trump is not a national socialist. He's not even an agitator of the likes of Charles Lindbergh, who was genuinely anti-Semitic, isolationist, favorable toward eugenics, and fiercely xenophobic. He is an entertainer.  While his rhetoric is of a dangerous sort, and his instincts are genuinely authoritarian, Trump has not earned the label so liberally applied to him. Not yet, at least.
To be fair, Rothman does have a point here. Some will argue that Trump's rhetoric, while offensive, often racist, and certainly demagogic, doesn't necessarily meet the traditional dictionary definition of fascism, although there some aspects of the way that the word is defined that seem to me to fit Trump's rhetoric quite clearly. Additionally, the invocation of a political philosophy and movement synonymous with leaders such as Adolf Hitler, Benito Mussolini, and, to some degree at least, Spain's long-lasting military leader Francisco Franco, has become something of an Internet trope that tends to indicate that the person making the analogy is more like engaging in ad hominem attacks than serious political discussion. Rothman is also correct to point out that using this type of rhetoric to combat Trump, even when correct, likely doesn't do much to dissuade his supporters, who seem to only adore him more the more he says things that are offensive or controversial. Given that phenomenon, an attack that links Trump to fascism is likely to mostly appeal to people who already dislike Trump and are unlikely to support him, and not at all likely to cause those who have been strongly committed to him for some five months now to change their minds.
It strikes me, though, that Rothman's argument is more about the strategy of whether or not to publicly call Donald Trump something like a fascist or, as I have done, compare him to past American political agitators such as George Wallace, than it addresses the truth about whether or not he actually fits the definition of a fascist or a demagogue. If you look at the details of his statements on public policy, and his comments about Mexicans, immigrants, Muslims, and others, as well as the things he says and proposes about people who disagree with him, Donald Trump most certainly comes across as a fascist, a demagogue, or at the very least a modern day incarnation of people like the Strom Thurmond of the Dixiecrat Era and the George Wallace who ran for President in 1968. Even taking the worst of Republican and Tea Party rhetoric, Trump goes a step further, and always seems to be pushing the envelope of radicalism. To ignore this is to ignore reality.
At the very least, I think Rothman is incorrect to dismiss Trump as a mere "entertainer." For much of Donald Trump's public career, I suppose, this has been an accurate description of him, something I can attest to given the fact that growing up in the NYC area in the 1980s means that I've seen the Trump phenomenon from the beginning. Back in those days, Trump was very much the entertainer, with his displays of ostentatious wealth, the beautiful wife he eventually dumped for a younger woman, and ambitions that seemed to have no end. Indeed, Trump was being asked about a career in politics as early as the late 1980s. Trump's public image took some hits over time, especially in the 90s thanks to messy divorces and financial troubles, but the style, and Trump's ostentatious style and admittedly remarkable ability to play the media game better than virtually any celebrity out there remained. By the early 2000s, Trump was back as a media star and bigger than ever thanks largely to The Apprentice, and Celebrity Apprentice, which were often more displays of the Trump brand and Trump's media stardom than anything else. Trump used that stardom to extend his "brand" and his empire further, with new building projects around the world, golf courses, and even a winery in Virginia.
On some level, it was fun to watch all of it unfold, and, yes, Trump was a supreme entertainer and media manipulator so when he wrote books in the early 2000s expressing political opinions a lot of people just seemed to dismiss it something a celebrity said. Even Trump's brief flirtation with a Presidential campaign in the early days of the 2012 cycle, which was concerned primarily with allegations regarding the President's birth, seemed to be more entertainment spectacle than serious political venture, especially since it was all capped off with an epic take down of Trump by President Obama at the White House Correspondent's Dinner that was taking place just as SEAL Team Six was preparing for the mission that resulted in the death of Osama bin Laden.
That, however, was then. This is now.
Donald Trump isn't just an entertainer now, he's a candidate for President of the United States, and one that is doing very well in the polls. If he were someone down at the bottom of the pack like Rick Santorum, Lindsey Graham, or Mike Huckabee, it would be easy to dismiss. He's not at the bottom of the polls, though, he's at the top and has remained there for months now. Dismissing him as a mere entertainer as Rothman does, while likely meant as something of an influence, also tends to discount the seriousness that his dangerous rhetoric ought to be viewed with. It's possible that Trump's popularity will not last much longer, or that he will be unable to translate that popularity into votes, but for now he should not be dismissed and neither should the dangerousness of what he represents and the fact that it is garnering so much support among the members and supporters of a major American political party. Moreover, I'd suggest that if analogies to Hitler, Mussolini, and Franco are inappropriate at this time, and they may well be, it still seems to me to be entirely appropriate to equate Trump with the likes of Father Charles Coughlin, a Catholic priest from Chicago who rose to fame on the back of radio sermons dripping with Antisemitism. Charles Lindbergh, whose aerial heroics must be balanced by the political views he embraced in the 1930s, and George Wallace, who led the last major reactionary political movement in American politics. Those three men are remembered for the dangers they posed and only one of them ever ran for political office. Trump is saying things very similar to what they did, and he's leading in the polls. That ought to cause people to be concerned, and while I can't speak for others I know that I am.