Donald Trump Is Rising In The Polls Because He's Saying Things Republican Voters Agree With
Republicans have nobody to blame but themselves for the anti-immigrant Frankenstein in their midst.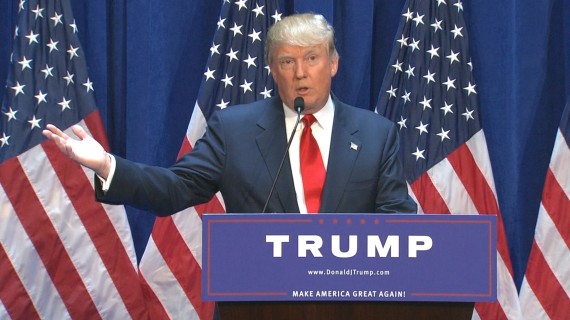 Yet another new national poll shows Donald Trump leading the Republican field, albeit inside the margin of error:
Donald Trump leads all Republican presidential candidates for the GOP primary, according to a new Fox national poll of registered voters released Thursday.

Eighteen percent of GOP voters said they supported Trump, up 7 percent from last month and 15 percent from March.

Wisconsin Gov. Scott Walker came in second at 15 percent, just 1 percentage point ahead of former Florida governor Jeb Bush.

Fox News has said that the top 10 contenders in an average of credible, recent national polls will be invited to participate in the first Republican primary debate, and lower-tier candidates are nervously watching their numbers ahead of the Aug. 6 event.

Rounding out the top 10: Rand Paul with 8 percent, Marco Rubio with 7 percent, Ben Carson with 6 percent, Ted Cruz with 4 percent, Mike Huckabee with 4 percent, Chris Christie with 3 percent, and John Kasich and Rick Santorum tied with 2 percent each.
All of the caveats about Trump's numbers and the hype that they are getting right now that I mentioned earlier this week still apply, of course, but this would seem to be yet another piece of evidence in support of the argument that the Trump phenomenon is not going to be going away any time soon. In the RealClearlPolitics polling average, he's presently the only candidate other than Jeb Bush in double digits, a new poll of Virginia Republicans shows him in second place behind Bush in the Old Dominion, and another poll of Nevada shows him leading Republicans in that early caucus state. Obviously, this is causing Trump's fellow candidates no small degree consternation, especially the candidates that are in the second and third tiers in the polls and trying to find a way to breakthrough to the point where they are considered competitive. As long as Trump is in the race, he's sucking a lot of the oxygen out of the room and that's bad news for people like Ted Cruz, Rand Paul, Chris Christie, Rick Perry, and Carly Fiorina.
Meanwhile, analysts are starting to try to figure out who these Trump supporters are and what's motivating them to back him:
As it turns out, the Trump coalition looks a lot like the rest of the Republican Party. Other than a spike in support in the Northeast, there is little in recent polling data to distinguish Trump's supporters from the heart of the GOP primary electorate. Even immigration hardliners support him at the same rate as the rest of the Republican Party.

"It's a strange coalition of people," said Patrick Murray of Monmouth University. "We can't pin them down demographically. … It appears he's cherry-picked individual voters."

Interviews with Trump supporters at a rally on Saturday in Phoenix and in New Hampshire, where he was among the first candidates to hire staffers, suggest he is attracting Republicans from many corners of the party who are drawn to his image as a straight-talking businessman who would shake up politics as usual.

"The issues that are driving the average Trump voter are, first and foremost, that he's not a politician. Secondly, he is self-funding his campaign, so he can't be bought," said Steve Stepanek, Trump's New Hampshire co-chairman, who supported Newt Gingrich in 2012 and Rudy Giuliani in 2008.

"People today are looking for plainspoken people who say what's on their mind," said Lou Gargiulo, a New Hampshire activist and Trump's Rockingham County co-chair who supported Mitt Romney in the 2008 and 2012 Republican primaries.

Trump voters skew older, whiter and more male, but no more so than the rest of the Republican primary electorate.

In a Monmouth poll released on Monday that put Trump in second place and a Suffolk University/USA Today poll released on Tuesday that put him in first, the real estate mogul fared better among somewhat conservative voters and very conservative secular voters than he did among moderates and religious conservatives.

At least in that way, said Murray, they really are like Richard Nixon's silent majority of middle Americans. "They're in the middle of the Republican Party. They're not evangelicals. They're not hardline social or fiscal conservatives. They're also not on the liberal side of the party," he said.

(…)

What Murray can say definitively about Trump is that he is an anomaly. In a Monmouth poll released a month ago, Trump had the worst favorability rating of any Republican candidate among Republican voters, 20 percent favorable to 55 percent unfavorable, a fact cited by many political observers in pooh-poohing his viability. In the poll out this week, Trump's favorability has pulled nearly even at 41-40. The swing was even more dramatic among self-identified tea party voters, who went from viewing him unfavorably, 55 percent to 20 percent, to viewing him favorably 56 percent to 26 percent.

"I've never seen a candidate who's so well known who was able to suddenly turn around people's opinions of him," Murray said.

Even as Republican elites decried his claims about the alleged criminality of undocumented Mexican immigrants (which defy all available evidence) and brands cut ties with him, a large chunk of GOP primary voters were evaluating him in a positive light.

Joan Riscki, 67, a Phoenix resident and retiree, is an independent who voted for Mitt Romney in the general election in 2012. "I usually vote for Democrats, but it's a bad situation now," she told POLITICO outside Trump's rally on Saturday. "They're all liars anyways. I try not to listen to the news. I listen to KFYI," a local conservative talk radio station.

Matt Bates, 52, a property manager from Scottsdale, who remains uncommitted to a presidential candidate, said he found out about the Trump event from his in-laws, who had heard about it on Fox News. "He's not a politician, he's a businessman," Bates said of Trump's appeal.

His wife, Stephanie, 52, a grocery store manager, said she supports Trump. "His views are similar to the GOP, but he's not in anybody's pocket," she said. "You can't trust the rest of them."

Hazel Powell, 68, also of Phoenix, is a retired Peace Corps volunteer (she felt the need to leave the country after Obama's election) and a fan of "The Apprentice," Trump's reality show on NBC. "I've always liked Donald with his television shows, his aggressiveness. He just speaks the truth," she said.

The crowd in Phoenix was overwhelmingly white (as is the Republican primary electorate), and Trump's fellow Republicans have condemned his comments about undocumented immigrants as racist, but Powell said he would eventually win over Latinos. "The Latinos are going to support him because they're smart enough to know: He's going to get them jobs."
Additionally, while many of Trump's fellow candidates, along the media and conservative pundits even on Fox News Channel are criticizing Trump for his statement on immigration, the same Fox News poll that shows Trump in the lead also shows that Republicans agree with him:
A strong majority of Republican primary voters in a new Fox News poll agree with Donald Trump's opinions on immigration.

Trump's been in hot water for saying last month that undocumented Mexican immigrants — some of them "rapists" — are bringing drugs and crime across the border. But when asked to set aside Trump's wording, 70 percent of Republican primary voters believe that his message is "basically right."

In more good news for Trump, who leads the entire Republican field in that same poll, 59 percent of GOP primary voters said they admire his "guts," compared to just 28 percent who dismiss him as a "loudmouth."
In other words, Donald Trump is succeeding in the polls in no small part because he saying things that a lot of Republican voters agree with. This really shouldn't be all that surprising given the polling that we have seen on immigration over the last several years which shows that, while Democrats and independents support things like a path to citizenship for illegal immigrants, Republicans remain bitterly opposed to the idea and even bitterly opposed to any kind of immigration reform that goes beyond the amorphous and rather meaningless phrase "border security." After all, these positions are the main reasons why Republicans have not acted on immigration reform at all since taking control of the House in the 2010 elections, and why candidates like Jeb Bush, Marco Rubio, and Lindsey Graham are attacked by the base because they take positions that are more moderate when comes to immigration. Given all of this, it's not entirely surprising that Trump's caustic and indeed offensive rhetoric about immigration seems to be striking a chord among at least some Republican voters. That's also likely why you don't see many candidates other than Bush and Rick Perry attacking Trump for the things that he's said, because they know that even after Trump is long gone the voters who support him will still be there and they'll remember candidates who disagreed with Trump on these issues. That, I would suggest, is why we see someone like Ted Cruz cozying up to Trump in a way that is almost unprecedented in a primary race between two candidates running for the same nomination.
Republicans are waking up the fact that there's a monster named Donald Trump in their midst, but the truth is that it's a monster of their own creation.