Race For The GOP Nomination All About Donald Trump, Ted Cruz, And A Panicking GOP
With less than a week to go before voting starts, Donald Trump continues to dominate the GOP race, with Ted Cruz the only candidate even close to looking like a viable challenger.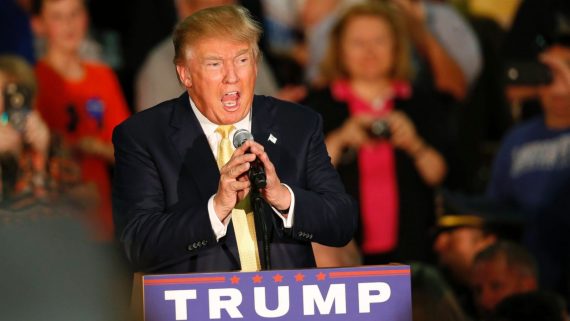 With less than a week to go before the Iowa Caucuses, and two weeks to go before the New Hampshire Primary, the story of the race for the Republican nomination continues to be the story of the utter dominance of Donald Trump, with only Iowa standing as a state where Trump is facing a challenge in the form of Ted Cruz. Everywhere else you look, in the national polls, in New Hampshire, and in South Carolina, there's Donald Trump, and then there's everyone else, and there's still little sign that this is about to change any time soon. All of this is confirmed in a trio of new national polls as well as a handful of state polls all being released on the eve of the cut-off for the determination of who will qualify for the final Republican debate before voting begins:
First up, there's a new Fox News national poll showing Trump with a fourteen point lead over Cruz:
Donald Trump leads the Republican field by a significant margin heading into the Iowa caucuses, according to a Fox News national poll out Friday.

The businessman has 34 percent of those surveyed, Texas Sen. Ted Cruz comes in second at 20 percent, Florida Sen. Marco Rubio has 11 percent and retired neurosurgeon Ben Carson has 8 percent.

Everyone else has 4 percent or less. Combined, the top four GOP contenders account for nearly three-quarters of those surveyed.

The poll also found that few Republican voters are much fussed about Trump's recent attacks on Cruz's citizenship — 88 percent said it was not a concern, and only 10 percent said it would make them less likely to vote for Cruz. Sixty-one percent of registered voters in the poll said that Cruz is eligible to be president, while 27 percent said they don't believe he is. (For this question, respondents were first prompted with the fact that "The U.S. Constitution requires the president to be a natural-born citizen.")

Other results pointed at why outsider candidates like Trump and Cruz continue to dominate the race: Eighty-five percent of Republican voters surveyed said they were either angry or dissatisfied with the way the federal government was running, which includes 39 percent who specifically said they were angry.
A new CNN/ORC poll, meanwhile, gives Trump a 22 point lead over Cruz and has Trump breaking the 40% barrier:
Donald Trump has hit a new high in the race for the Republican nomination, according to a new CNN/ORC Poll, with more than 4-in-10 Republican voters nationwide now saying they back the billionaire.

And more than two-thirds of Republicans say he's the candidate most likely to capture their party's presidential nomination.

Trump has topped the 40% mark for the first time in CNN/ORC polling, standing at 41%. That more than doubles the support of his nearest competitor, Texas Sen. Ted Cruz, who notches 19% support in the poll. No other candidate hit double-digits. Florida Sen. Marco Rubio landed at 8%, retired neurosurgeon Ben Carson at 6%, former Florida Gov. Jeb Bush at 5%, New Jersey Gov. Chris Christie at 4%, and the rest at 3% or less.

Despite the new high-mark for Trump, the GOP race remains fairly stable compared with where it was in the most recent CNN/ORC poll in late December.

In that poll, Trump stood at 39%, Cruz at 18% and Rubio at 10%. Carson's 4-point dip, from 10% to 6%, between the two surveys is the largest change in the field, and it is not large enough to be a statistically significant change given the new poll's 5-point margin of sampling error.

Trump's lead is clearly significant, however, and the poll finds him well ahead of the field among a range of GOP subgroups. He leads among both men and women, younger and older voters, white evangelicals, conservatives and both self-identified Republicans and independents who lean toward the party.

There are two subgroups where Trump's lead is less dominant: college graduates and tea party supporters. Even among those groups, however, he remains at the head of the pack. Among those holding degrees, 26% back Trump, 20% Cruz, and tea party supporters split 37% for Trump, 34% for Cruz.

Trump's supporters are more likely than those backing other candidates to say that they've definitely made up their mind (70% of Trump's supporters say they are locked in compared with 40% who back other candidates).

And the prospect of a Trump candidacy generates more enthusiasm overall (40% of Republican voters say they would be enthusiastic about a Trump nomination) than the possibility of Cruz (25% enthusiastic) or Rubio (18% enthusiastic) at the head of the ticket.

Trump's dominance continues when voters assess which of the GOP candidates would best handle top issues.

Trump holds his widest advantage on handling the economy: 60% of GOP voters say Trump would best handle it, a 48-point lead over Ted Cruz. Likewise, Trump has a 55% to 16% edge on handling illegal immigration.

His margin is smaller, though still significant, on handling foreign policy. Republican voters in the poll rated terrorism their most important issue in considering a candidate for president: 49% called it "extremely important," outpacing the share calling the economy, government spending or illegal immigration as central to their vote.

Trump has gained ground over the course of the campaign on the values issues that are often meaningful among Republican primary voters.

The share who say Trump would do the best job on social issues has grown from 15% in September to 28%. Cruz trails Trump by just 4 points on that matter.

And about one-third of Republicans say they think Trump is the candidate who "best represents the values of Republicans like yourself," 34% choose Trump, 9 points ahead of Cruz at 25%. No other candidate hits double-digits on that measure.

Trump's case for the presidency rests at least in part on his standing as a political outsider. The poll finds that a broad swath of GOP voters (55%) say they feel completely unrepresented by the government in Washington, and among those voters, Trump holds a 47% to 19% lead over Cruz.

The poll also finds Trump is widely seen as the candidate best able to win in November: 63% of Republicans say so, compared with 16% who see Cruz as best positioned to win and 10% who name Rubio.
Finally, the new ABC News/Washington Post poll gives Trump a sixteen point lead over Cruz and shows that nearly two-thirds of Republicans would back Trump if he were the nominee, a dramatic reversal from the summer when polling was showing many Republicans rejecting Trump outright:
One week before the first votes of the 2016 campaign are cast, Donald Trump has solidified his standing nationally, according to a new Washington Post-ABC News poll. Republicans see Trump as strongest candidate on major issues and by far the most electable in the large field of GOP hopefuls.

The Republican electorate is in a sour mood as its members prepare to begin the process of picking a presidential nominee. Almost 9 in 10 say the country is seriously off on the wrong track, and more than 8 in 10 are dissatisfied with the way the federal government works, including nearly 4 in 10 who say they're angry about it.

Two-thirds worry about maintaining their current living standard, more than 6 in 10 say people with similar values are losing influence in American life, and about half say the nation's best days are behind it. Half also say immigrants mainly weaken American society, compared with 55 percent of the overall population who say immigrants strengthen America.

Amid this political climate, Trump has maintained his place atop the Republican field for six months. He currently receives the support of 37 percent of registered Republicans and Republican-leaning independents, almost identical to the 38 percent support he enjoyed a month ago.

Sen. Ted Cruz of Texas runs second in the national survey with 21 percent, surpassing his previous high of 15 percent in December. Third place belongs to Sen. Marco Rubio of Florida at 11 percent, virtually unchanged from 12 percent a month ago.

Rounding out the field are Ben Carson at 7 percent, former Florida governor Jeb Bush at 5, New Jersey Gov. Chris Christie at 4, businesswoman Carly Fiorina at 3, former Arkansas governor Mike Huckabee and Ohio Gov. John Kasich at 2 percent each, and Sen. Rand Paul of Kentucky at 1. Former Pennsylvania senator Rick Santorum registered less than 1 percent.

When first and second choices are combined, Trump is named by 49 percent, Cruz by 39 percent and Rubio by 32 percent — well ahead of the others.

At this point in presidential campaigns, as the primary season is beginning, candidates' support can be tenuous and shift quickly in response to the first state-level contests. Results in Iowa, which holds its caucuses Monday, and in New Hampshire, which votes eight days later, often scramble national numbers. Trump enters this crucial phase strong nationally, but it isn't clear what a loss in Iowa would do to his support.

But The Post-ABC survey offers some clues. Trump's supporters appear more committed to him than do people backing other candidates. A majority (57 percent) of Trump supporters say they will definitely vote for him. For all the other candidates, 34 percent are as firmly committed, while nearly two-thirds say they could still change their minds.

Trump's committed support exceeds that the previous Republican nominee received prior to the Iowa caucuses four years ago: 36 percent of former Massachusetts governor Mitt Romney's supporters said then that they would definitely support his candidacy.

(…)

Although there was resistance to his candidacy at the beginning, Trump now is broadly acceptable to GOP voters. About 2 of 3 Republicans say they would find him acceptable as their nominee, a percentage almost identical to Cruz's and Rubio's. Rubio is seen as the least unacceptable, followed by Cruz, Carson and then Trump. Only about half of Republicans say Christie and Bush are acceptable, and Bush has the highest "unacceptable" percentage at 45.

(…)

The new Post-ABC survey suggests that a sizable majority of Republicans believe that whatever happens in those early states, Trump will emerge with the nomination — a dramatic shift from when he first entered the race in June to mixed reviews and overcame widespread unfavorable impressions among GOP voters before his campaign launched. Today, more than 6 in 10 Republicans say Trump is most likely to win the nomination, up from 4 in 10 in the late fall.

Trump leads among nearly all demographic groups, including a narrow advantage among white evangelical Christians, a key target of the Cruz campaign. Trump's strongest support comes from those with incomes below $50,000. Previous surveys showed Trump with significantly more support among those lacking a college degree, compared with those who have graduated from college. The new survey finds no significant difference.

The reality TV star scores best among those who are most dissatisfied with government and the country's direction and with those who say they prefer someone from outside the political system rather than a candidate with political experience. Overall, a bare majority of Republicans say they are looking for an outsider, while just over 4 in 10 who want someone with experience in politics.
Trump maintains similar leads in the two major online tracking polls as well, with the NBC News/SurveyMonkey poll showing him leading Ted Cruz 39% to 17%, followed by Marco Rubio at 10% an no other candidate in double digits. In the Reuters/Ipsos poll, Trump stands at 40.6%, followed by Ted Cruz (10.5%), Ben Carson (9.7%), Jeb Bush (9.2%), and Marco Rubio (7.2%) with no other candidate getting above 5%.  With the new polling the RealClearPolitics national average, Trump (36.2%) has a 16.2 point lead over Ted Cruz (19.5%), followed by Marco Rubio (11.0), Ben Carson (7.8%), Jeb Bush (5.0%), and Chris Christie (3.7%). All the other candidates are averaging below three percent nationally. The results are similar in Pollster's broader measure of polls.
The clear lesson of the national polls, then, is that Donald Trump maintains the lead that he's had in the Republican race since August, and that there's no sign of that lead shrinking or anyone seriously challenging it at this point. As we get closer to the actual voting, though, it is of course the state-level polling that actually matters, but there too Trump continues to have an advantage over his opponents. In Iowa, a new poll from Quinnipiac gives Trump a two point lead over Ted Cruz, and while this is smaller than other recent polling from the Hawkeye State it's still enough to give Trump a 5.7 point average lead in the state according to RealClearPolitics. In New Hampshire, a new poll from the Boston Herald and Franklin Pierce University gives Trump a nineteen point lead in the Granite State, a number that is consistent with recent polling from Fox News and CBS News that show Trump leading by seventeen and eighteen points respectively, all of which is enough to give Trump a 19.5 point average lead in the state one week before the primary. Finally, the latest poll out of South Carolina gives Trump a nineteen point lead which is enough to give him an average lead of more than sixteen points in the Palmetto State.
The most immediate impact of all this new polling will be in determining who participates in Thursday's final debate before voting begins. Fox News Channel is using essentially the same criteria that Fox Business Network did to determine eligibility in the last debate, meaning that a candidate must finish in the top six in the most recent mainstream national polls, or in the top five in the most recent mainstream polling in New Hampshire or Iowa. For the most part, it appears that the makeup of the debate stage will be the same on Thursday as it was last week, except that it does appear that Senator Rand Paul is once again on the bubble, with his make or break numbers coming from Iowa, If he can finish in the top five in the polls released by the end of the day today, he'll join the seven others on the main stage. If not, he'll be relegated again to the undercard debate along with Carly Fiorina, Mike Huckabee, and Carly Fiorina. We'll know the answer to that question when Fox News announces the debate lineup tonight.
What all of this polling tells us is that, at least at the moment, the race for the Republican nomination is basically a race between Donald Trump and Ted Cruz, followed by a bunch of also rans, none of which seem to be well positioned to turn the race into a three or four person race in the wake of the early primaries in February. Marco Rubio continues to sit in the third place position for the most part, but his position is relatively stagnant and the questions about his campaign strategy persist notwithstanding the fact that he received an arguably important endorsement in Iowa over the weekend. One potential surprise candidate is Ohio Governor John Kasich, who has been moving up in the polls in New Hampshire to the point where he now sits at third place in the RealClearPolitics average in the Granite State. What's unclear about Kasich, though, is whether he has the resources or the organization to exploit any good press he may get out of a good performance in New Hampshire. If he doesn't then Kasich is likely to become this cycle's Jon Huntsman, a candidate who performed better than expected in one primary but was unable to do anything with it going forward.
All of this is leaving the GOP and its leaders with quite a dilemma on their hands:
DES MOINES — Republican leaders are growing alarmed by the ferocious ways the party's mainstream candidates for president are attacking one another, and they fear that time is running out for any of them to emerge as a credible alternative to Donald J. Trump or Senator Ted Cruz of Texas.

Leaders of the Republican establishment, made up of elected officials, lobbyists and donors, are also sending a message to the mainstream candidates, such as former Gov. Jeb Bush of Florida, that they should withdraw from the race if they do not show strength soon.

The members of the party establishment are growing impatient as they watch Mr. Trump and Mr. Cruz dominate the field heading into the Iowa caucuses next Monday and the New Hampshire primary about a week later.

The party elders had hoped that one of their preferred candidates, such as Senator Marco Rubio of Florida, would be rising above the others by now and becoming a contender to rally around.

Instead, they have a muddled field of battered mainstream candidates: Mr. Bush, Mr. Rubio, Gov. John R. Kasich of Ohio and Gov. Chris Christie of New Jersey.

"There's a mounting sense of urgency among donors that the weak performers need to go ahead and get out," said Steven Law, the president of American Crossroads, a Republican "super PAC."

(…)

The cumulative effect of all the ads, and corresponding attacks through harshly worded mailings, has been to stunt the growth of the so-called establishment candidates, keeping them clustered together in New Hampshire polls while Mr. Trump soars.

"These guys are so busy fighting one another that they're only continuing to facilitate the rise of Trump and Cruz," complained Representative Tom Cole, Republican of Oklahoma, a longtime Republican strategist.

After the Iowa caucuses on Feb. 1, and the New Hampshire primary eight days later, the pressure on those candidates who are lagging in the polls will intensify.

"Whoever is not named Trump and not named Cruz that looks strong out of both Iowa and New Hampshire, we should consolidate around," said Henry Barbour, an influential Republican strategist based in Mississippi.
The results in Iowa and New Hampshire are likely to lead to a significant winnowing of the field on the Republican side, both in reality and effectively. Absent a better showing than they have demonstrated in any polling, both of the Republicans who won the last two Iowa Caucuses, Mike Huckabee and Rick Santorum, seem likely to drop out after Iowa. The winnowing of the rest of the field will have to wait until at least New Hampshire, though. If only one of the "establishment" candidates — Kasich, Bush, Rubio, and Christie — emerges with a showing that can be called respectable then pressure will mount on the other three to step aside to allow the race to consolidate. That could be complicated, though, if two or more of those candidates finish very close to each other, thus giving more than one candidate a credible argument for staying in the race.  Additionally, expected disappointing showings in both states ought to cause Ben Carson, Carly Fiorina, and Rand Paul to examine the logic of staying in the race but it's unclear how much pressure will be put on any of them since it's clear that none of these three candidates are likely to be viable challengers to Trump and Cruz. So, in the end, the first two primaries could leave us with a race where the establishment finally finds a candidate to rally behind who can take advantage of a newly open field, or the field could remain as muddled as it is today. In either case, what's unclear is whether there would be enough time for an "establishment" challenger to be able to mount a competitive challenge to the combined Trump/Cruz juggernaut. If there isn't, then the GOP could find the two must unpalatable and unelectable candidates in full control of the race all the way to Cleveland.